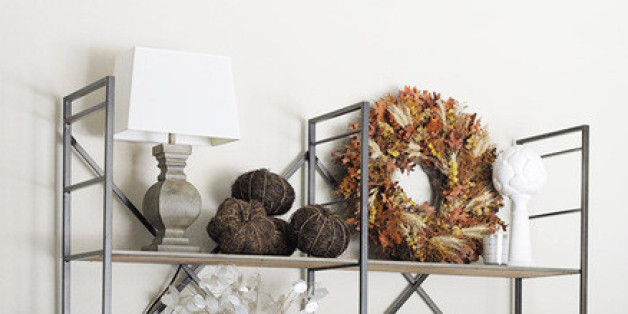 By: Mady Dahlstrom, Content Editor for Porch.com
Whether you live in a farmhouse or modern home, decorating for fall means adding cozy blankets, festive wreaths and garlands, and plenty of pumpkins. For those of you who find the fall season frantic and busy with kids heading back to school and the holidays fast approaching, decorating your home may be the last thing on your list.
Get inspired to decorate your home for the fall season by touring these fall homes that go above and beyond to celebrate the season. These fall homes from the Blogger Community at Porch.com show different ways to add some fall spirit to each room, no matter what your budget!
1. Elegant Entrance
From the moment you step into this charming home you're greeted by a rustic fall display. Fill a side table with pumpkins, a plaid scarf, and greenery for a simple, yet elegant entrance.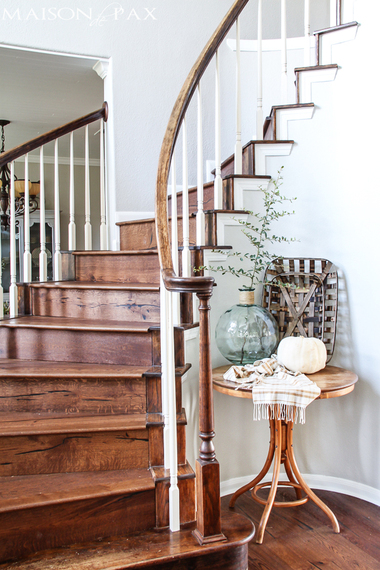 Check out the rest of this fall home, here.
Image Credit: Maison de Pax
2. Farmhouse Mudroom
This fall farmhouse mudroom is picture perfect with wicker baskets, plush pillows, and piles of pumpkins, apples, and chopped wood. Mixing in natural elements to a room will not only add a fresh look, but make the space feel authentic and warm.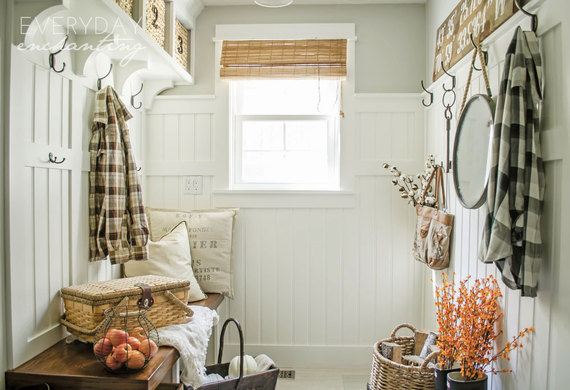 See more of this fresh farmhouse, here.
Image Credit: Everyday Enchanting
3. Simple Shelving
Add a bit of fall to your home by grouping decorative elements onto a shelving unit. This lovely fall display focuses on simplicity and combining unlike objects. Don't be afraid to mix and match shapes, textures, and prints in your fall décor!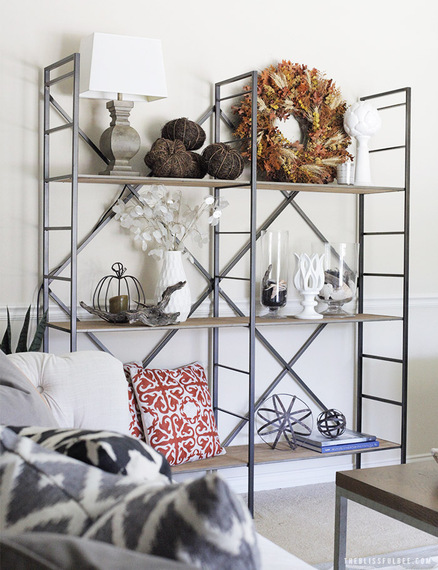 Take a look at the rest of this cheerful fall home, here.
Image Credit: The Blissful Bee
4. Colorful Living Room
Soft blues and warm reds are a great color scheme for your fall home. This cottage home's living room is brightened up with pops of blue, gold accents, and fall foliage.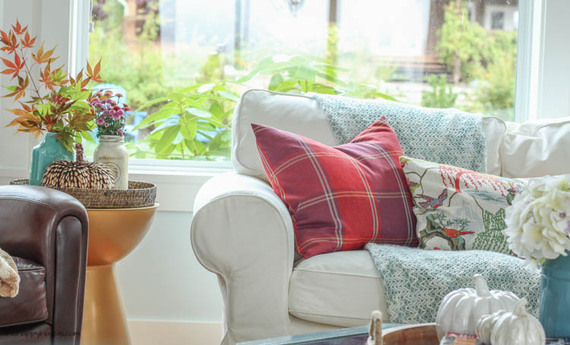 See what other items this cottage used to decorate for fall, here.
Image Credit: The Happy Housie
5. Vintage Breakfast Nook
This fresh and simple breakfast nook proves that sometimes less can be more. A pretty Russian Olive wreath hangs overtop of a large chalkboard for a sophisticated hint of fall.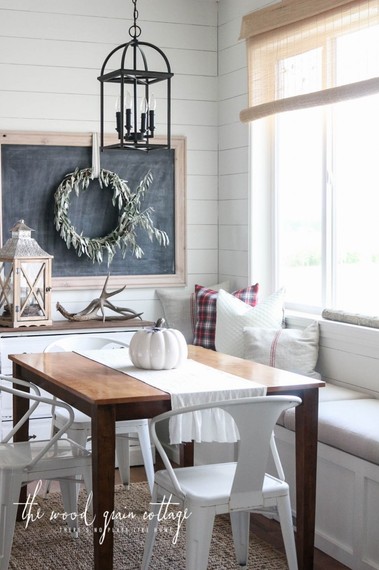 Tour part one and two of this fall home, here.
Image Credit: The Wood Grain Cottage
6. Framed Fireplace
From mini pumpkins to burlap bunting, there are so many ways to decorate a fireplace for fall. This home takes a unique twist on decorating the fireplace mantel by using golden frames, wreaths, and faux taxidermy for an enchanting, natural display.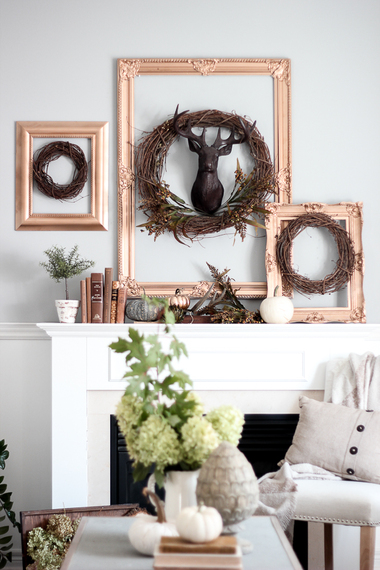 See what else this festive fall home has to offer, here.
Image Credit: Craftberry Bush
7. Modern Farmhouse Dining Room
With the fall season comes dinner parties, Thanksgiving, and a lot of entertaining! This fall farmhouse features all items you can DIY for your next event, like pinecone place cards and painted shutters.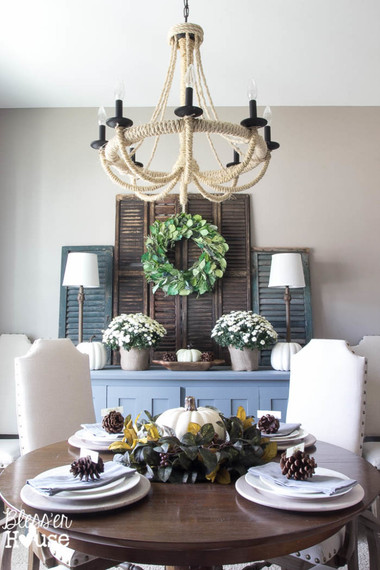 Get the full look at this fall modern farmhouse, here.
Image Credit: Bless'er House