I travel. A lot. While some people sit in traffic, I sit on runways so often that it's not uncommon for me to fly domestic at least six times a month, let alone fly international each month. This week, I was back on the runway again, headed to an airline conference to speak to 600 executives about the power of social media. After two movies, three bites of mushroom lasagna and thankfully a lay-flat bed, I landed in Frankfurt, Germany. I'm a quarter German but I've never been here. First time for everything, right?
I breezed past baggage claim since I traveled with a carry-on and thankfully customs was trouble-free. If all international travel could be so easy... and humorous. The driver assigned to pick me up had a "deer in the headlights" expression and was shocked to find I was a female. My androgynous name is masculine sounding to most.
As we drive to the conference, the landscape looks similar to lush sections of Minnesota where I grew up. Thick green trees, rolling hills and an afternoon rain that could feed the mosquitoes that dominated the summers of my youth. I have time to kill in the back of car so I snap a couple shots with my iPhone. I have an instant mental picture of the journey, images I could capture and post on Facebook to spark twenty comments by the end of the day.
It's a far cry from the way we shared travel memories in the past. Not that long ago (unless you're a twenty-something) and just pre-Y2K, I took a "honeymoon" trip to Africa with my friend Marjorie. My heart was broken and I decided to climb Kilimanjaro to mend my ailing mindset.
We set off. My backpack was filled with zip-lock bags containing plastic film canisters, a video camera that shot tape and a wide and macro angle lens. I spent my savings on the dream trip and captured my memories the "old fashioned" way.
Post trip, I lugged the film to the photo shop, ordered double prints with artsy white boarders and scheduled a drink with a couple of friends. With three photo albums and the gift of a large, etched ostrich egg in hand, I retold every detail of the journey while flipping through the album pages. Oh, the memories and mental pictures back to that moment. I'd never thought they'd feel so archaic.
Perhaps my trip to Germany won't compare to an African adventure, but it's interesting to see how memory capturing has evolved. In true social media fashion, as I take the stage at the conference I snap a picture of the crowd waving to me to document the moment. I knew the group would agree to it as conference attendees were taught the Rocky Horror Picture Show "Time Warp" dance in group fashion by three scantily clad dancers wearing silver space suits the night prior. My request was simple compared to the "jump to the left, skip to the right, hands on your hips" dance moves.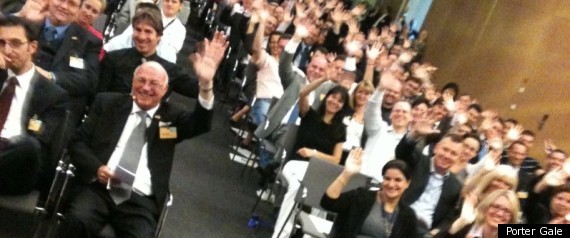 To bring things full circle, I posted the conference photo on Facebook and asked for some crowd-sourced captions. "Who's happy they're not in the office today?" was submitted by Janna Sperry Sundby and truly sums it up. I may not be in the office today but I'm happy at the thought of traveling, snapping photos and getting back on the runway again soon. What's your destination this week?