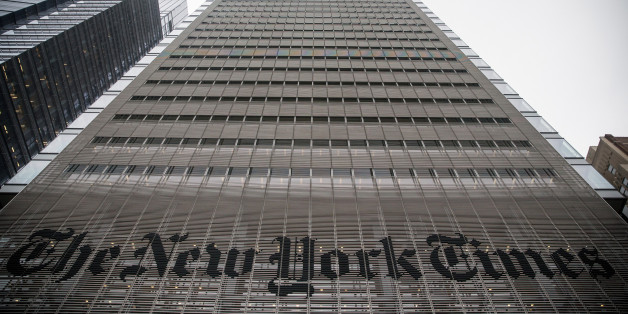 In these days of musical chairs and institutional revolving doors, concepts such as loyalty to one's previous employer are at a premium. Not so with those who worked -- or still work -- at the New York Times.
A longtime reporter for the Times -- acclaimed for his coverage of nuclear and transportation issues, among others -- decided that with the exodus from his beloved newspaper resulting in more people outside it and within its newsroom, the time was propitious to start a club of sorts. That idea of Matthew Wald resulted in a "group page" on Facebook.
It's called New York Times Alumni, and within two days of its launch last weekend, the group already has nearly 1,000 "members." Which other news organization inspires that sort of loyalty and nostalgia, especially when departures these days tend to be bitter and involuntary through layoffs and buyouts?
The group is closed -- which means that while the general public can view its Facebook page, Matt Wald, the administrator, needs to approve "membership." Everyone who's worked for the Times, or still works there, is welcome to join.
Being part of the group means being part of a unique institutional history. The Times has been published continuously since September 18, 1851. Members have already started posting reminiscences, photographs of colleagues from old times, and pictures of various memos and memorabilia (such as pieces of the now-extinct linotype machine that was used to set copy).
It's a fascinating glimpse into how the world's arguably most influential newspaper attracts talent, how its editors and reporters interact with one another, how staff members sometimes collide but in the end always collaborate to produce a still mammoth publication. As my mentor, the late A. M. Rosenthal -- who served as executive editor -- once told me, "Being at The Times isn't just an opportunity to excel in journalism; it's a privilege. Don't ever forget that."
I haven't. My long years at the paper -- starting in 1968 as a copyboy during the summer vacation while I was still an undergraduate at Brandeis University -- were really the best years of my life. While good things have happened since I unwisely left the Times, I continue to rue the day that I said farewell. I didn't have to go; but go I did for seemingly greener pastures, and I have regretted that move ever since. At the Times -- in my days, at least -- there was no going back after you left.
But one doesn't really leave the Times. The memories, the emotional attachment, are too embedded in one's subconscious to be obliterated by the mere act of departure. Like many of the alumni group's members, I was fortunate to be tutored by giants of the game: Abe Rosenthal, Arthur Gelb, Seymour Topping, Lou Silverstein, Punch Sulzberger, Sydney Schanberg, Joseph Lelyveld, Marvin Siegel, Michael Leahy, Laurie Johnson, Charlotte Curtis, George Barrett. Most of them are gone now, but no journalism school could possibly have taught the lessons they did.
Those lessons were simple: fairness and accuracy. Simple, but difficult to adhere to. That's because story telling is always complicated. One has to listen carefully to the person being interviewed; research is often fraught. There are judgment calls to be made in the selection of facts. And the narrative needs to be compelling enough for the reader. At the Times, there were no compromises about these things when I was there, and I suspect that there are no compromises now.
The Times -- and its special form of newspapering -- made me what I am. It instilled in me an enduring romance for journalism. I miss the camaraderie among colorful characters; I even miss the intramural competition for getting on Page One. I miss hurtling toward seemingly impossible deadlines. I miss the old Gothic-style building at 229 West 43rd Street in Manhattan. I miss my mentors.
But now here comes The Group. It's a nice way to stay in touch with former colleagues, nicer still to recall that we were all young once and that we were full of ambition, that we were driven by the possibilities for the future. At the Times, the future always beckoned.
It doesn't matter that not all of us fulfilled the high expectations of our editors and mentors and colleagues. Enough to say that we were there, we were at the New York Times, we covered history as it happened, we led interesting lives, that we were richer for having been newspaper people.