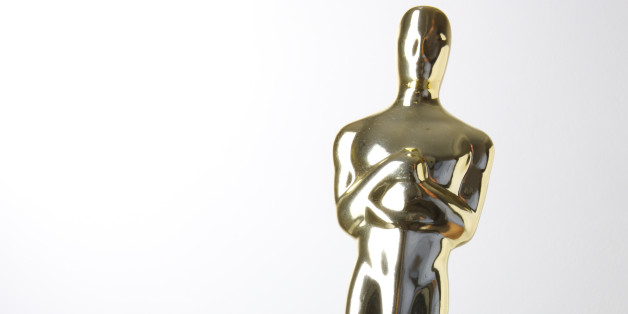 The Oscars are my Christmas. In fact, during awards season, in the time period between the Golden Globe nominations and the end of the Oscars telecast, I have been known to walk around singing or humming the chorus line from the Christmas song, "It's the most wonderful time of the year." As such, like a child surrounded by wrapping paper and wayward boxes after a particularly exciting Christmas morning, it is my absolute pleasure to share my Top 20 observations from the 2015 Oscars (in no particular order):
1) "I want a Lego Oscar to go with my Ken doll Oscar" is a phrase that you will never hear Meryl Streep utter ever. But I did and I will. Again and again and again.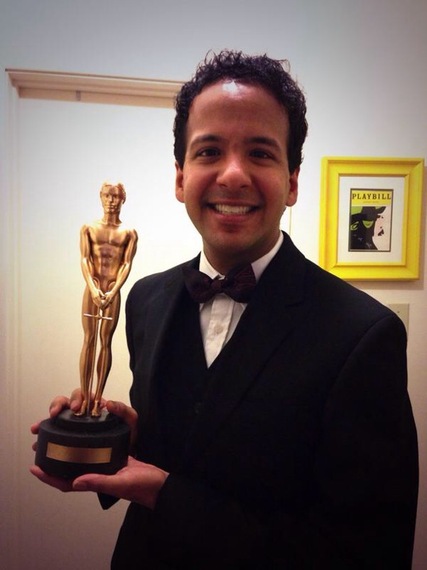 My Ken doll Oscar and I during my Oscars 2013 Viewing Party at my apartment.
2) The #AskHerMore campaign delivered REAL change on the Red Carpet. Gone was the mani-cam debacle of previous years. Questions to women were not solely focused on their sartorial selections, but were coupled with questions on their work, choices as artists, and upcoming projects. I applaud the #AskHerMore campaign for encouraging everyone to elevate and expand the conversation.
3) I love that JK Simmons was keeping the "Big hat at the Oscars"-trend alive and well in 2015. Also, shout out to Pharrell for lending his hat to JK Simmons.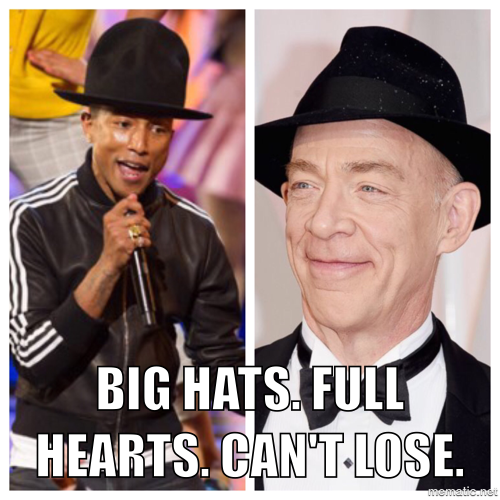 4) I adored Neil Patrick Harris' ("NPH") opening song. Lines such as "I'm secretly hoping someone pulls a Kanye West" and "All of these films inspire you to stand up and perform" perfectly balanced the comedy and sheer grandiose pageantry that makes an Oscars' opening number click. The guest performances by Anna Kendrick and Jack Black were fantastic and opened the show with an enthusiasm and earnestness that has been missing from awards shows for a long time. I was really hoping for a NPH recap song at the end (like at the Tony Awards), but I think the magic trick did the trick. Billy Crystal, who made the song-and-dance opening at the Oscars famous, would be SO proud!
5) Does it make me a bad person that I totally loved the up-tempo Adam Levine version of the song "Lost Stars" in Begin Again more than the singer-songwriter Keira Knightley version in the film? Because I do. And I kind of feel like the Wal-Mart to your independent bookstore right now. #PleaseDontJudgeMe
6) Oscar Lesson: Hug your mom and dad, because JK Simmons said so. Seriously, did you see his brilliant work in Whiplash? Dude is scary. Don't let the whimsical Pharrell hat fool you.
7) The swag bag was worth $160,000? Did I hear that correctly? Honestly, I wouldn't need anything to present at the Oscars. Just tell me which city bus to take to the Dolby Theatre and let me take a crumpled program or menu card from the Governor's Ball as a souvenir. I'm good to go. Seriously.
8) Nothing is more reminiscent of an annoying friend abruptly changing the topic of conversation at a dinner party than tonight's pairing of the Best Picture nominee clip packages. Exhibit A: The Grand Budapest Hotel and American Sniper. Together. Can I ask: What was the unifying theme? I loved both films, but by no means should they have been paired together. It felt incoherent and scattered.
9) Shout out to the seat fillers. Yay Heidi and Laura! So I guess this means that I can still keep that ridiculous seat filler dream of mine alive?
10) NPH demonstrates his brilliance by re-enacting the "tighty-whities" running scene from Birdman thereby reminding Oscar-winners of the importance of both "keeping it brief" and "keeping it in your briefs" on Oscar night. Check yourselves before you wreck yourselves, people.
11) Spectacular speeches. Patricia Arquette's clarion call for equal rights and equal pay for women. Common and John Legend's deep reverence for those who paved the way during the Civil Rights Movement and reminder of all that remains to be done. Julianne Moore and Eddie Redmayne speaking about Alzheimer's and ALS, respectively. Alejandro González Iñárritu's powerful statement on immigration. The speeches tonight were next level: thought provoking and touching. The winners truly made their moments count.
12) The performance of "Everything was Awesome" from The Lego Movie made me feel like the show went full-on animated for a second. Also, I couldn't help but wonder if The Lego Movie's ultimate act of revenge for the Best Animated Film snub was leaving wayward Lego pieces in the aisles after the performance for Academy voters to step on. Because, as our collective, traumatic childhood memories of stepping on wayward Lego pieces remind us: NOTHING HURTS MORE.
13) John Legend and Common's performance of the nominated song "Glory" from Selma was EVERYTHING. Especially with the bridge in the background and the choir marching to the front of the stage before Legend's stunning a-cappella ending. I have no words. That was an Oscar-moment for the record books and the shot of audience members in tears afterwards made me cry even more. #chills
14) Lady and a Dame. Never did I ever expect Lady Gaga to do a medley of songs from The Sound of Music. Then when she introduced and embraced Dame Julie Andrews, I kept thinking "Pop royalty meets actual royalty." But didn't part of you worry that young people everywhere would say, "Why is Lady Gaga hugging the Queen of Genovia?"
15) Alexandre Desplat beats Alexandre Desplat to win Alexandre Desplat's first Oscar. You read that correctly. The future has arrived.
16) Meryl Streep's unabashed, enthusiastic support of Patricia Arquette's call for equal rights was the BEST! I will be sure to come back to this moment when I am sad and pretend like Meryl Streep is telling me, "I believe in you, Prasanna. Yes, Yes!"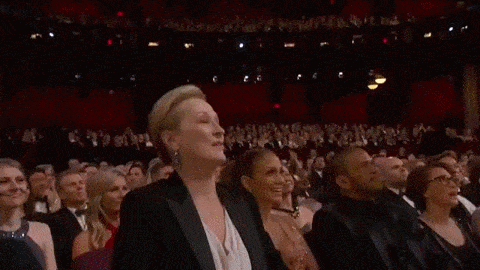 17) The screenplay categories. Big surprises and totally awesome ones at that. Plus, as my friend Audrey so perfectly put it, "I never thought the guy who wins Best Adapted Screenplay at the Oscars would make me cry." Graham Moore, you made us feel all of the feels with your incredible speech.
18) Fun Fact: None of the 8 Best Picture nominees went away empty handed. Each Best Picture nominee won at least one Oscar during the night.
19) I LOVED that Bennett Miller and Richard Linklater gave Alejandro González Iñárritu a group hug when he won the Best Director Oscar. Bros, not foes, y'all!
20) I am surprised that Boyhood didn't win considering it felt like everyone aged at least 12 years by the time tonight's marathon Oscar-telecast was finished.
What did you think of the 2015 Oscars? What was your favorite moment? Let me know your thoughts.