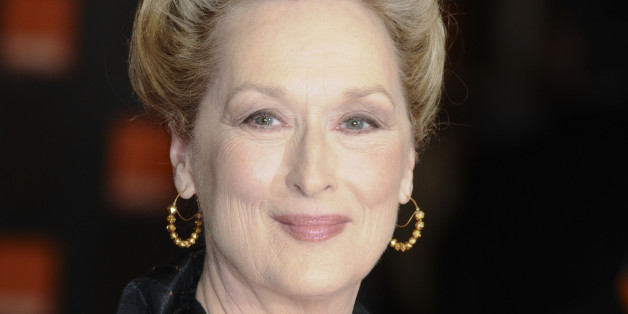 To partially quote Jane Austen, "it is a truth universally acknowledged" (or at least by anyone who knows me) that I, Prasanna Ranganathan, absolutely adore Meryl Streep.
Fact: I make sure to see each of her films as soon as it opens in theaters.
Fact: I lined up for nine hours in Central Park in New York City in August 2006 to get tickets to see her in Mother Courage and Her Children.
Fact: I attended the outdoor performance of Mother Courage in a torrential downpour, because if Meryl Streep could power on and inspire us (despite the onslaught of rain), there was no way I was going to miss out.
Fact: I shared with friends that Facebook's #FacebookIs10 musical montage video campaign in February 2014 would have been infinitely more powerful if Meryl Streep simply played us all in the stories of our lives. Nora Ephron captured it best in her tribute at the American Film Institute (AFI) Life Achievement Award presentation to Meryl Streep in 2004 when she said, "I highly recommend getting Meryl Streep to play you. ... She plays all of us better than we play ourselves, although it's a little depressing knowing that if you went to audition to play yourself, you would lose out to her."
In anticipation of the release of Meryl Streep's latest film, The Giver, on Friday, Aug. 15, 2014, in theaters and our seemingly incomprehensible yet demonstrated societal need for lists, I started thinking about her range of performances with a view to preparing a list of my favorite ones. A genius at both comedy and drama, Meryl Streep as an actress is an "intuitive investigator" of the human condition: insightful, powerful, and awe-inspiringly versatile.
I must confess that I share this list with great trepidation, because to narrow down her work to my five favorite performances was painstaking at best. I mean, I can literally hear the voices of friends asking: Where is The Deer Hunter? Silkwood? A Cry in the Dark? The Bridges of Madison County? I know. Believe me, I know.
Without further ado and too many spoilers, I present below my five favorite Meryl Streep performances, in no particular order.
The Devil Wears Prada (2006)
Meryl Streep as Miranda Priestly
Meryl Streep imbues fictional editor Miranda Priestly with a bristling bravado and devastating longing for something more than what she has achieved. In Streep's expert hands, Priestly's particularities, demands, and exacting nature do not seem like eccentricities or unnecessary quirks but a natural extension of the character's quest for perfection and success in every aspect of her life. That Miranda only allows her veneer to fall at one point in the film, revealing her vulnerabilities to Andy after her latest husband leaves her, is both realistic and tragic. Here is a woman who is successful in every sense of the word but closed off from feeling connection to anyone for fear of its impact not only on her career but on her heart. Miranda Priestly's unflinching nature is one of her greatest strengths and is the cause of her ultimate isolation. Streep expertly portrays this dichotomy.
Sophie's Choice (1982)
Meryl Streep as Sophie Zawistowski
This is one of the greatest performances of all time, partly because Streep takes the character's huge secret and demonstrates how it serves as the basis for her present-day situation and, throughout the film, as the basis upon which each layer of her identity is exposed by and to the men in her life. The way the camera lingers on Streep's face as Sophie relives the horrors of that decision and shares them with Peter MacNicol's Stingo is nothing short of transcendent. Streep uses her face and eyes as the windows to Sophie's soul and as the gateway to her memories. Haunting, harrowing, and utterly mesmerizing, Streep has never been better.
Kramer vs. Kramer (1979)
Meryl Streep as Joanna Kramer
Streep makes the complexities of family breakdown and individual longing for a life filled with meaning and joy seem not like a flight of fancy but more like the birthright of every living person. That in this performance she demonstrates Joanna's need for independence from her marriage yet her continued commitment to her child destroyed society's carefully constructed rubric at that time that those who leave their marriages abandon their children. The scene on the stand is a master class in acting. Gosh, I must watch this film again.
The Iron Lady (2011)
Meryl Streep as Margaret Thatcher
I debated including this performance on my list because I don't like the fact that I have chosen all her Oscar-winning performances, but I simply could not ignore her work here. She takes a seemingly impenetrable character, this time a real-life historical figure, and manages to finds the pockets of nuance that make her a fully embodied person. Through her performance we are taken behind the veil of history's perception of Margaret Thatcher and plunged into a wellspring of questions about what we actually know about this person the world so definitively characterized in one way or another. Streep is unapologetic in her performance, and she never purports to make Thatcher a sympathetic figure. My favorite scene in this film was not Thatcher in her prime or delivering her many speeches but the final scene, where an elderly Thatcher moves about the kitchen making tea. Streep's portrayal shows a woman bearing the weight of the world, of her decisions, of her age, of her illness, all the while demonstrating that though history and media may give leaders the status of extraordinary, polarizing beings, reality ensures that the human condition and experience is one of universal appeal and understanding.
August: Osage County (2013)
Meryl Streep as Violet Weston
Violet Weston is toxic in every sense of the word. Her compulsion to be a truth teller is utterly heartbreaking for her family and destroys the house of lies on which she has built her life. At the end of the film, when she is left in the house abandoned by her family, we realize it is not because of the selfishness of adult children wishing to strike out on their own but because of the vitriol of a woman who, for all intents and purposes, became a mother not through choice but through circumstance and expectation. The irony that she has mouth cancer is not lost on the audience, who recoil at every corrosive turn of phrase, bracing themselves for the onslaught of verbal arrows she is sure to shoot at everyone in her path. Violet is someone you despise yet, strangely, someone you long to be, in certain respects: bold, brash, outspoken. That Meryl Streep can mine a character of such contrasts and make her multidimensional, vulnerable, and real is a tour de force in every sense of the word.
Do you agree with my choices? What are your favorite Meryl Streep performances? Share with me in the comments below.