The first thing you think of when you hear the word 'convention' is a bunch of experts in suits, talking about things using a lot of jargon and sipping endless cups of free coffee and eating cookies. Every four years, the news channels are abuzz with Democratic or Republican convention stories; the Silicon Valley is dotted all through the year with IT conventions and if you head south, you might also end up in one of the many NRA conventions where people just talk about guns. None of these are bad things per se, as long as you consider yourself an enthusiast, if not an expert, in any of these fields. But if you do not find that sense of belonging there, then you would be completely lost. However, all of this changes the moment you step into the annual San Diego Comic Convention, aka Comic Con or SDCC.
Then and Now. The just concluded San Diego Comic Con 2013 is an event with a lineage like no other. Getting people from all over the world to come under one roof and share their love of comic books, animation, sci-fi, fantasy, films and video-games is not a mean feat. But this convention has made it possible since 1970. The first Comic Con event held back then managed to get 145 people to attend; last year, more than 130,000 people showed up and we are still waiting for the numbers from this year's show.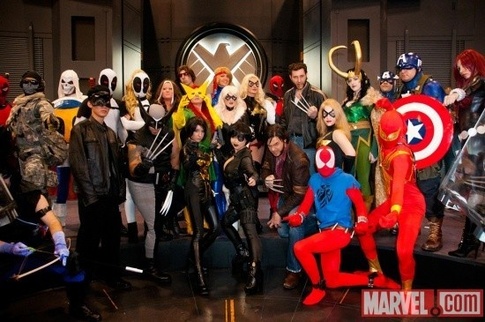 Not just comics. The unique thing about SDCC is that it does not exclusively restrict itself to being a mere convention of comic-book lovers. Hate it or like it, most comic book fanatics are introverts. We love reading the adventures of our favorite superheroes and villains and we do not care if sometimes that means giving up that night out with friends. In short, we are nerds and we are proud. But the idea of a horde of nerds hanging out in one location has a whole new meaning to it once you see how different genres, behind-the-scene people, illustrators, writers also attend these events. You also get to meet the actors and filmmakers of popular movies and TV shows. Part of the excitement of Comic Con is also finding out which of your favorite stars are nerds just like you. But don't worry -- this isn't Comic Con 101 class. Let us get straight to this year's event and what the highlight reel looks like.
SDCC 2013. This year, the event was held on July 18 and it lasted till July 21. Day one started with Wired magazine's 9.5ft tall giant mech robot cosplay. The 400 pound robot created such an opening day buzz that the convention safety maintenance staff declared it a fire hazard, not because it was too weaponized or something but because it drew too many people towards it. The first day also saw the panel from the upcoming movie adaptation of Ender's Game answering questions for fans and the press. The highlight of the event was obviously Harrison Ford, who did not look too amused when someone asked him -- "What would Indiana Jones say to Han Solo if they ever met?" Ford's nonchalant response -- "Hi, how are you?"
Day one also had interviews and autograph signing sessions featuring the cast of what is perhaps of the most popular TV shows in recent times, Game of Thrones. The panel included the author of the A Song of Ice and Fire series, George R. R. Martin, the principal writers and creators of the show, D. B. Weiss and David Benihoff and the cast members -- Emilia Clarke, Peter Dinklage, Kit Harrington and Richard Madden. Meanwhile, Wired magazine's Comic Con correspondent also managed to sneak in an interview with former Guns 'n' Roses guitarist, Slash, who was there to promote the horror film he's producing, Nothing Left to Fear.
Movie Announcements. Speaking of movies, some of biggest studio announcements for the next couple of years were made at SDCC. Joss Whedon announced the title of the next Avengers film, Avengers: Age of Ultron. The next Captain America and Thor movies were also announced. X-Men fans almost had a "nerdgasm" as the posters for X-Men: Days of Future Past were revealed. But perhaps the biggest movie announcement was hinted through a teaser showing the Superman logo inside a Batman logo, clearly indicating a future project where Bruce Wayne and Clark Kent share screen time. The non-inclusion of other DC characters rules out a Justice League film in the near future. The movie will be a sequel to this year's Man of Steel and is slated for a 2015 release.
When talking of Comic Con, you cannot simply ignore the artists. One of the most famous cartoonists in the comic book industry, Sergio Aragones, who works with MAD magazine, was present at this year's event to talk with fans and other artists. The sale of storyboards from different films and art pieces meant as first drafts was pretty huge this year.
Cosplay, a highlight in any comic convention, was pretty big as well. Apart from the usual Star Wars and DC/Marvel costumes, other big names this year were Cartoon Network's Adventure Time and TV's The Walking Dead. Speaking of costumes, one of the most surprising entries this year was a person who walked into the Breaking Bad panel wearing a Walter White/Heisenberg mask. Audiences were thrilled when he turned out to be none but the star of the show, Bryan Cranston. As he joined fellow cast member Aaron Paul and creator Vince Gilligan on stage, it was an emotional ride as they talked about the upcoming final season of Breaking Bad.
The San Diego Comic Con this year was, according to many, the best one yet. But that is the beauty of the event -- every year, with more variety of things on offer, the quality gets better.