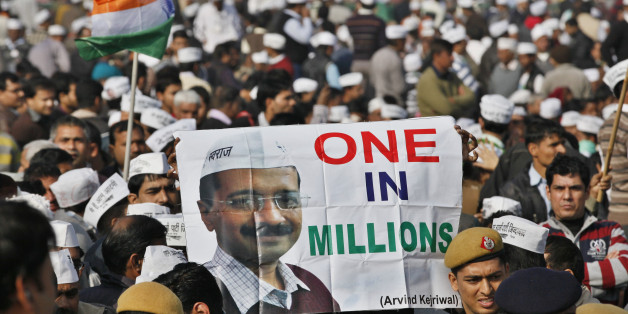 December 28, 2013 might some day be recited by future generations of Indian school children as an important date in their country's history. On that day, a new political party -- the Aam Aadmi Party (AAP) -- celebrated its rise to power in the Union Territory of Delhi, the city-state that houses India's capital. As India looks forward to the new year, the AAP's ability to usher in a new era of governance will be keenly observed not only by Indians, but also by those around the world interested in political reform.
The AAP, whose name means the Common Man's Party in Hindi, took a winding road to power. In Assembly elections held on December 4th, the AAP challenged India's leading national political parties, the Congress Party and the Bharatiya Janata Party (BJP), and managed an impressive second-place finish. Even without winning, the AAP had already done something momentous. The party's founder, Arvind Kejriwal, had unseated incumbent Chief Minister and Congress Party fixture Sheila Dikshit in her home district. Across Delhi, AAP candidates had broken Congress's hold on the city, leaving an old political titan with a paltry eight out of 70 Assembly seats. This performance alone represented an impressive triumph of grassroots organizing over money and old political networks.
But the victorious BJP decided it didn't want the headache of governing Delhi without a majority of votes, which no party enjoyed. The AAP had initially insisted it would only play the role of a "constructive opposition" and would not align itself with any other party. But, as the party weathered mounting criticism of its apparent reluctance to govern, its approach changed. The party held a popular referendum to ask Delhi residents whether it should now form a coalition government with the support of the Congress Party it had so bitterly criticized for its broken politics. The answer -- purity of association be damned -- was a resounding yes.
The AAP's story is not a fairy tale. The party hasn't yet developed a clear and consistent ideology, and some of its policy proposals (especially on subsidies for water and electricity) seem impractical and in need of more deliberation. I, along with others, have argued that the AAP should rethink its stance on a national anti-corruption law recently passed by the Indian Parliament. Observers have also highlighted, for example, potential flaws in its free water policy. But the policy debates can at least wait until the new year. As a fledgling political party, the AAP isn't yet defined by the details of its policies, although it soon will be.
What really defines the AAP is precisely what made it such a formidable electoral force: its political philosophy of public participation, transparency, and probity. The party's manifesto lays out its vision for local governance through mohalla sabhas, neighborhood bodies empowered to monitor public performance and make decisions on a variety of issues. This vision of decentralized democracy, which Mr. Kejriwal says was inspired by examples in Brazil and Switzerland, is a largely unexplored innovation in urban India.
The recent referendum is one example of this approach that favors elements of direct democracy. The results of the opinion polling it conducted, in mohalla sabhas, via SMS, and through its website, might have been skewed by sampling bias because AAP supporters may have been disproportionately represented among the participants. But the referendum can't be casually dismissed as a political gimmick. Although the AAP may have expected the result that it got, soliciting public opinion was still consistent with the party's belief in participatory governance.
It's possible that a push for direct democracy could be taken too far, turning the AAP into full-blown populists whose every decision is preceded by an opinion poll. A wholesale swap of representative democracy for direct democracy would be a mistake. But AAP leadership doesn't seem inclined to abdicate all responsibility for making decisions. Shortly after coming to power, Mr. Kejriwal noted that while "[s]ome decisions will be made with the people, others will be at our level."
Mr. Kejriwal recently told the New York Times that his party's ascendance brings with it a great sense of responsibility and a tremendous pressure to avoid mistakes. It remains to be seen whether the pressures of governance will cause the AAP to deviate from what has made it different. Mr. Kejriwal's first address as Chief Minister certainly didn't suggest any backpedaling from the party's core message: "We did not come to take control of the government. We formed the government to give it back to the janata (people)."
The AAP isn't likely to readily abandon its convictions about transparency, honesty and the devolution of power. While we don't know whether its decentralized governance structures will succeed, the party is sure to drive exciting developments in the year ahead. There will be plenty to watch in India in 2014, but the AAP's bold experiment with democratic processes deserves a place toward the top of the list.