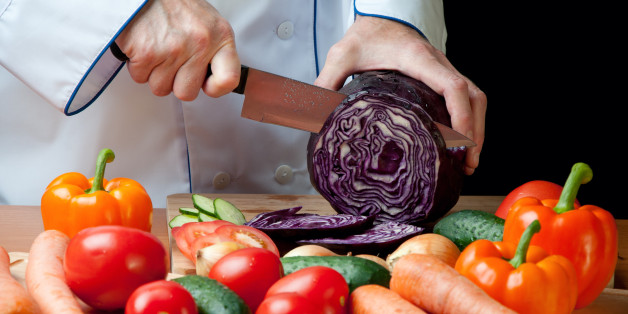 I have a quirk that I am not particularly proud of. Each time I read something, I find one line or a paragraph that I keep going back to. I might not even finish the book though. When I bought Anthony Bourdain's Medium Raw (this was in 2010), I read it bit by bit, quite like the way you'd save your favorite bar of chocolate, and nibble only on it every now and then. And the only thing I remember about the book is the first chapter -- or rather the prologue to the first chapter -- "The Sit Down." In that, Bourdain writes about being invited to a secret dinner in a restaurant that he does not mention. Here, he is surrounded by chefs he admires but he doesn't care to reveal their names. He goes through a 13-course menu that lasts more than just a few hours and yet, takes two whole pages to describe this particular delicacy he is served. A treat that is so forbidden, and illegal, the diners cover their heads with the table napkins, thus "hiding our faces from God."
Those two pages remain lodged in my memory till date. I've never had such a privilege, but then again I am no Anthony Bourdain.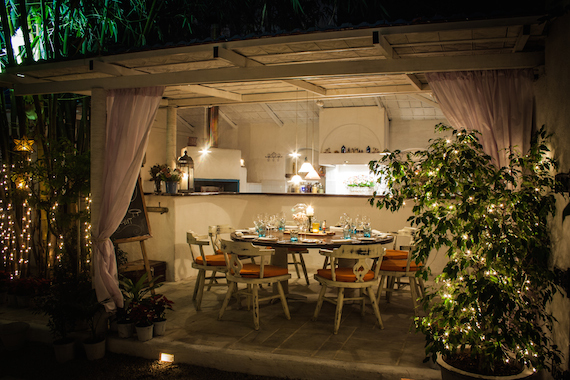 Exclusive sit-downs are a blessing, and some of us who get invited to them all the time never quite recognize the fact. We think it's something we are entitled to, given that we 'dabble' with food and food writing all the time. But every time an establishment of good repute extends an invitation, it is their way of telling us that we are special, not because we write about food but because we can understand its language. I am of course referring to those few occasions where dinners have no hidden agenda, and those are few and far between.
A couple of weeks ago, I sat at a table celebrating a dear friend's birthday, which I have to say, was one of the best meals I have had so far. In fact, I am yet to find an adjective for that six-course dinner that included an Asparagus En Cocotte (asparagus custard, a hint of truffle oil, milk foam and a stick of blanched asparagus to add that crunch), fresh burrata with thyme roasted cherry tomatoes, basil and balsamic reduction, and the star of the evening, a Prawn Ravioli that not only had the most delicate ravioli stuffed with prawns but also sautéed wild morels, a foie gras butter sauce, with Iberico chorizo bits sprinkled on top.
We talked about the dinner for days. We tweeted about it, published photos of the food on Instagram, dreamt of it, and planned to do another soon. This was at the Table for 8 -- the new annexe at the Bangalore restaurant, Olive Beach, and what probably made that evening spectacular is the fact that none of the dishes (except for maybe the dessert) was from the menu.
At the Table for 8 you hire the space, you hire the chef. What you will eat here will be created especially for you, and if budget is not a constraint, informs Manu Chandra, executive chef of the restaurant, he can pull out the red carpet for you: "The idea is not just about the food, is it? What we're trying to do here is create an experience. If a customer is willing to place his trust in me, I will go all the way to make sure that the meal is a memorable one," says Chandra.
A few days ago, I heard of yet another dinner that was organized by the Oberoi Hotel for a posh city-based dining group. Auguste Escoffier's last dinner for the first-class passengers on the Titanic was recreated for this soiree. Amit Wadhwan, executive chef of the hotel, is known to push his boundaries ever so often. On many of our interactions, he's told me that he likes the idea of playing with ingredients but never to the extent that it loses its basic purpose -- to make a diner happy. This recreation of Escoffier's menu, a 10-course meal, suffered little change from the original (the squab had been replaced with quail here), and each course was paired with a suitable top-of-the-line wine. There were oysters for hors d'oeuvres, Poached Salmon with Mousseline Sauce and Cucumbers and Fillet Mignon for the third and fourth courses, I can go on really, but all that matters is that at the end of the meal, I was informed, the gourmets present applauded the chefs for their efforts rather resonantly.
So when Anupam Banerjee, executive chef of The Ritz Carlton Hotel, told me that they had created a fairly expensive special eight-course menu, Dom Perignon included, for Valentine's Day, my eyes didn't leave its sockets. It is true then that people in Bangalore are willing to sell their kidneys for that one mind-blowing meal after all.
"A lot of work goes into creating that experience which will last you a few hours. From fixing the supply of the ingredients, to training the kitchen staff in perfecting the techniques, to briefing the service staff to ensure seamless services, you have to take into account every single detail that will go into making that one meal more special than anything you've had recently,"says Banerjee.
It kind of hit me then. These chefs aren't selling food; they're creating memories that also happen to taste great.