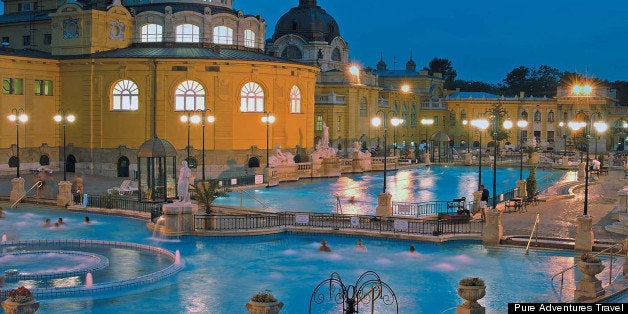 After seven days of self guided cycling along the Danube in Pure Adventures' Hungary tour, you'll overnight in Budapest on the final tour date. Whether you prefer the quiet sophistication of classical music and museums or a raucous night on the town, Budapest will satisfy all of your senses.
Housing central Europe's second largest collection of Egyptian art, Budapest's Museum of Fine Arts is a must see for art aficionados. The 100,000 piece collection of fine art includes not only Egyptian art, but also sculptures and modern paintings. Budapest is also home to the Hungarian National Museum, the country's largest at nearly 8,000 square feet. It's no wonder Budapest is named Europe's most beautiful city, with sculpture gardens, architecture, the historic castle district, all set against the Danube. Make sure your camera battery is charged!
Folk, jazz, classical or rock - music lovers visiting Budapest can be assured that they will have the opportunity to experience live music in their favorite genres. The Sziget, held each August, attracts more than 400,000 spectators and 1,000 musicians and is one of Europe's largest music festivals. The Budapest Spring Festival is a perennial favourite among classical and opera music fans. In 2013, the musician line up included Patricia Petibon, Marc Minkowski and Christoph Prᅢᄅgardien. Not to be left out is Budapest's reputation for a hot nightlife. Outdoor entertainment takes over the evenings in the warmer months and nightclubs thrum with party goers in the cooler seasons.
Budapest's coffee houses could be filed under taste, but it is the aroma of ground beans and brewed coffee that will draw you in for a cuppa. Budapest's coffee houses have a unique history, with most of them destroyed or shut down during Communist rule. The Communists believed coffee houses served as meeting spaces for underground criminal activity and even as late as 1950, the most popular ones were shuttered. Thankfully today you can relax in coffee houses as old as the Ruszwurm, built in 1827 or as upscale as the Zsolnay Cafe (described as snooty by locals, with the distinctive porcelain cups only reinforcing this reputation).
Honey, paprika, liqueurs, pickles, salami, pate, preserves and of course wine will satisfy all gourmands. Known throughout the world for these delicacies, most notably goose liver pate and szaloncukor, a chocolate covered candy only available at Christmas time. Shop at any farmer's market for the freshest food and be sure to buy acacia honey, a local favourite.
Is there a better reward for finishing your cycling adventure than time spent in one of Budapest's many Turkish baths? The Szechenyi Bath, Budapest's most famous due to its architecture, has 15 pools and an indulgent spa adjacent to the pools. Kiraly Bath is Budapest's oldest, having been built in 1565. Spring water in the baths (with one pool as warm as 40C) contain calcium, magnesium, hydrogen-carbonate, sulphate, sodium and fluoride ions - perfect for soothing your muscles post-ride.