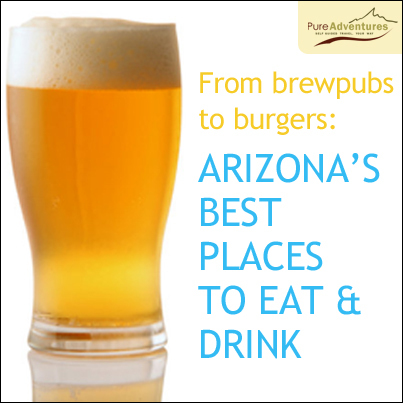 After a day on the desert single track eating only trail mix, the occasional granola bar and lukewarm energy drinks, food is top of mind for all cyclists and hikers on our new Arizona tours. If it's your first time visiting Pure Adventure's home state, you're in for a gastronomic treat -- Arizona is just as well known for its grand dining as it is the Grand Canyon.
We turned to our friends at AOA and Pure Adventures staff for their recommendations as to where to stop for the best brewpubs and burger joints in the state.
Four Peaks Brewing Company
Loren Siekman, Pure Adventures' founder and Brian Jump, AOA's Director of Multi-Day Tours both list Tempe's Four Peaks Brewing as Arizona's best place for a pint. With 8 mainstays on tap and countless seasonal beers to choose from any other time of the year, Four Peaks is also one of the top ranked pubs on Yelp and TripAdvisor. The Peach Ale is a perennial favorite, but their cask conditioned beers deserve a nod, too. Be warned that parking is tricky and getting a table between Thursday and Saturday can take a while. Travel Tip: stop in mid-week after your ride to avoid the crowds or visit one of their other locations in the valley. ᅡᅠNote, you can find their beer on tap in restaurants all over the state.
FnB
Intimate and affordable, Scottsdale's FnB not only tops our list, but Food + Wine magazine and The New York Times names the trendy gastropub as a must try. "FnBᅡᅠuses as much local ingredients as they can and has a awesome wine list featuring a lot of excellent Arizona wines," says Jump. Think the praise for FnB is just hype? Foodies on Yelp rave about every dish served up at FnB, with the Reuben being a lunch favorite and Jidori chicken the top dinner pick. Travel Tip: Make your reservation as soon as your book your vacation.
Elote Cafe
The menu at Sedona's Elota Cafe was inspired by Chef Jeff Smedstad's travels throughout Mexico. Signature appetizers and melt in your mouth lamb are recommended by Yelp users, and naturally the margarita tops everyone's drink list. Easily, this is the best Mexican food you'll find in all of Arizona. Reservations aren't accepted at this local favorite, so plan to either arrive early (well before doors open at 5:00 pm), or leave your name with the door staff and window shop while you wait. ᅡᅠTravel Tip: If you're from out of town, pick up a copy of the Elota Cafe Cookbook on your way out and make your favorite dishes at home.
Diablo Burger
Chances are that you rode your bike further in one day than any of the ingredients in your meal at Diablo Burger -- every ingredient travels less than 250 miles before it reaches your plate. The beef is sourced from the Diablo Trust Ranges, and 100 percentᅡᅠopen range-raised, antibiotic-free and growth-hormone free. Fresh greens, double-fried French fries and an extensive local beer and wine menu make this consistently top the list of best burger joints in both Flagstaff and Tucson. It's cash only at this burger joint, and be prepared to shell out at least $20 for a meal (which is still a bargain in our opinion). Not ready to take our word for it? Fresno-based food blogger James Collierᅡᅠnames Diablo's Wrigley Field burger as the best he's ever eaten.ᅡᅠTravel tip: The burgers are incredibly lean, ᅡᅠso don't be alarmed if they look pink in the center after that first bite.
Did we miss a place? Leave a comment or connect with us on Facebook and tell us where you love to eat in Arizona.