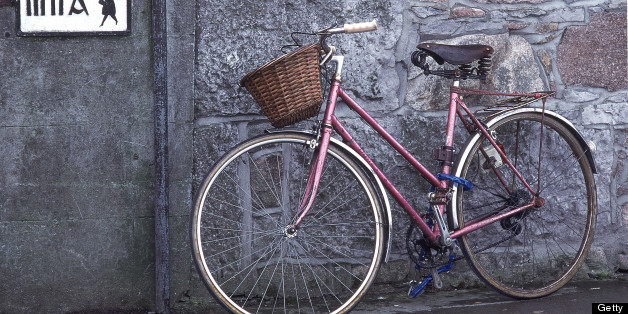 Ireland
! But now what? Four Pure Adventures travelers share their best - and often hilarious - advice for how to prepare for a self guided bicycle vacation in Ireland, with a surprising twist: their prep didn't always include cycling!
Learn Gaelic phrases
Ride your bicycle
Watch movies about Ireland (Once, The Commitments, Darby O'Gill and the Little People, The Quiet Man, Out of Ireland)
Read books about Ireland (How the Irish Saved Civilization, Round Ireland with a Fridge)
Play golf
Make scones
Ride your bicycle in the rain
Watch You-tube clips on the proper way to kiss the Blarney Stone
Seek out ancestral connections
Attend karioke night at the local Irish-theme pub
Buy Waterford crystal
Purchase green bike shorts
Learn the dance steps in River Dance
Research vegan beer
Ask family members to buy you a Gortex cycling jacket
Buy an extra pair of cycling shorts and a long sleeve cycling jersey
Ride your bicycle in the rain to a brew pub
Call or e-mail Pure Adventures and ask them as many questions as you can think of (like where to find vegan restaurants, what the weather will be like, where the golf courses are, what size the bicycles are and what the weather will be like).
Part of the adventure in booking a self guided cycling holiday is preparing for your trip. Remember that a bicycle trip this is a vacation and not a race, so while time in the saddle doesn't hurt, don't obsess about how many miles you ride before your holiday begins. A laid back approach, like Kitty and her friends had, is sometimes better! If you book your self guided holiday with a knowledgeable tour operator, you know that you have a local guide to help you when you arrive, plus the benefit of having luggage transfers, accommodations and route maps all taken care of for you. That means once your trip is booked, all you have to do is ride your bike - or not!
"Preparing for Ireland in the rain is no problem, really, because I'm coming from Oregon. If we couldn't ride in the rain, we couldn't ride. But preparing to ride in the rain AND stop midday at a Guinness pub AND ride some more in the rain, now that takes preparation! So, I've scoped out a few Oregon brew pubs that are spaced at a modest distance apart to begin my rain-pub-rain training. That's no problem, either, because practically everything in Oregon is a brew pub, including former churches, elementary schools, and retirement homes. The new problem is that it seems to have stopped raining. So, I'm sitting in a lovely Oregon pub, sipping a Guinness, and thinking about riding in the rain. Here's to being prepared!" - Pure Adventures traveler