If there were ever a season that had us itching for some retail therapy, spring would be it. (Sorry, goose-down jacket, but you're going into the incinerator.) In preparation for those glorious warmer days, we've surveyed the market and rounded up our top 10 pieces.
The Ankle-Wrap Flats
Look for a pointed or peep toe. And save the bows for your kindergartner--grown women should be tied in knots. Get the look.
Related: A Guide to Wearing Flats Seven Days A Week
The Suede Skirt
Everyday suede is making a big play this season, and not without reason. The plush fabric transforms a simple A-line or pencil skirt into a high-fashion commodity. Get the look.
Related: How to Wear Spring's Newest Fabric: Suede
The Matching Denim Set
The bottom piece can vary (wide-leg pants, pencil midi skirt, culottes)-- the key is topping it off with something fresh-- like a boxy chambray top or tank. Think of it as the everywoman's denim jumpsuit. Get the look.
Related: Why You Need a Denim Dress
The Canteen Bag
There are plenty of styles to mull over, so scoop one up in your fabric of choice. Get the look.
Related: The New Handbag of 2015
The Cinched Kimono Jacket
Best when wrapped around a short kimono-style jacket. Get the look.
Related: Transitional Jackets For Under $100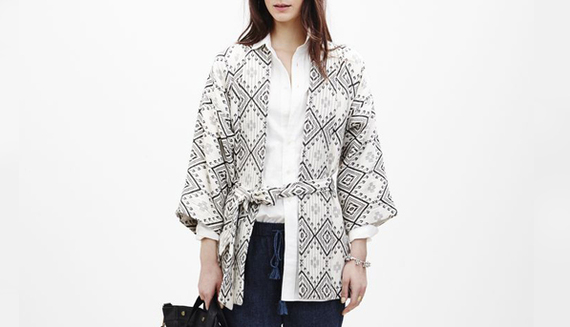 Image: Madewell

The Gingham Dress
Toto, this isn't Kansas. But Dorothy's dress sure is trending. Get yourself a glamorous fit-and-flare version or full skirt and wear it anywhere and everywhere this season. Get the look.
Related: Which Spring Skirt Is Right For You?
The Platform Heels
God bless a stacked heel. Both on trend and instantly slimming, platforms are ideal for spring skirts and the resurgence of flared jeans. Get the look.
Related: Love It or Hate It: Slides Are Making a Comeback
The Rounded Sunglasses
This season, look for slightly rounder frames in an airy color like butterscotch or sunset pink. Get the look.
Related: Spring Sunglasses Under $50
The Oversized Earrings
Minimalist jewelry will always be in fashion. But if you're pining for more of a statement, reach for a pair of bold dangling earrings. They elevate even your simplest white T-shirt. Get the look.
Related: Minimalist Jewelry You'll Wear Now and Forever
The Fringe Top
Just a touch of flair. After all, this isn't actually the '70s. Get the look.
Related: 8 of The Best Spring Fashion and Beauty Pairings
More from PureWow:
A Beginners Guide to Contouring For Your Face Shape
25 Genius Fashion and Beauty Hacks
Why You Need a Denim Dress
20 New Ways to Wear Jeans
Where to Buy Affordable Cashmere
How to Wear Gym Clothes All Day, Every Day
Rainy Day Gear You Need In Your Arsenal