Getting dinner on the table after a long day at work can be notoriously challenging. (As evidence, we present our massive collection of takeout menus.) Fear no more, here are three easy-to-make and delicious recipes for weeknight dinners:
In her new cookbook, One Pan, Two Plates, Snyder solves our dinnertime dilemma by offering more than 70 one-pot weeknight meals for two. Dishes like this pan-fried arctic char promise impressive results for minimal effort; we loved that this seafood supper pumped up the flavor with garam masala and a tangy yogurt sauce while also delivering a healthy dose of omega-3s.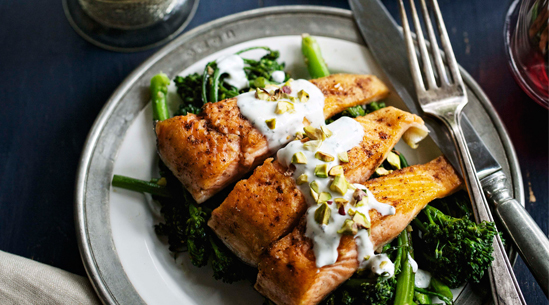 Get the Recipe on PureWow: Pan-Fried Arctic Char with Garam Masala, Broccolini and Yogurt Sauce
An ooey-gooey cheesy lasagna on a weeknight? Some Mondays we have trouble just boiling water. But this recipe from Kathy Brennan and Caroline Campion's new book, Keepers, delivers one of the most delicious pasta dishes you can make in an hour... and in one dish. Whereas most lasagnas involve a great deal of time and numerous pots and pans, their version can be whipped up in a single skillet. Better yet, their shortcuts don't diminish the integrity of the classic Italian dish. We're happy to report this supper is every bit as wonderful as the meaty, cheesy original.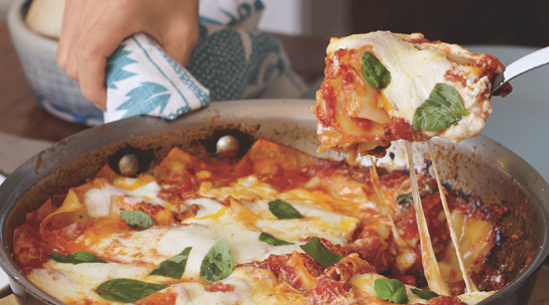 Get the Recipe on PureWow: Skillet Lasagna
Culinary power couple Elizabeth Blau and Kim Canteenwalla are pros at serving high-rolling diners at glitzy restaurants on the Las Vegas Strip (he was the chef at the fancy-schmancy Society Café; she runs a prominent restaurant development company). But at their new spot, Honey Salt, the pair is gambling that locals will prefer comfort food to caviar. Unpretentious, warming dishes comprise the menu, but we're partial to this cozy Tuscan soup that brims with tender vegetables and big cannellini beans.
Get the Recipe on PureWow: Tuscan Cannelinni Bean Soup with Parmesan Toasts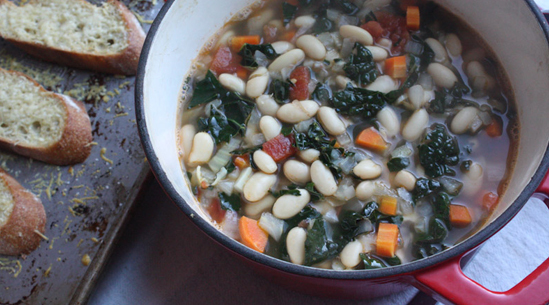 For tips on how to be the best chef/hostess/turkey-carver ever, head over to PureWow (just try not to drool on your keyboard..)