Roasted cauliflower? Been there, done that. But roasting a whole head of cauliflower? Now we've got your attention. Get the recipe.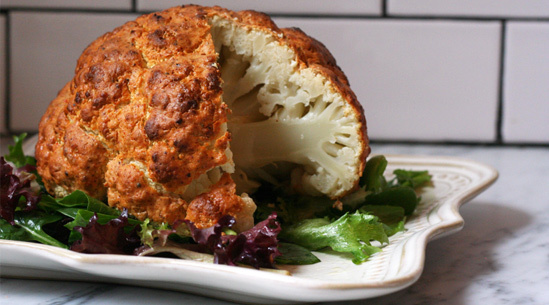 This recipe has you slathering cauliflower in a spicy yogurt marinade and roasting it at a high temperature. The result is an amazingly delicious dish that's as dramatic in presentation as it is easy in preparation.
Serve it with a big green salad (we suggest lime juice and olive oil for the dressing) for an easy weeknight supper or your next "the vegetarians are coming to dinner" party.
More from PureWow
7 of the Best Cauliflower Recipes Ever
Cauliflower Steaks with Lemon Herb Sauce
Crispy Prosciutto-Wrapped Cauliflower
Sicilian Cauliflower Pasta
Cauliflower Soup
Raw Cauliflower Tabbouleh
Roasted Cauliflower With Caramelized Onions