The progress of the Millennium Development Goals in pictures - An essay, in pictures from Brazil.
This April we went to Brazil for a reporting trip which lasted almost a fortnight. It was a great opportunity to learn about the progress Brazil has made in achieving the United Nation's Millennium Development Goals. We visited Sao Paulo, Recife, Rio-de-Janeiro and many nearby cities and favelas. Below is the MDG-tour in pictures.
Millennium Development Goal # 1 - To eradicate extreme poverty and hunger.
The success of MDG # 1 is also dependant on promoting the cultivation of the naturally growing cactus called Palma for use as a food for human and livestock. I tasted Palma curry in North Eastern arid lands of Cumaru, which is basically bits of cooked succulent spiced cacti in gravy. Along with rice, it tasted heavenly for my curried Indian tongue.
A closer look at the Palmas ... They need very little water to grow abundantly.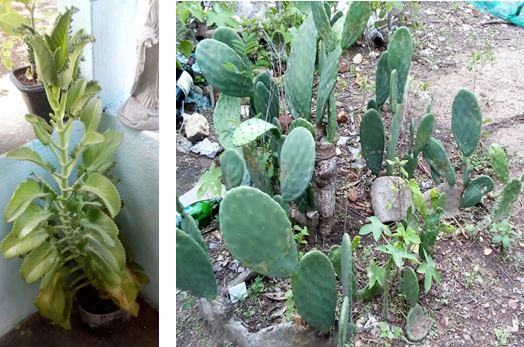 The Dragon fruit or Pitaya is a very juicy fruit, originally native to Mexico and South Americas, but now growing abundantly in Asia and Africa. They are also a variety of cacti and do not need over-watering. They have a creamy pulp, rich aroma and are high in calories, sugar and are a local food to farmers.
My hosts in Sao-Paulo introduced me to Dragon-fruit and I am a fan for life of this tasty fruit.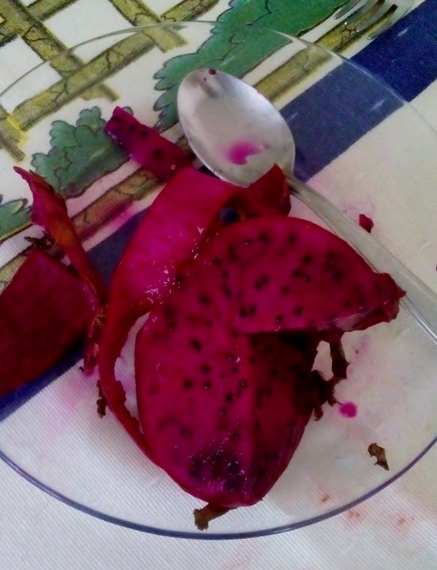 The conditional cash transfer scheme called Bolsa Familia helps in eliminating extreme poverty and so far has reached 22 million families living in extreme poverty and brought them out of it. Check it out in detail here.
The below image is from a presentation by Teresa Campello, The Minister for Hunger and Poverty Alleviation in Rio-de-Janeiro.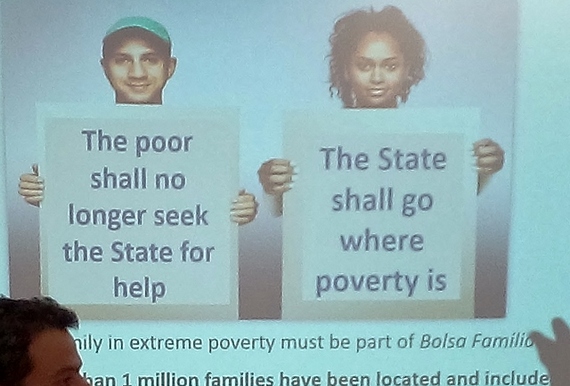 Amidst all this food-talk, how can I resist a picture of the lunch comprising of Palak (spinach) rice and dal, coconut and cucumber curry, with Gulab Jamun for dessert to down with cashew fruit juice, I had at an Indian restaurant. It was complete with curry leaves and garnished with coriander.
Millennium Development Goal # 2 - To achieve Universal primary Education
According to the Bolsa Familia scheme, to qualify to be a recipient of the conditional cash transfer scheme can be availed only by those families which send their children to the free primary schooling provided by the Federal government. A win-win situation for both the state and the citizens!
Children outside a playground in a favela in Recife discussing football and their school teams.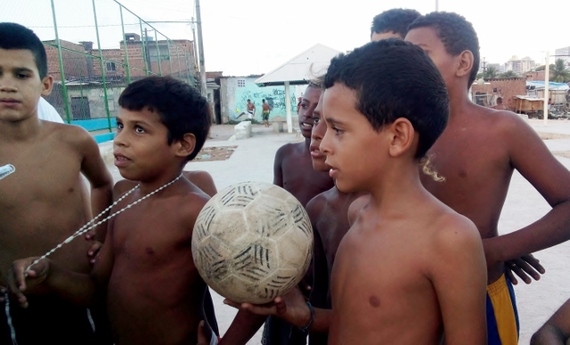 Millennium Development Goal # 3- Promote gender equality and empower women
One would think it is easy to achieve this MDG 3 in a country where the President is a woman, Ms. Dilma Rouseff. It has far from being easy. But Bolsa Familia is taking women towards empowerment and equality slowly, but surely. The recipients of Bolsa Familia are predominantly women, because the state thinks, "Women are more reliable" in providing for their family.
This is a picture of the author with Ms. Tereza Campello, The Minister for Hunger and Poverty Alleviation in Rio-de-Janeiro after a presentation on Bolsa Familia.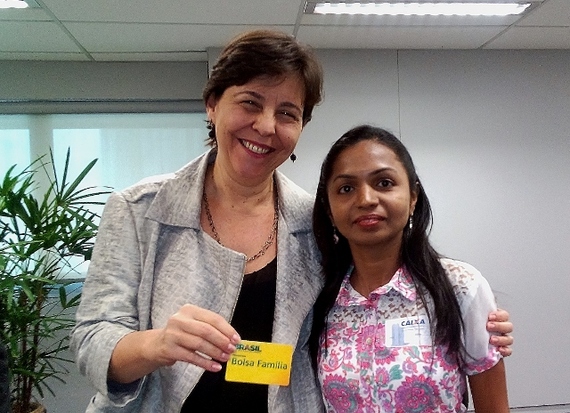 Millennium Development Goal # 4 - Reduce child mortality rates
In 1980, Brazil started a massive campaign of 20 years for Oral Polio Vaccine. The last case of Polio was reported in 1989 and WHO certified Brazil as Polio-free in 1994.
We visited the The Institute of Technology in Immunobiology (Bio-Manguinhos), which is the unit of the Oswaldo Cruz Foundation (Fiocruz) responsible for technology development and production of vaccines, reagents and biopharmaceuticals primarily geared to meet the demands of national public health. It even exports surplus vaccines to over 70 countries.
The Immunobiological Technology Institute (Bio-Manguinhos/Fiocruz)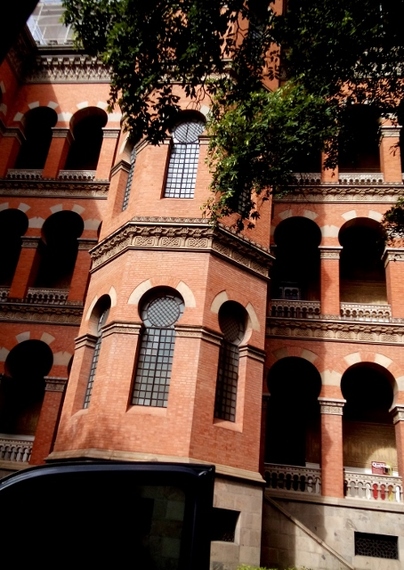 A presentation by Dr. Akira Homma, President of strategy and policy, Bio-Manguinhos/Fiocruz presenting the progress of Immunization camps thereby reducing child mortality rates, Rio-de-Janeiro.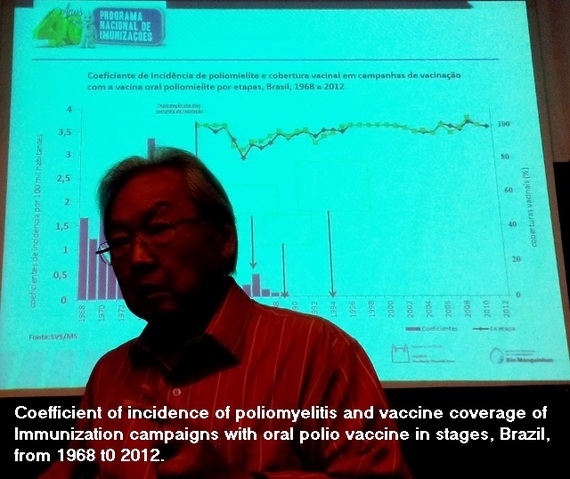 Millennium Development Goal # 5 - Improve maternal health
The community health workers volunteering for the NGO, Grupo de Trabalho Em Prevencao Posithivo (GTP) state that maternal health is improved to a large extent and women are nowadays more open to the female condom idea. It is interesting to note that in the large Catholic country of Brazil, abortion is still illegal. The welcoming attitude for female condom helps a lot in maternal health improvement.
A health-worker explaining how to use the female condom in the Coelhos favela in Recife.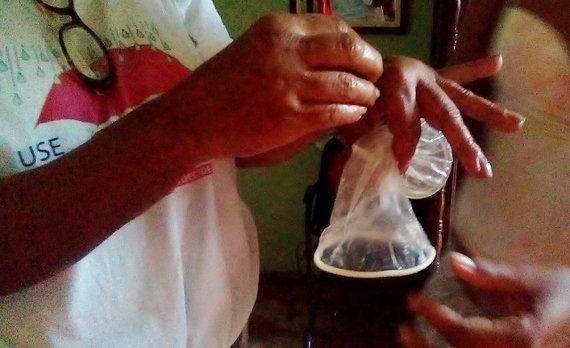 The female condoms are distributed free by the GTP NGO in the Coelhos favela.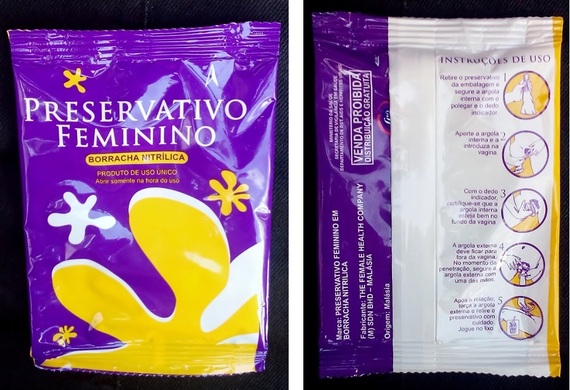 Millennium Development Goal # 6 - Combat HIV/AIDS, malaria, and other diseases
MDG 6 has some success stories coming from the work of NGOs like GTP which gives employment opportunities to the LGBT community and to the people living with AIDS, HIV and sex-workers. It employs workers to educate the people in the favelas, and also in their restaurant kitchens. But at the same time, there is still so much work to be done to eradicate malaria and other diseases.
Children playing adjacent to the accumulation of garbage and sewage water in the favelas in Recife.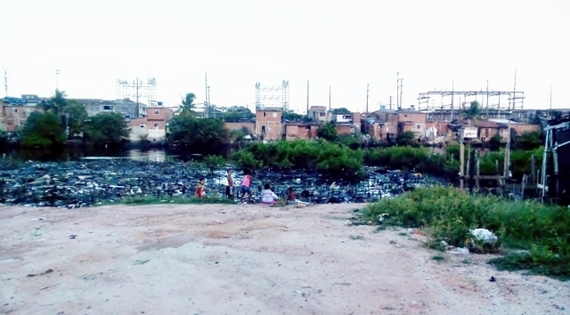 Garbage accumulation just in front of houses in the favelas - breeding ground for mosquitoes.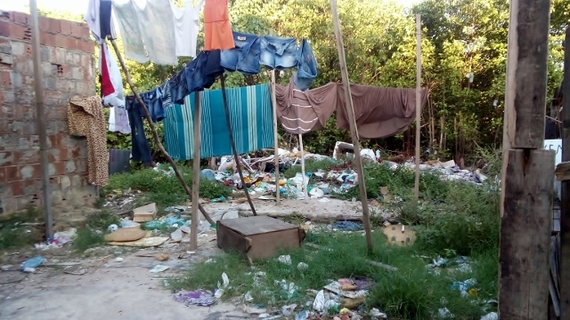 Millennium Development Goal # 7 - Ensure environmental sustainability
Environment and Brazil has a lot to talk about - both positives and negatives. This wave of fresh optimism in the Northern city of Cumaru lends a lot of credibility to the progress of MDG # 7. Details here on World Moms Blog.
The olden way - uncovered water wells leading to the modern covered water cisterns.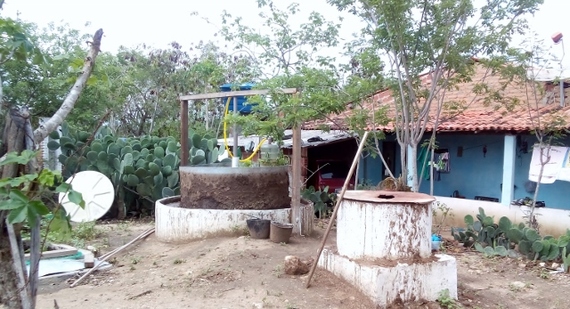 Volunteers overseeing the construction of a 16000 litre Water Cisterns, which taps the rainwater, in the semi-arid land of Cumaru.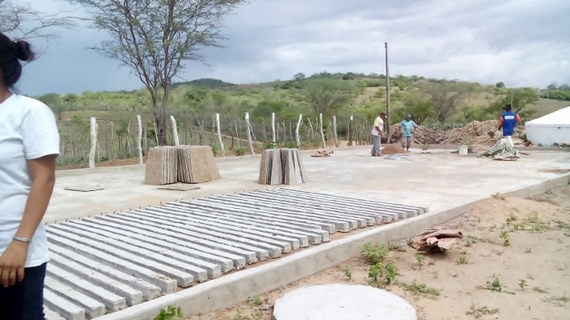 A completed water cistern with a capacity of 16,000 liters looks like this.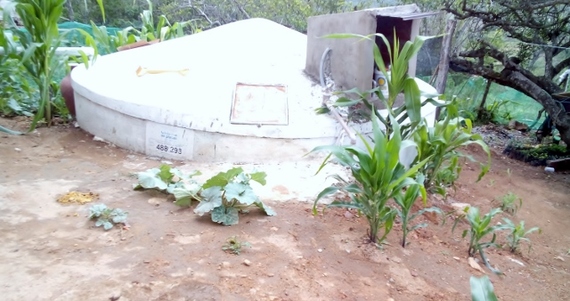 Saplings cultivated in the semi-arid region, thanks to the Cisterns of water store.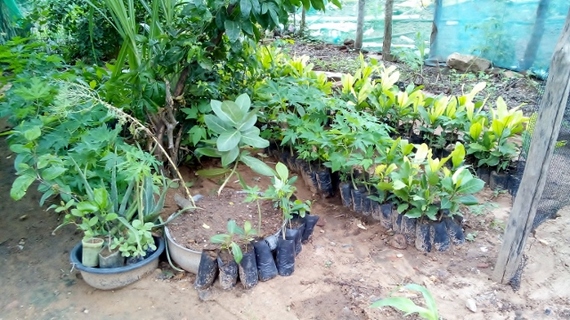 Millennium Development Goal # 8 - Develop a global partnership for development
Brazil has made inroads in reducing poverty, improving governance both ntionally and internationally with the conditional cash transfer scheme - Bolsa Familia. It is partnered globally with the African Nations in the South-South Cooperation, and with the BRICS nation. Brazil has so much to offer to the world in terms of learning, partnership for sustained development and social equality.
Sergio Fausto, executive director of the Instituto Fernando Hanrique Cardoso, key advisor to former President Fernando Henrique, and other leaders from the industry and political arena discussing Brazil's role in South-South Cooperation, Democracy in Brazil, Socio-economic schemes for the progress and development of the country and industrial growth. This was at a conference in Sao Paulo with the International Reporting Trip's team.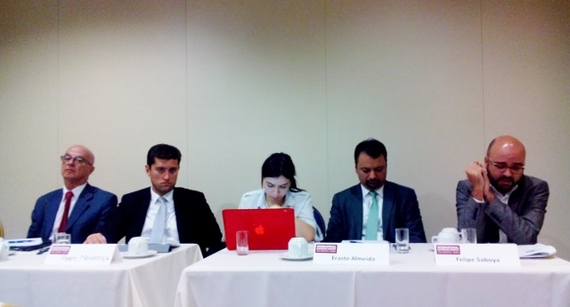 It is so interesting to note the progress that Brazil has made in achieving the 8 Millennium Development Goals of the United Nations.
This post was written by Purnima Ramakrishnan when she traveled to Brazil in April 2014 with the International Reporting Project as a fellow of Journalism to report on #BrazilMDGs.