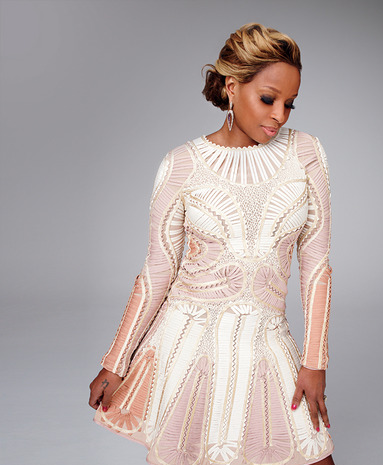 Over 20 years ago, Mary Jane Blige stepped into the music business with distinction. Armed with gritty soulful vocals, honey blonde hair, street edge swag and a new blending of R&B/Soul infused with hip hop, Mary created a new path in music history. The pain etched in her vocals quickly conjured up images of a young Aretha Franklin or Billie Holiday perhaps. Mary has been quite open with her personal struggles, an openness that's made many fans adore her body of work. One has to only listen to Mary's My Life album to understand why Mary has achieved legend status.
Blige has reigned to music royalty status, leading her peers in a movement that has become the new sound of R&B. Each of Blige's studio albums offers an honest portrait of scenes from her life. A life that has had it's fair share of challenges such as past tumultuous relationships, overcoming drug and alcohol addiction, fighting off thieves and finding the right inner circle. Seventeen years ago, the autobiographical My Life debuted and has come to be known as one of the most important CD's of all time.
Don't place Mary Jane Blige in a box. She's more than a soul genius from Yonkers, N.Y. She's celebrated with Oprah, serenaded President Barack Obama, toured around the world, wrote for Chaka Khan, sung with Aretha and Elton, owns a record label, has two popular fragrances and a line of signature shades. Most notably, Blige has lent her humanitarian efforts to the fight for cancer awareness and research.
Mary's new CD, A Mary Christmas marks Blige first Christmas album. Blige joins hit maker David Foster, the producer responsible for a few of Andrea Bocelli and Celine Dion hits. Barbra Streisand joins Mary on "When You Wish Upon A Star." Gospel legends, The Clark Sisters join Mary on "The First Noel." A Mary Christmas is simply marvelous.
"The past few months have been such an amazing time for me, the highlight being my work with David Foster," said Blige. "I am so fortunate to have had the opportunity to make this soulful and classic Christmas album with David."
The Christmas tunes are soulful renditions of some of Christmas classics. Blige's renditions surpasses many of the Christmas albums which many tend to become bored with hearing the same songs, sung in the same fashion. Blige owns each song and makes each song a Mary J. Blige version.
Mary's Album Treasures Past and Current
What's The 411 - Mary's debut album establishes Mary J. Blige as an important force to be reckoned with in the music industry. What's the 411 takes the infusion of R&B and Hip Hop to a level of originality and distinction.
Highlighted songs from What's the 411:
You Remind Me
Real Love
Reminisce
Love No Limit
Sweet Thing
My Life - Establishes Mary as an honest artist whom is able to translate her own personal struggles and the pain of others through her music. Each song carries a tale from the life of Mary J. The My Life album is a soul classic.
Highlighted songs from My Life:
Be Happy
My Life
You Bring Me Joy
Mary's Joint
I'm Going Down
You Gotta Believe
Share My World - The songstress bridges the gap between a younger and older generation with a body of work that both generations can enjoy. Blige also separates from her mentor, producer and friend Pdiddy though still receives even greater commercial success.
Highlighted songs from Share My World:
Share My World
Seven Days
Round and Round
Love Is All We Need
You Are Everything
Mary J. Blige: The Tour -Mary delivers raw soul. The unpredictability of Mary's vocal delivery makes this album reminiscent of lucid powerhouse vocals from Mavis Staples, Aretha Franklin, Dorothy Moore and Loleatta Holloway. The Tour takes us on a live journey with Mary J. Blige.
Highlighted songs from The Tour:
Misty Blue
A Dream
Day Dreaming
Mary - Heavyweights Elton John, Stevie Wonder and Aretha Franklin join Mary for the Mary album. Mary vocals are fresh, strong and vibrant. The Mary album establishes Mary as a matured singer. Mary surpasses her peers tremendously with this poignant treasure.
Highlighted songs from Mary:
Deep Inside
All That I Can Say
Your Child
Give Me You
No Happy Holidays
No More Drama -Whereas as My Life tells us about Mary's personal drama, No More Drama declares a declaration to be free from inner struggles. The title song becomes a mantra for Blacks, Whites, Gays, Straights, Men and Women around the country.

Highlighted songs from No More Drama:
Family Affair
No More Drama
Rainy Dayz
In the Meantime
Flying Away
Love & Life -Mary reunites with Pdiddy and re-establishes a What's The 411 eclectic vibe.
Highlighted songs from Love & Life:
Love At First Sight
Not Today
Willing and Waiting
Feel Like Making Love
When We
The Breakthrough - At the release of The Breakthrough, Mary has been in the industry for many years. Where most artist find it impossible to keep reinventing themselves after many years of recording, Mary not only reinvents her sound, she records one the most successful albums of her career. The Breakthrough garners over six million copies. Bono of U2 joins Mary on this treasure.
Highlighted songs from The Breakthrough:
Be Without You
Enough Cryin'
MJB -MVP
Alone
No One Will Do
One featuring Bono
Reflections-A Retrospective- Mary brings together some of her past classic tunes. Reflections-A Retrospective also carries Mary's hits with Method Man and Jay Z, recorded earlier in her career.
Highlighted songs from Reflections-A Retrospective:
I'll Be There For You featuring Method Man
You Make Me Feel Like A Natural Woman
Can't Knock The Hustle featuring Jay Z
Growing Pains - Mary experiments vocally on some of the material, trading in the hard edge soul for a more light Diana Ross type of delivery. Nonetheless, the album is a success.
Highlighted songs from Growing Pains:
Just Fine
Work That
Work In Progress
Come To Me
Hurt Again
Stronger With Each Tear- Brings together feel good songs and also introduces Mary to a younger crowd. Drake and Trey Songz join Mary.
Highlighted songs from Stronger With Each Tear:
The One featuring Drake
Each Tear
I Am
I Feel Good
Color
My Life II: The Journey Continues -The album serves as a continuation from the first My Life album. Nas, Busta Rhymes and Drake join Mary.
Highlighted songs from My Life: The Journey Continues
Why
Feel Inside
The Living Proof
Mr. Wrong
Need Someone
Expected Release: Oct 15, 2013
A Mary Christmas -Mary teams up with David Foster to bring forth a Christmas delight. A Mary Christmas shows at this point in her career, Mary can sit back and be experimental without worry of record sales or competition, as she has garnered a loyal fan base that's been with her since 1992. Barbra Streisand, Chris Botti, Clark Sisters and a few other surprises join Mary.
Highlighted songs from A Mary Christmas:
When You Wish Upon a Star featuring Barbra Streisand and Chris Botti
This Christmas
The First Noel featuring the Clark Sisters
My Favorite Things
Little Drummer Boy