"So, how do you know Nef?"
That phrase was commonplace at gatherings hosted by my friend, Nefeterius McPherson. Almost like a game of six degrees of separation, people were brought together by their common love for this exuberant, mocha-skinned woman with the million dollar smile.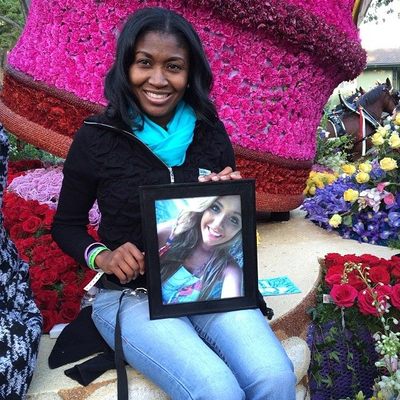 For many people, the last time they'd see that smile was on Instagram, in a photo she posted on March 12. She was in a hospital bed with a floral "fiesta headdress" clutching a smiling plush monkey. The medical wires crowding her body didn't seem to bother her. Her last public message to the world read:
"CANCER SUCKS! I went in for one surgery only to wake up hours later and told that a large tumor that is cancerous is growing like crazy in my abdominal area. I couldn't cry when I received the news. All I could do was stare straight ahead. Then my family showed up and showed out today, and put a big SMILE and put. My Uncle Ken gave me this lovely fiesta headdress (I put it on immediately!) and my sweetie I've been dating for quite some time gave me this stuffed monkey (I don't road trip without it). I have never felt so loved and encouraged as I do right now. I plan on having the same fighting attitude now as I did when I graduated from law school and while I was waiting for my liver transplant to fight this cancer. We don't yet know what type it is bit that doesn't matter. I will fight like crazy to beat it!#donatelife #donevida #givelifegivehope#cancersucks #beatcancer #thankful #blessed#smile"
Only one week later, on Wednesday, March 19, Nefeterius Akeli McPherson died. But it was not before those closest to her rallied at Medical City Dallas in a show of support and encouragement for her unshakable spirit.
If you knew Nef, you'd know that she was born in Killeen, Texas to Ballard and Katharyn McPherson. She was Tamara McPherson-Pizzoli's big sister, Flaviano's sister-in-law, and Milo and Noah's auntie. She was a member of Delta Sigma Theta Sorority, Inc. who loved to dance and travel as much as she loved a Shirley Temple with extra cherries.
If you researched Nefeterius, you'd learn that she was a proud Southern Methodist University Mustang who learned of her rare medical condition, Secondary Sclerosing Cholangitis, while still enrolled at the Dedman School of Law. She battled her illness fiercely and graduated cum laude with her Juris Doctorate degree. Unhindered, she followed her career with United States Trade Representative Ron Kirk to Capitol Hill under President Obama's administration.
If you'd heard of Nefeterius McPherson, you'd know that in November 2011, only six months after she was told she needed a liver transplant, that she received the gift of life from 12-year-old Taitlyn Hughes from Martinsburg, West Virginia. And though Nefeterius' life as a civil servant had to be put on hold, her life as a public servant was about to change in a way not even she would anticipate. The gift given to her by this pre-teen organ donor touched her soul and Nefeterius traveled to West Virginia to meet the Hughes family. Taitlyn's family and the community who mourned her sudden death embraced the woman who so deeply respected and appreciated Taitlyn's organ donation. Nefeterius, a Texas fan, made national news when she tweeted a photo of herself wearing Taitlyn's Moutaineers t-shirt at a University of Texas vs. WVU game. The media attention gave the former press secretary the perfect outlet to advocate organ donation. As the story of Nefeterius and Taitlyn spread, she defined herself as an avid spokesperson for Donate Life, with her "Story of Hope" earning her a seat on the 2013 Rose Parade float.
On Saturday, March 1, Nefeterius was honored by the Black Alumni of SMU at the Black Excellence Ball for her achievements and service. It was the last time I saw my friend as I'll always remember her: smiling, excited, and full of life.
Twenty-three days later, I joined what felt like 200 attendees at Friendship West Baptist Church in Dallas for Nefeterius' funeral. Friends from across the country, former colleagues from Capitol Hill, and members from her church home in Killeen all came to say their final farewell to the woman with the infallible spirit. Nefeterius had a magical way about her that made everyone feel like they were her best friend. And despite her achievements she was always humble, grateful, and welcoming. The state of Texas lost one of its stars and she was honored beautifully by both Killeen and West Virginia.
This is my memorial to her from Dallas and all of the people here who love her.
This post was originally published on CNN iReport.