In our busy image culture, Yahoo has estimated that 880 billion photographs will be taken this year. The ability to capture, experience, share, search, and recall photographic imagery (still and moving), rests in the pocket of anyone with a smartphone. If you want to see something but don't know what, check your feed on Facebook or Instagram and you'll soon be set. If you're looking for something specific, you will probably be able to find it with a quick search. Even what people believe to be private is sometimes accessible (consider the recent leaks of celebrity nudes). The result is that less and less is left to the imagination -- is left unrealized.
There's an allure to the unrealized, because what is realized -- made visible -- in the world becomes concrete and, even if realized well for one person, may be terrible for another. One example is movie casting: Your ideal James Bond might not be your neighbor's. The unrealized has the potential for fluid and personal perfection, whereas the realized, in its existence, is subject to scrutiny and shifting opinions.
Homemade is a book about the unrealized -- about imagination -- and under the desire-ridden umbrella of sex. The book presents a collection of homemade 8mm porno films, thought to have been made in Southern California in the late 1960s, by a man, and shot at his mother's home. Despite its background, the book doesn't reveal anything photographically explicit. The actual pornography is withheld, using text and a minimal presentation to spark viewers' imaginations. The book looks back a few generations, when home movies were shot on 8mm film, and takes a step away from today's cascade of photographic (and often explicit) imagery.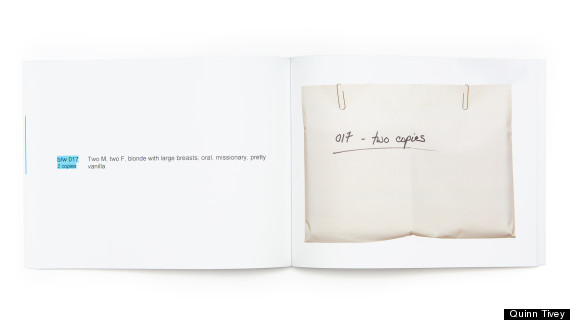 I was introduced to the collection by my friend Reza Fahim, who had the keen sense to acquire it when the opportunity presented itself. As he received it, each film reel was stored in an unassuming manilla envelope, clasped shut by paperclips, and accompanied by a spreadsheet describing the sex scenes in each movie. I was instantly attracted to the juxtaposition of that which plays with our most basic desires -- sex -- and the trappings of banality -- manila envelopes and a spreadsheet. These elements bounce off of each other in a balancing act between the titillating or the obscene and the hilarious. The first time I saw the collection, my fantasies of what lay inside each envelope, triggered by the written descriptions, were tantalizing enough to outweigh my interest in actually looking at what was enclosed.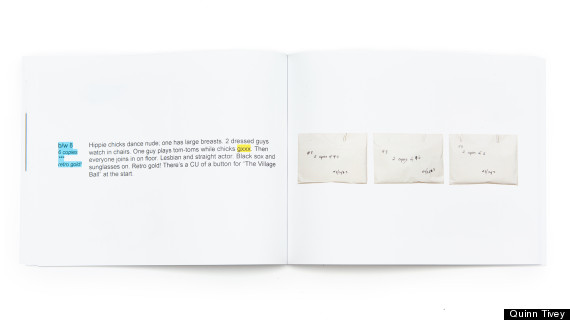 So, Homemade documents the movies as a series of photographs of the envelopes that contain them, coupled with scans of the texts that describe them. While representing pornographic ideas, the work withholds pornographic realities, in exchange for pornographic fantasies. In that sense, each sex scene is unique to each viewer.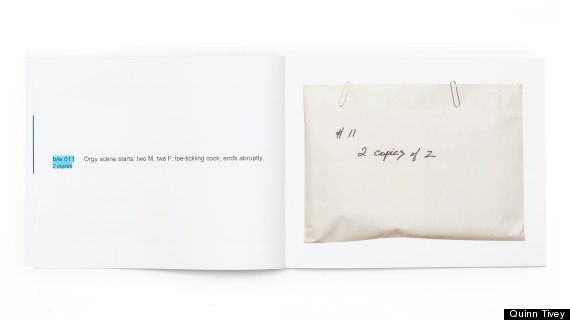 In the book, this dynamic of trading actualities for ideas aims to stimulate viewers with erotic possibility. Of course, such an exchange need not be contained within a sexual scope. Sometimes an idea or a description can afford a much more meaningful or pleasurable experience than a reality.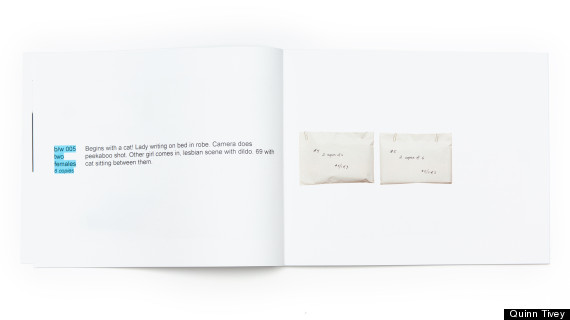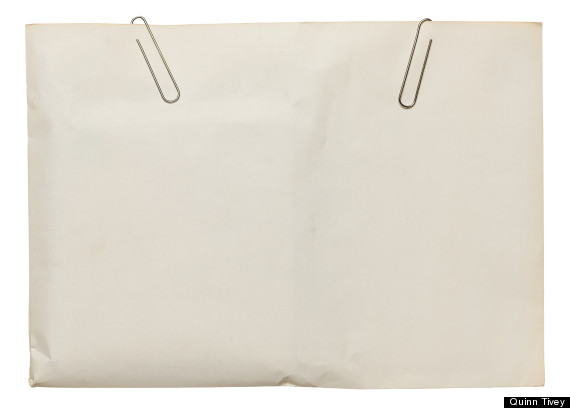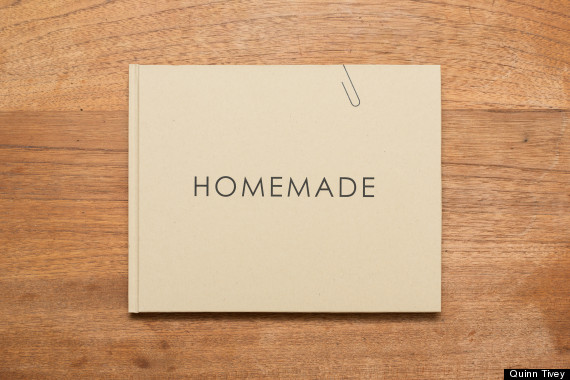 Quinn Tivey is an MFA candidate at the School of Visual Arts in New York City. Homemade was published through Llewelyn Projects, and he celebrated his book launch at Printed Matter on October 9th with an installation of work, currently still on display.