These questions originally appeared on Quora.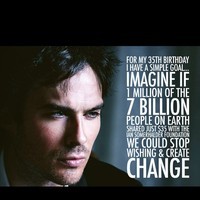 Answers by Ian Somerhalder. Ian plays Damon Salvatore on the TV drama The Vampire Diaries. His foundation, the Ian Somerhalder Foundation, works to educate people on the importance of protecting the environment and animals.

Q: Have we passed the point of no return when it comes to climate change?
A: We are sinking to that very point. Bombarded with fear and a sense of hopelessness, we can feel ourselves lowering further into the weight of the sinking sand ... BUT there is a way out. And the time to get out is NOW. It will take every one of us banding together in a united effort to lift us and give the boost we need to get our footing back. The muscle behind that lift will be found in elevated consciousness sifting its way into our daily choices combining with conscious consumerism and the empowerment of this upcoming generation of changemakers.
Q: Why is the climate change skeptic movement so passionate?
A: While it seems overtly negative, the skeptic movement can be viewed as positive. Resistance is a natural component to growth and ultimately provides an opportunity for balance. Skepticism and cynicism challenge our own accepted beliefs and propel us to make real quantifiable change based on solid, tested solutions. It's very hard for us, as a people, to believe that our seemingly insignificant and minor choices could impact the planet on such a large scale... (Read More)
Q: Who leads the charge on climate change? How do you get others involved?
A: The only way to preserve our fearfully dwindling natural resources is to focus on utilizing the strongest resource we DO have in abundance: our youth. Free from the jaded, in-the-box patterns that infiltrate adulthood, our youth hold the key to real quantifiable change. Their reach far outspans ours as they explore, share, and engage through classrooms, thoughtful consumerism, innovative social media platforms and within every vein of our local communities. We, at the IS Foundation, believe this so deeply that we have created a new form of curriculum to empower our youth by unleashing their true potential: "U Factor." Check out www.isfoundation.org to learn more.
More questions on Quora: