These questions originally appeared on Quora.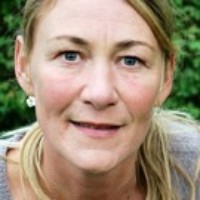 Answers by Berit Madsen, Director, Sepideh (2013 Movie), Social anthropologist, and documentary filmmaker from Denmark

Q: How did the 2014 film Sepideh come together?
A: It's kind of strange isn't it? Me, living in Denmark, and making a film about a girl from Iran who lives in the middle of nowhere. But my husband is from Iran so I knew a lot about the country before starting to film. By coincidence, I heard about this astronomy festival that takes place there where young boys and girls would go out at night, alone, to watch the stars. I needed to see for myself what was going on so I packed my backpack.
One dark night, a 14 year old girl named Sepideh came in carrying her big telescope -- she was obsessed with the stars. So I went out with her and a small group and that was the first time I met Sepideh. The next day I went to her house and when I opened the door to her room, I saw Einstein posters covering the walls. I began to understand why she was interested in astronomy. And I could see that there were a lot of people around her who felt she was not doing what she was supposed to do as a young Iranian girl.
Q: How did Sepideh influence and change the people around her?
A: The fantastic thing about the film is that there's this intimate portrayal of Sepideh transitioning from a girl to a woman. But it's also a film that leaves you with a smile on your face. It's not a story about being a victim of society. It's actually about a girl who dares to dream and to follow it and to succeed. And there's positive feedback out of that.
As we get to know Sepideh's mother in the film, we also learn about the family's hard economic situation because the uncles, the dead father's brothers, are not helping. They disrupt the possibility of making an income off the farm land. But after we finished filming, Sepideh's mother was really inspired by her and now she wants to go to a university too. So it's quite interesting that this young girl had such a positive effect on her mother.
Q: How did Sepideh's family react when approached about doing the documentary?
A: Sepideh's mother was reluctant to give her permission and in Iran, it's the mother's responsibility to give someone permission to film their daughter. So there was a big responsibility for me to portray her in a way that wouldn't harm her future in Iran.
You really have to be careful with everything. Even the behavior of going out into the night and stargazing with boys might not seem appropriate. I think I earned their trust very well -- they realized that I was really honest and didn't have a hidden agenda. But then I heard that Sepideh's uncles would also have to give her permission, so I knew there were people in the family that would probably have different views.
Q: What has been the Iranian response to Sepideh?
A: The film hasn't been screened in Iran yet but we just got the information that it has been accepted in the film festival competition in Tehran happening in a few weeks. When I was filming Sepideh, I didn't know whether it would be appreciated or not, so I'm quite happy about Sundance and Tehran.
But Sepideh and her family saw the film and they really appreciated it. Sepideh was emotional about it. She cried during the screening.
More questions on the 2014 Sundance Film Festival: