What are San Francisco's best kept secrets?: originally appeared on Quora: The best answer to any question. Ask a question, get a great answer. Learn from experts and access insider knowledge. You can follow Quora on Twitter, Facebook, and Google+.

Corona Heights Park
Dog-friendly, generally uncrowded and not sketchy at all (even at midnight), and there's about half a dozen ways up to the park, including one that starts behind some rare public tennis courts and ends up being this amazing, woodsy, Totoro-like forest path. If you take this way up, take care to avoid all the poison oak that's directly off the path, though.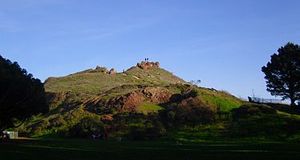 The Grind Cafe
At Haight and Scott, there's this awesome little restaurant that serves great breakfasts and burgers. Also, the counter people (despite looking like douchey hipsters) are the nicest waitstaff I've encountered anywhere. They're peppy and cheery at 7am, when you've been up all night and just want a beer with your omelet to stave off the looming hangover. Tip them!
Cafe Claude
French bistro that frequently has live jazz music. Some of the best steak tartare I've had is from here. And despite its proximity to Union Square, it's not a tourist trap, but rather, a seriously legitimate place to grab lunch after morning shopping.
SF Trinity Episcopal Church
On Wednesday nights, they have a candlelit service and meditation. Even if you aren't religious or Christian, it's still worth going because it's just stunning and good for a moment of self reflection.
San Francisco Flower Market
Forget any other florist or garden shop, seriously. Ever wonder where awesome shops like Church St Flowers get their weird pincushions and thistles and moss-covered branches? It's here. The vendors here have every sort of cut flower imaginable for super cheap, as well as a good selection of potted plants (mostly orchids). The phalaenopsis with two flower spikes that I bought months ago (I think April) is still in bloom, and I think it was like 10 bucks. It's open to the public, even though it looks like it's not.
The $35 prime rib dinner at Alexander's Steakhouse
During happy hour (from 5pm to 7pm) and all day Sunday, this otherwise fairly pricey restaurant has the best steak deal, hands down. For $35 (and I think you have to eat at the bar), you get a hamachi shooter, a giant ass piece of prime rib, and your choice of a tasty, tasty side. Don't forget to ask for the cotton candy at the end of dinner. I think this meal would normally run you $80 - $90.
Beach fires at Ocean Beach
Yeah, it's not really a beach. Cold, foggy, really just kinda ugly as far as beaches go, but you get to have beach bonfires! In San Francisco! It makes the cold and fog seem like a non-issue. Just get there early, as you're only allowed to have them in the designated fire pits, and people get to them rather quickly.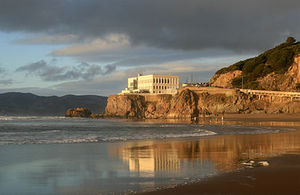 The Presidio
It's sunny, the skies are blue, the grass is perfectly green and kept, it doesn't smell like urine anywhere, and oh holy moly, what's that? -- there are children, yes, honest to god children frolicking in the fields. No one's going to ask you for change, no one will break into your car, and even the meter maids here are difficult to dislike because they're mounted park rangers. Come here for picnics, to fly kites, to explore crumbling buildings. Parking's free on the weekends, and if you really know your way around, you'll be able to find a quicker way to Crissy Field or the Golden Gate Bridge and avoid all that nasty traffic going the usual ways. And bourbon-lovers, a new restaurant called Dixie just opened up. Delicious Southern food and a long, long list of bourbons. Additional bonus: It's now the only place geographically within San Francisco that you can get legal foie gras (CA laws apparently don't apply on federal land). Look up the Presidio Social Club. No joke.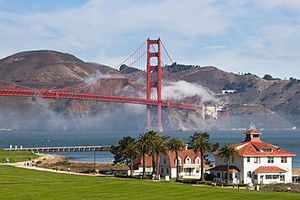 Embarcadero Cinemas
The Embarcadero Center seems generally sort of abandoned/empty, which makes this movie theater awesome for avoiding the usual movie going crowd. They validate parking, they've got decent coffee and tea, and it's not super overpriced. They tend to only show artsy-fartsy independent and/or foreign films, by the way.
And two more items that I have to add, even if they're sort of obvious, I find that most people haven't done them.
Cable Cars
Yes, I know, I know. But they are seriously fun, especially the one that runs north/south from in front of Forever 21 to Fisherman's Wharf. Only, I'd recommend going from the Wharf to downtown, and stand in the back open section.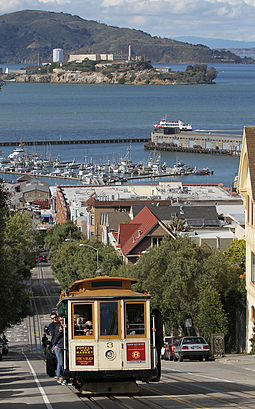 Steps up to Telegraph Hill/Coit Tower
Walk from the Embarcadero through Levi's Plaza (also really pretty), and then just follow the steps up. Either most people are too lazy to take these stairs or they're just not known about, but there are some really beautiful homes and gardens along this path. Plus the view at the very top is quite nice, obviously.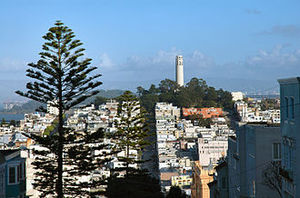 ...
Answer by Mike Cohen
That there's life west of Divisadero. Go to the Market Street MUNI subway station and take the N Judah outbound to Cole Street:

Eat brunch at Zazie or one of the other restaurants along Cole Street. Shop in the original Cole Hardware store, and stop for refreshments at the Ice Cream Bar & Soda Fountain.
Explore Haight Ashbury and have a drink at the Alembic or Zam Zam.
Either get back on the N Judah or walk west past UCSF to the inner sunset. You'll find lots of great restaurants & shops around 9th & Irving.
Go to Golden Gate Park and visit the Botanical Gardens, de Young Museum, Academy of Science, and Japanese Tea Garden.

Try the best Chinese restaurant in the city, San Tung at 11th & Irving.
Get back on the N Judah to Ocean Beach and stop at Trouble Coffee for coffee, cinnamon toast, and a coconut.
I prefer the peace and quiet of the western neighborhoods to the more well known downtown areas.
...
It's a museum of antique arcade games, penny-operated nickelodeons, and elaborate player pianos, some of which are more than a hundred years old. It's located on Pier 45 and is a step back in time, a catalog of what people used to do for entertainment before smartphones and video games. Entrance is free. The machines themselves range in price from 1 to 3 tokens (tokens can be purchased for 25 cents each).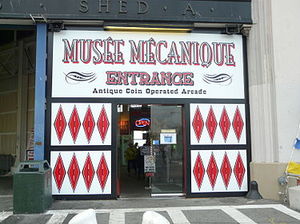 This museum, at 1201 Mason Street, documents the history of San Francisco's cable car system. It is also the powerhouse for the system, and this is where its true joy lies. Visitors can gaze at the giant spinning wheels in the engine house, which move the cables that run underneath the streets of San Francisco. This technology has changed little since the system was built more than 120 years ago. Free admission.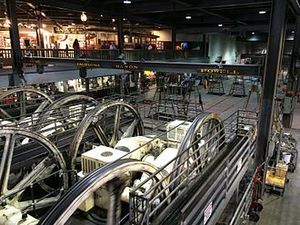 St. Francis Hotel Glass Elevators
A hidden secret in the heart of Union Square, the Westin St. Francis Hotel's glass elevators take you up to the 32nd floor for the best view in downtown San Francisco. Technically, the elevators are only accessible to hotel guests (via room key), but just be there at the same time as a hotel guest and you can get onboard too.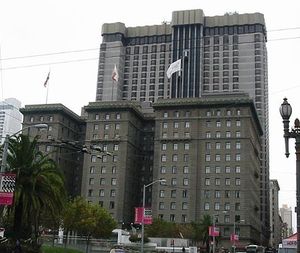 More questions on Quora: