This question originally appeared on Quora.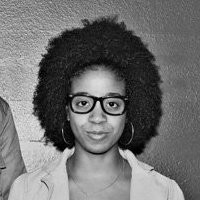 By Ambra Nykol, Freelance Writer

I certainly don't have an exhaustive perspective on every athlete at the Olympics, and this is going to be USA-centric since those are my people, but here are a few I've noted based solely on the events I watched:
Lolo Jones.

She wasn't a favorite to win this year, but she was favored in the 2008 Olympics. Unfortunately, after tripping and falling on the penultimate hurdle and losing her lead in 2008, she definitely had something to prove this Olympics. She's also a media machine and certainly garnered a lot of hype, endorsements, and the like. She's also been the center of a lot of criticism of the "she's just another Anna Kournikova" variety. She faced a lot of pressure. All eyes were on her, waiting for her to prove that she actually can medal at one of the highest levels, and instead she finished a disappointing fourth in the 100m hurdles, her one and only event. From all the looks of it, she took the fourth place finish pretty hard.

Ryan Lochte

. Far more under the radar last Olympics, Lochte was positioned by many commentators and media to be a formidable threat to the Michael Phelps reign. Yeah, not so much. After his one and only upset where he took gold in the 400m individual medley and Phelps failed to even medal, there was a lot hype that seemed to fall flat thereafter. Not to mention, this guy should keep his words to a minimum in interviews. The more he says, the less likeable he becomes. Points for cutting his hair though, made a world of difference.

Jordyn Wieber

. The 2011 World Champion, many had positioned Wieber as the favorite for the women's all around individual Gold medal in gymnastics. Her face was everywhere, and she was very much put forward in most commercial merchandising as the "leader" among the fab five. Jordyn failed to qualify for the all around finals due to a rule only allowing the top two athletes from any country to move on. Many felt this was unfair, and perhaps so, but the only individual event Jordyn qualified for was the floor routine, which she also bombed several days later. She helped power her team through to the all around team Gold medal and did so with grace and an awesome performance. But when she competed as an individual, she struggled quite a bit, and two of her other teammates - Gabby Douglas and Aly Raisman - definitely outperformed her in every way.

John Orozco

. Won't go through his previous stats, but he seemed to choke quite a bit in this competition. I think he was expected to medal in

something

and fell short in nearly every event. He fought back hard in the individual all around, but definitely a disappointment for the USA gymnastics team. Seems like a great guy though.

Morgan Uceny

. This may be up for interpretation, and it's not entirely her fault, but while keeping a pretty good pace and positioned to advance toward the front of the pack, Uceny was tripped the last 400m of the 1500m race. This is something not unfamiliar to her as it occurred once before in another race of another year. She wasn't severely injured. In fact, minus the small gash on her leg, she seemed to be just fine. But instead of finishing the race, she promptly threw a pretty emotional tantrum on the track, which will go down in many peoples' memories in the least spectacularly flattering way possible. That was pretty disappointing. For her, and all of us who had to watch that display of lack of sportsmanship. She should've finished the race. It's the Olympics. There's a guy competing with no legs for goodness' sake.

McKayla Maroney.

Completely delivered beautifully in the team all around final with a near perfect vault that was likely even underscored. She was favored to win Gold in the individual vault competition -- and by a long shot. She fell on her second vault and got Silver instead. Pretty shocking since, skill wise, she was leagues ahead of other vaulters. Let's also not forget to add the pouty face she wore throughout the medal ceremony. She may've been disappointed in herself, but she could've used a bit more of a poker face and showed more grace. That was also disappointing.

Tyson Gay

. Holds the US record for the 100m sprint. Prior to the Olympics, the only time faster than his was Usain Bolt's world record. He failed to medal at the Olympics outside of the silver in the 400x1.
Honorable mentions of major disappointments who aren't actual athletes:
NBC's primetime tape-delayed television coverage
Bob Costas, in general
Shaun White, Ryan Seacrest, and any other NBC commentator who lacked any relevance or insight into the actual event they covered
Andrea Kremer's awful sideline questions to swimmers
More questions on Summer 2012 Olympics in London: