This question originally appeared on Quora.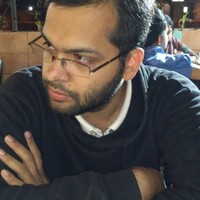 Answer by Vijay Singh, Tennis fan

For me, this is it. Fourth set tie break 2008 Wimbledon final.
To understand the significance of this point, one must know a little about the Federer-Nadal Rivalry and the build-up to this match.
Federer was the reigning champion and almost untouched on grass courts. He won his first Wimbledon in 2003 and was on his way to win sixth one. He was looking strong and hadn't dropped a set on his way to the final.
Nadal won his first French open in 2005, and since then, their rivalry has only intensified. Nadal also showed great promise, reached finals of major events consistently (winning many of them) and had reached his 4th consecutive finals. Previous Wimbledon results when they played each other:
2006 - Fed beat Nadal in 4 sets.
2007 - Fed beat Nadal in 5 sets
2008 - Huge expectations were riding on his game.
Before this match, together they had won 14 of the last 16 slams amongst them. Federer was playing to win the 6th Wimbledon title in a row (that Borg missed) and Nadal was playing to become the third man in open era to win French and Wimbledon in the same year (after Borg and Laver). Before the final, Federer and Nadal had played 3 times in the year 2008, all three clay court finals, which Nadal won. Their head to head was 11-6. But Nadal was thirsty for a victory on grass. Federer stood tall with 65 straight wins on grass courts.
The game started and the unexpected thing happened. Federer lost the first two sets 6-4. Mind you, Federer had beaten Nadal before twice in 5 setter games (Wimbledon 07 and Miami 04) and one of them (Miami) was where he came back from 2 sets down. Could he repeat the feat?
The third set began and each held his serve till the rains interrupted at 5-4 Federer leading. This is when Mirka walked upto Federer and said "YOU are Roger Federer" to invigorate him. Even the ever composed Toni Nadal chose to have a siesta in the locker room and shake of the anxiety. The match resumed and Federer managed to pull the third set from Nadal 7-6 (5) in the tie break.
The fourth set began and each player held his serve till 6-6. The future of the holy grail of tennis was to be decided on this tie break. It began, and after a few points, Federer found himself trailing 5-2 with Nadal to serve. If Nadal held his serves Fed was done. But Nadal got nervous and double faulted and put a weak backhand into the net. The score moved to 5-4. Federer also held his two serves; Federer leads 6-5. Federer now had a set point and Nadal had to hold his serves to keep himself alive, which he did; score progressed to 7-6 in favour of Nadal. Nadal on match point and Federer holds his serve 7-7 with a great serve followed by mini break (my heart break); 8-7 to Nadal. But this was no ordinary break, Nadal had just hit the best pass of the match. Fed was almost sure of winning this point, but Nadal is not letting him have his way. He clinches his point out of Federer's claws. What this point meant to both was clearly seen on their faces, Federer was almost destroyed and in despair and Nadal had almost felt the trophy.
But the drama was not over it. Federer is Federer and is known for his magic. This was THE moment. He came up with this own stroke of genius, and it was most elegantly done. And this pass was my favorite tennis moment. My heart never ran faster and I have never felt more relieved.
Nadal had everything in his favor. He likes to serve from the left side of the court to Federer backhand forcing him out of the court and having the court empty for the winner. He did exactly that. Served on Fed backhand, Fed chipped, and he came in another shot into Federer's backhand and Nadal was at the nets. Fed had to pass him or else it was all over. If he did, he would be in the fifth set with a great 5 setter record and his surging confidence from winning the last two sets would help him in the fifth. Nadal on the contrary could second guess himself for not converting the 3rd and the 4th sets. To raise the stakes, it was set point and match point and Championship point for Nadal. Fed had to pass him, he had to pull the rabbit out of the hat.
And He DID. He pumped in disbelief and clawed his way back to push the match into a fifth set.
This was the greatest match I have seen. Finally, the better man won.
"I tried everything," said Federer. "But Rafa's a deserving champion, he's the worst opponent on the best court."
"I must congratulate Roger," Nadal said. "He's still the No1, he's still the best, and he's won five times here. But now I have one, and that's very important to me."
This should sum it up:
Hills spokesman Graham Sharpe said: "What you have here are two players at the peak of their powers and popularity. "They are almost a tennis soap opera - traditional Federer appeals to the mums and dads with his cardigan, and Nadal is the modern sex symbol, appealing to kids with his sleeveless vests. (Wimbledon 2008: John McEnroe hails Rafael Nadal victory as greatest final ever - Telegraph)
More questions on Tennis: