This question originally appeared on Quora.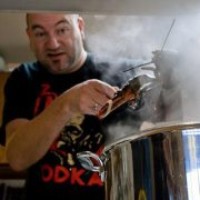 Answer by Todd Gardiner, Photographer

It is like camping in the desert with 10,000 artists and 40,000 art enthusiasts.
Here is what a week is like:
Drive across country in an overloaded vehicle with some people that you are (hopefully) close to.
Arrive Monday. Unpack and set up tents, group shade, other infrastructure. Get dehydrated from working in a super-arid environment and get really cranky. Push through, get it done, rest, and then apologize to all of your friends/spouse/acquaintances.
Rest of the weekdays: Spend the day lingering around camp. Engage in jackassery. Perhaps get a little bored. Deal with wind, dust, lack of sleep, sunscreen/hydration, weird neighbors. Realize that it's your turn to get the ice. Perhaps do a few daytime outings. Likely start drinking about 3pm. Realize you are tired of the same dinner night-after-night so you find food at someone else's camp.
Rest of weeknights: Dress-up. Go out and wander with friends. Lose half of them by end of night. Dance, see wonders, hear music, absorb the dark and quiet middle of the city. Stay up too late. Maybe see a glorious dawn.
Weekend: Now that you have (finally!) acclimated to the desert conditions, your body is ready for the all-night dancing, the non-stop roaming, the big group ceremonies. See a few burns of big art, find that great camp/daytime activity/awesome art that you have been hearing about, find an unexpected moment in the night.
Sunday/Monday: Realize that you missed doing at least 25% of the things you planned to do. Pack up. Gripe and groan to campmates. Possibly get into an argument. Keep packing. Go to a last burn and then begin a sullen and contemplative drive home.
Within all of this people find their own experiences:
Some women and men may experiment with partial or full nudity.
Some people will hook-up (not as many as you would think, but you'll notice a playa-couple here and there).
Some partake of drugs (frequent pot smoking, Ecstasy, LSD, mushrooms, on the rare occasion you might find people on harder stuff; if caught by the Sheriff, ticketing or arrest ensues).
Some bring their kids, usually camping with others that have kids. (Definitely a minority, but there are

some

kids present. They tend to travel in packs. I heard they eat unconscious hippies, but that's probably a rumor.)
Some may participate in a large scale project, which means a lot more work but probably a lot more group appreciation for your contribution.
Some volunteer for the many during-event jobs (but not usually until their 2nd or 3rd year going).
And then, if nothing went too badly this year, you'll be dying to do it again the next year.
More questions on Burning Man: