This question originally appeared on Quora.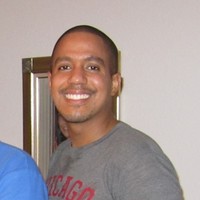 By Amaury Fernandez, Student of Life

If you're reading this answer, you may have already screened yourself for the following instructions. If possible, please turn on your TV and go to HBO. Now, scroll to October 13, 2012 at 10:00pm. Record that Boxing After Dark Show that appears on your screen. You may remember to watch it live, but if you're preoccupied with other things on that evening, at least you'll have it recorded and can watch it at your leisure.
Brandon Rios vs. Mike Alvarado
Saturday, October 13, 2012, live from The Home Depot Center in Carson, California and available on HBO at 10:00PM.
Rios is a former lightweight world champion and has a record of 30 wins, 0 losses, 1 draw, and 22 knockouts, while Alvarado has 33 wins, 0 defeats, and 23 knockouts.
Why the no-nonsense suggestion of watching/recording this fight?
My thoughts: since the late 1980s, when, as a child, I first became a boxing fan, there have been no more than a handful of matchups that on paper have looked as compelling as this one. Anything can happen, any fight can end prematurely -- for instance, from a head-butt induced cut -- or could turn out to be a bore, but it wouldn't surprise me if this fight turned out to be one of the most exciting and dramatic sporting events I'll ever witness. Why? I'll let others elaborate. [1]
"Best action fight that can be made." - Max Kellerman, ESPN and HBO [2]
"It's unfair to make Gatti-Ward comparisons. You don't want to do that, so let's not go there, but the size and style of Alvarado and Rios bleeds -- literally and figuratively -- that this will be something special. They are both so mentally tough and physically strong. They both have that innate ability to endure pain in order to inflict it." - Carl Moretti, Top Rank [3]
"Rios-Alvarado should be a brutal battle of attrition that features technically sound in-fighting and expert body attacks as well as the expected macho head hunting. Rios may balloon to 160 pounds by fight night, but so might Alvarado, who is naturally bigger than Bam Bam." - Doug Fischer, Ringtv.com [4]
"...to many, that night's main event will be the junior welterweight contest featuring Brandon Rios and Mike Alvarado. The reason is simple; that match-up is almost guaranteed to provide back-and-forth action."- Steve Kim, Maxboxing.com [5]
"We cover the whole sport, and as you know, it's my responsibility to promote all HBO boxing programming, and under that banner I'm unequivocally going to tell you that Nonito Donaire vs. Toshiaki Nishioka, for the 122-lb championship on October 13's Boxing After Dark, is a must see. But not to worry, I know, because as followers of the fight game, you all know you're going to be sitting motionless on your sofas, stunned in the fight-fan ecstasy by the noble violence of the first fight on that card between fellow Gatti-listers Brandon Rios and Mike Alvarado. You expect that Rios, moving up to 140lbs, will finally have reached a point on the scale that allows him to bang away with reckless abandon, grinning in delight to be in the meat-grinder. And you have seen by now, maybe somewhere on Youtube, that Alvarado will walk through a fine mist of blood and bursting bombs to win a fight. Neither has ever backed-up or turned left or right. It's foolish to guarantee a fight of the year, but hardened ring reporters are excited about being in Carson, California that night. You don't ever expect to see Gatti-Ward I or Corrales-Castillo I again, but if you see something like it October 13, it shouldn't come as any shock." - Jim Lampley, HBO Sports [6]
Brandon Rios Highlights
Mike Alvarado Highlights
Notes
[1] I'm not affiliated with any of the boxing organizations mentioned in this answer or elsewhere. I'm just a big boxing fan.
[2] https://twitter.com/Max_Kellerman
[3] http://espn.go.com/boxing/story/...
[4] http://ringtv.craveonline.com/bl...
[5] http://www.maxboxing.com/news/ma...
[6] The Fight Game with Jim Lampley, on HBO
More questions on Boxing: