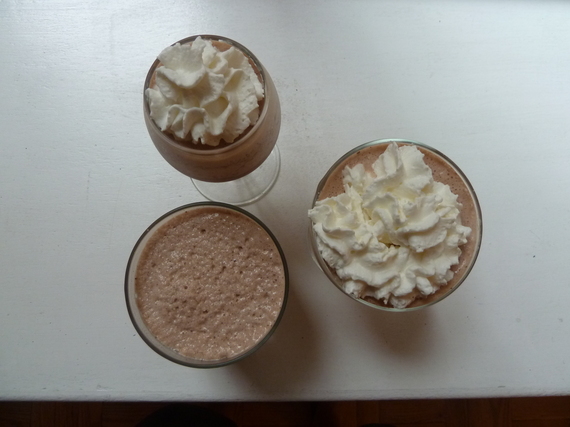 As temperatures rise, cool off with easy and tasty chocolate treats.
Decadent Frozen Hot Chocolate:
The cinnamon in this recipe percolates the flavors back to the earliest versions of hot chocolate.
Ingredients:
4.5 ounces of good quality of your favorite chocolate,
2 teaspoons of your preferred quality hot chocolate mix
1 1/2 cups milk
3 cups ice
1/2 -1 tsp cinnamon
Whipped cream
Chocolate shavings and cinnamon
Instructions:
Break the chocolate into small pieces and place it in a glass bowl over simmering water, stirring occasionally until melted.
Add the cocoa, stirring constantly until thoroughly blended. Remove from heat and slowly add 1/2 cup of the milk and cinnamon. Stir until smooth. Cool to room temperature.
In a blender place the remaining cup of milk (or alternative if lactose intolerant), the room temperature chocolate mixture and the ice. Blend on high speed until smooth and the consistency of a frozen daiquiri. Pour into a giant goblet and top with whipped cream and chocolate shavings. Or divide into smaller glasses for more manageable portions. Top with whipped cream, shavings and cinnamon.
Enjoy with a spoon or a straw.
Makes 2 to 2 1/2 cups, enough for 1 to 8 persons, depending on the size of the portions.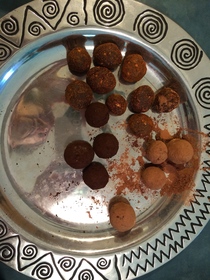 Cayenne Kicks AKA Wake Up Chunks:
Created by hiker Steve Rock to "kick you down the trail a bit." Great for dessert or a snack on a hike.
Ingredients:
1 pound dark chocolate, chips or broken into pieces
1 cup peanuts, or nut
1⁄2 cup raisins, dates, or other dried fruit
1⁄8 cup coffee beans
2 teaspoons cayenne pepper, to taste
1⁄2 cup unsweetened cocoa powder
Granola, dry cereal, or oatmeal (optional)
Instructions:
Line a large baking sheet with parchment paper, aluminum foil or waxed paper. Melt the chocolate in a large heatproof bowl set over a pan of simmering water; remove from the heat. In a food processor with the chop blade, combine the peanuts, raisins, coffee beans and cayenne. Pulse until coarsely chopped. Stir the cocoa into the melted chocolate. Once the mixture is even and getting stiff, add the chopped nuts and fruits; keep stirring. Taste to check the spice level.
If the mixture is too moist and sticky, add more nuts, granola, or chopped cereal, or wait until firm enough to handle. (Cooling in the refrigerator will firm the mixture faster.) Roll the mixture into balls and place on the prepared baking sheet. Cool completely. Remove from the baking sheet and store in a covered container.
Quantity: Approximately 20 chunks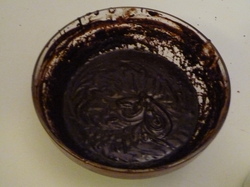 Chocolate Spread:
Use chocolate spread on cookies, on fruit, or practically anything.
Ingredients
1 cup unsalted butter
1 cup sugar
3 large eggs (pasteurized or egg substitute)
1 teaspoon vanilla extract
5-6 heaping tablespoons unsweetened cocoa powder
Instructions:
Cut the butter into small pieces and put in a blender. Add the sugar, eggs, and vanilla, and blend well. Add the cocoa powder and blend well again. Put in a container and refrigerate. Serve on bread or toast, with fruit, or in a sandwich.
Quantity: About 11⁄2 cups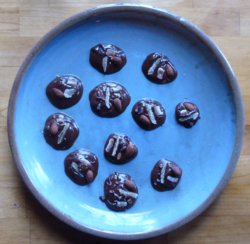 Chocolate Medallions:
An easy-to-make confection.
Ingredients:
4 ounces dark or bittersweet chocolate, broken into pieces
1⁄4 cup cocoa nibs, almonds, or hazelnuts
1⁄4 cup candied ginger
1⁄4 cup dried blueberries, raisins or other dried fruit
1⁄4 cup candied orange peel
Instructions:
Line a baking sheet with waxed paper. In a large heatproof bowl set over a pan of simmering water, stir the chocolate until melted.
Remove the chocolate from the heat. Drop tablespoonfuls of chocolate onto the prepared baking sheet, using the back of the spoon to flatten into disks. Place one of each of the four toppings onto each circle. Work a few at a time; they will harden as they cool. Cool on the baking sheet until hardened. Store in a cool place in a covered container.