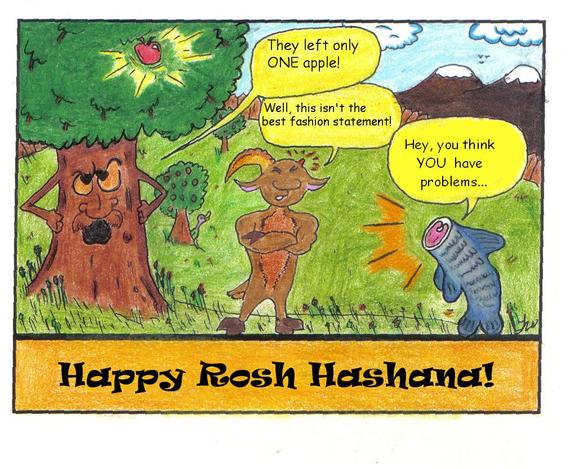 Rosh Hashana is the Jewish New Year that kicks off the High Holiday season for Jewish people around the globe. Over the years, it has become associated with many recognizable objects and foods which you might see depicted on Rosh Hashana greeting cards or synagogue pamphlets. Here is a short overview of the more famous ones that are alluded to in this comic:
SHOFAR - The name for the Jewish New Year ,"Rosh Hashana," does not appear anywhere in the Bible. It is recalled only as a time of blowing the ram's horn or "Shofar." "Speak to the children of Israel saying: In the seventh month, on the first day of the month, you shall have a Sabbath, a memorial of blowing the horn, a holy gathering." (Leviticus 23:23-24). Thus the "Shofar " is the main symbol of the holiday of Rosh Hashana.
APPLES IN HONEY - The famous custom of dipping apples in honey on the holiday stems from the desire to symbolize that God bless us with a year "as sweet as honey." Apples in particular were chosen to invoke the imagery that Solomon depicts for the love God harbors for His people as it says "Beneath the apple tree I aroused your love." (Song of Songs 8:5).
FISH HEAD - Finally, "Rosh HaShana" literally means "head of the year" in Hebrew. For this reason, in some Jewish communities, it is traditional to eat the head of a fish during the Rosh HaShanah holiday meal. So, as we start a brand New Year, we pray that we should be the head and not the tail.
May we all be blessed with a sweet New Year!
L'shana Tova!