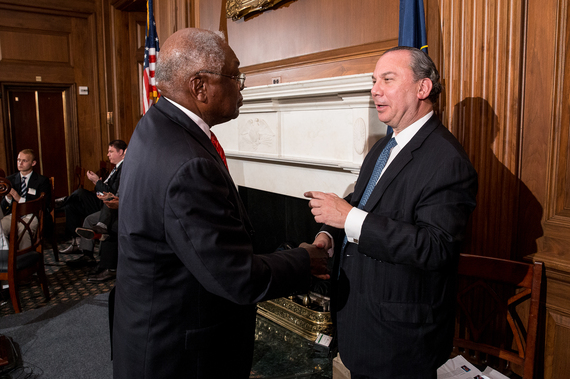 Rabbi Schneier with Rep. James E. Clyburn (D-SC) at the Congressional Reception
Two weeks ago, as the nation marked the 50th Anniversary of the 1964 Civil Rights Act, a unique ceremony took place in the US Capitol, commemorating the 50th Anniversary of the 1964 Freedom Rides Summer and honoring the 25th Anniversary of the Foundation for Ethnic Understanding (FFEU).
In addition to celebrating 50 years since the 1964 Civil Rights Act, the ceremony paid tribute to three civil rights activists, one African-American and two Jewish-Americans: James Chaney, Andrew Goodman and Michael Schwerner, who were brutally murdered while working on the "Freedom Summer" campaign in Mississippi.
The tragic murders of these three activists galvanized the nation and led to the passing of the 1964 Civil Rights Act. However, the symbolism of Schwerner, Chaney and Goodman extends far beyond that, as the three activists also embodied the historic alliance between the Black and Jewish American communities of the Civil Rights Era. Stemming from a belief in justice and a commitment to equality, the Jewish community was highly active in the Civil Rights Movement, as we see from the friendships of the aforementioned martyred activists and between Dr. Martin Luther King Jr. and Rabbi Abraham Joshua Heschel.
However, since the Civil Rights Era, the historic Black-Jewish alliance had declined, leading to tensions between the two communities. In 1989, I founded The Foundation for Ethnic Understanding in order to break tensions between the two communities and restore this historic alliance. For a quarter of a century, through the FFEU, we engaged Jewish-Americans and African-Americans in programs and activities to explore and rediscover shared values. FFEU is committed to promoting cooperation and strengthening relations between ethnic groups and among diverse communities and has expanded to strengthen ties between Jewish and Muslim communities worldwide.
It was a great distinction to be honored, along with my esteemed colleague, Russell Simmons, FFEU Chairman, at Congress for my and FFEU's work in race and ethnic relations. At the event, over 15 members of the United States Senate and House of Representatives spoke about their personal connections to the goals of The Foundation, including: Senator Chuck Schumer of New York; Rep. Henry Waxman (CA), Rep. Ted Deutch (FL), Rep. Cleaver (TX), Rep. Yvette Clarke (NY), Rep. Sheila Jackson Lee (TX), Rep. James Clyburn (SC), Rep. Bill Foster (IL), Rep. Eleanor Holmes Norton (District of Columbia), Rep. Chaka Fattah (PA), Rep. Jerrold Nadler (NY), Rep. Steve Israel (NY), Rep. Alan Grayson (FL), Rep. Grace Meng (NY) and Rep. Jan Schakowsky (IL).
As we kick off the summer of the 50th Anniversary of the 1964 Civil Rights Act, let us remember this historic moment in time and recommit ourselves towards working for justice and equality between members of all races, religions and communities.
View a video clip of the wonderful event here and see more photographs here.