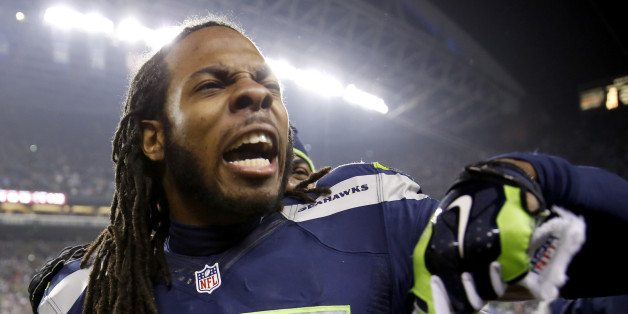 When you look at Richard Sherman what do you see?
This question would probably not have made sense to most people before last Sunday night when Sherman, a cornerback for the now Super Bowl bound Seattle Seahawks, followed up a spectacular play on the football field with the spectacle of letting loose during a post-game interview.
Sherman's vitriolic ripping of opposing receiver Michael Crabtree and amped up proclamation of himself as the best corner in the game, has been described as both epic trash talk and a classless self-serving rant. Within moments thousands of people weighed in with their take on Twitter or other forums. A not insignificant number of people used the occasion to use racist invective leaving nothing to interpretation. Many others criticized Sherman for being selfish, a bad role model, or in some other way worthy of personal condemnation for his outburst. Yet others pointed out that Richard Sherman was both a product of the Compton section of Los Angeles and a graduate of Stanford University with a strong record off the field of lifting both himself and others up. And many just rejoiced in his unscripted exuberance or resonated with his no holds barred take down of a "hater." But as different as these responses are they have one thing in common -- the assumption that, critically or favorably, Sherman could and should be judged.
The next day, Monday, was the day set aside to commemorate Dr. Martin Luther King Jr. whose "I have a Dream Speech" left us with the iconic call to become a society in which all would "not be judged by the color of their skin but by the content of their character." Richard Sherman's moment in the spotlight highlights how deceptively complicated King's words are. There are of course some who prejudged Sherman by his outer appearance, skin color, hair, speaking style, etc. and there are tweets to prove it. But what about those who base their judgment on their perception of Sherman's brashness, selfishness, passion, mean-spirited behavior or other factors, good or bad, that would seem to fall under "content of character?" Wasn't this Dr. King's whole point?
To answer this question, I would go back to the question I started with: When you look at Richard Sherman what do you see? My answer is "whatever you see, you do not see the content of his character." Regardless of whether the evidence points toward righteousness or wickedness, the content of a person's character is not so easy to discern. This statement is not just about Sherman or other celebrities of whom we only get a quick glimpse. Even for people with whom we have more interaction such as neighbors, friends or even family, content of character runs deeper than what is on the surface.
The dream Dr. King evoked in his most famous speech was not the institution of a different litmus test to judge others but the creation of what he called "the beloved community."
He understood that it is human nature to be judgemental, even in service of a good cause. However, justice requires a deeper commitment to each other, an investment in each person's humanity and attention to their story.
Perhaps this is the deeper interpretation, like a Rabbinic midrash, on Dr. King's placing "content of character" in opposition to "color of skin." Just as it is prejudiced to judge a person by their skin, we reduce a person's humanity, when we think we can judge their character by what is only skin deep.
May we be inspired by his words and his deeds to dedicate ourselves to this deeper commitment so that mere judgement will give way to true justice and the dream will be more than skin deep.