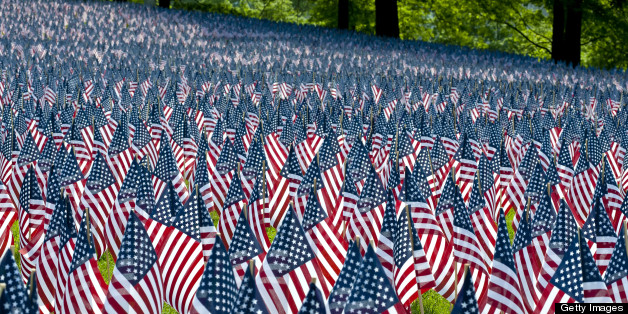 "Collective amnesia" is not listed in the DSM, the manual that mental health professionals use to diagnose disorders, but the syndrome flares up each year on Memorial Day. The third leg of a long weekend, Memorial Day signals the imminent arrival of summer, the quasi-official start of golf season, the opening of the public swimming pool, small town parades of candy-throwing kids in costumes. This year, the Wall Street Journal proclaimed it "A Very Fine Wine Weekend: Three Days of feasting, strolling, shopping, sunning and, of course, sipping." In a note of unintended irony, the WSJ prescription for the perfect Memorial Day, a holiday established to remember the men and women who died while serving in the U.S. Armed Forces, is the lead feature in the section it calls "Off Duty." With a barbeque as its defining ritual observance, Memorial Day is an event virtually devoid of remembrance.
Don't get me wrong. I like nothing better than a juicy grilled burger (kosher, of course!) with sides of potato salad and coleslaw, washed down with a cold beer. But I feel the need to earn my repast by spending the morning of Memorial Day in our congregational cemetery, placing flags on the graves of deceased veterans. (Among them are two who served in the Civil War, one on the Union side, the other for the Confederacy!) As I walk among the graves, my emotions range from melancholy to curiosity to wonderment and gratitude. I feel part of something larger, more significant and enduring than my mortal, perishable, sometimes lonely and bewildered self: a nation for which people have been willing to die, one that stands for something noble, even if it often falls heartbreakingly short of its ideals.
If Memorial Day has lost its memory, the Fourth of July may be even more impaired; it has lost its actual name: Independence Day. At summer's height, we repeat the earlier holiday's rituals, picnic with friends and family, and top off the festivities with fireworks, giving nary a thought to its central theme. The only independence we are likely to celebrate, in fact if not intent, is our own, from the obligation to serve our country, sacrifice for its wellbeing, work for its betterment, and ensure that all its inhabitants enjoy a fair share of its blessings.
In her best known poem, the Israeli poet, Zelda, wrote, "Each person has a name... given by his festivals." Indeed, our national celebrations reflect the pervasive self-absorption of our materialistic, consumerist culture, and the name they give us is not a flattering one. But the problem is also calendrical. Nearly six weeks apart, Memorial Day and Independence Day lack the natural thematic connection that would be conferred by adjacency.
Israel does it right. On Yom HaZikkaron, its national day of remembrance, sirens sound and Israelis everywhere stop everything and stand in silent tribute to the fallen for two long minutes. It is a day of national memorial services, cemetery visitation, broadcast remembrances of deceased soldiers and fitting music. That solemn, somber day is followed immediately by Yom HaAtzmaut, Israel's exuberant celebration of independence, marked by joyous festivities and expressions of civic and national pride throughout the country. The holidays' connection conveys a powerful message, that the price paid for Israel's independence and security was and, sadly, continues to be, the lives of its valiant sons and daughters.
Of course, Israel is a small country. One consequence of its recurring need to defend its existence and its citizens is a near-universal obligation of military service. It is a rare Israeli family that has not had a child wounded or killed while serving in the Israel Defense Forces or does not know someone who has. As a Vietnam-era, U.S. Navy veteran, I rarely encounter younger persons who have served in our nation's armed forces and mercifully, a negligible percentage of Americans have a family member or acquaintance who was injured in the service or made the ultimate sacrifice. Perhaps if more of us had personal knowledge of the human cost of war, our leaders would be more judicious in choosing which ones they send our nation's children to fight. At the very least, our national commemorations would far more likely resonate with profound meaning and deep feeling than do our present ones.
Rabbi Richard A. Block is President of the Central Conference of American Rabbis, the rabbinic leadership organization of Reform Judaism, and Senior Rabbi of The Temple - Tifereth Israel, Cleveland and Beachwood OH.