I held Tegan as Micah and I walked around her classroom, a sun yellow-washed space of neatly-placed books, toys and artwork. Life clung to the watercolor paintings, the stamped footprints, the clay sculptures. I imagined Tegan sitting at the tiny lunch table, lifting spoonfuls of applesauce to her hopeful face. Her teachers, Miss Ju-Mie* and Miss Greta*, shifted nervously as they waited for the other parents to arrive.
I scanned their faces as they filed in, searched for traces of their children. They didn't know it, but I saw their kids every weekday when I picked up Tegan. They'd be playing on the playground, calling me "Mama," wanting to show me their favorite toy. Some would encircle me, study me with wonder. Their was such brightness in all of them. Tegan would wind through them with spindly legs a fury, land in my arms for a hug. She always smelled like sunshine and wind.
Miss Ju-Mie was of Korean descent, a soft-spoken woman with gentle features, a shy disposition. She looked like someone who would age gracefully, always be beautiful. She began to speak and, almost as suddenly, her face began to quiver. The paper in her hand started to shake. Then her words betrayed her.

She told us she had an art degree, but couldn't tell us about the paintings she'd created with our children. She pointed to the clay sculptures, but couldn't share about their creative process. She tried to tell us about circle time, about their daily experiments, about how our kids were learning about colors, shapes and animals, but her words kept breaking, shattering when they met the air.
"She's a bit nervous," Miss Greta said. "She's been practicing all day for tonight."
Miss Ju-Mie smiled and apologized. She tried to go on, but she kept cutting off her sentences, forgetting her words. Her hand touched her cheek, then her forehead, then her cheek again. It was as though she was trying to quell her frustration, to soothe red-rimmed eyes that warned of tears.
She stopped talking for a moment and rested her hand at her side. Then she said something that transcended everything:

"I love your children."

Her words were slow and calculated, deeply sincere.

My heart grew 10 sizes.

Thank you, Miss Ju-Mie, that is all I needed to know.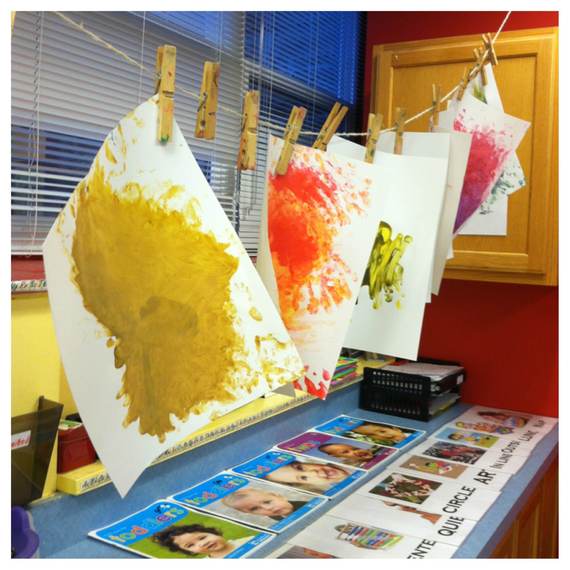 "Love in its truest form has no language or words, it just has a thousand and one actions we all wish we could describe." -K.B. Emery


* Names have been changed.