This article was originally featured on HerAfter, a website for women looking for purpose, passion, beauty and inspiration after life's big struggles including cancer, weight loss and more.
In my early 20's, a few years after chemo for cancer, I gave away everything I owned and traveled around India and Israel before bouncing around the Pacific Northwest at music festivals and other gypsy-esque happenings. It was a years-long span of bohemianism that, though ultimately ended, taught me the value of a profound life depth: less is more. Less possessions, more freedom. Less unnecessary commitments, more time. Less stress, more happiness. Less worry, more joy...
"Bohemianism is the practice of an unconventional lifestyle, often in the company of like-minded people, with few permanent ties, involving musical, artistic, or literary pursuits. In this context, Bohemians may be wanderers, adventurers, or vagabonds." -via Wikipedia
Now that Coachella is underway, all the beautiful girls are flocking from their cubicles, barista counters and laptops to join their fellow fans camping, dancing and generally running amok in Indio. With this temporary bohemian mindset comes a bevy of bohemian trends: the free-flowing gowns, the floral headbands, the leather sandals, and the midriff baring crop tops. The kick off of festival season that brings out everyone's inner bohemian could not be a more fitting escort to usher in summer and spring; as new life comes back to earth, so do our imaginations, and attitudes begin to relax and a dreamier, slower, more celebratory state of mind and season comes around.
Even if you don't subscribe to the style or fill your closet with tribal prints and fringes, the bohemian lifestyle has much to teach us in and outside of the closet. So let us welcome festival season in with a look at how the Boho vibe can actually do us all a little good.
Five Life Lessons From Boho Style Girls
Embrace change.
If leaving plans up in the air is your version of a waking nightmare, then letting go of the reigns might do you some good. As Ariana Huffington said in a recent interview with Oprah, "Life is a balance of making things happen, and letting things happen." The boho attitude perfectly defined in the second half of this philosophy. Even if just for one weekend, allow yourself to be up for anything. Follow the wind, go with the flow and relinquish your control over events; you never really had control of it anyway. Allow your intuition to be your guide, and listen with an open mind to what's happening, what you're feeling, what your body and mind are craving. Being open to what the moment brings could offer surprising new experiences.
Travel more.
Boho girls are ready to travel at a moments notice! It's the gypsy traveler that sees the world; they go where the beauty is and where the art is being made. While the practical girl worries about vacation days and savings accounts, the boho girl is finding sense of adventure is much more fulfilling. If you're the anxious type who needs everything planned out, adopt a new practice of meditating on trust; trust that it will work out, trust that life will go on even if something goes on, trust that you can handle it. Then do the work to make it happen! Sacrifice the 30 minutes it would take to plan that weekend getaway. Invest in a few central style staples that can go from day to night, from plane to dinner table. And downsize your personal care products to easily packable ones and a few plastic travel bottles.
Even better, I keep a second set of face soap and lotion, makeup that can withstand heat and the luggage carousel (all you need is gel shadow!) and makeup removing wipes ready at all times. Travel calls? I just grab the to-go bag!
Have a relationship with the Earth.
This includes mindful eating; indulging when necessary, eating foods that will heal, satisfy and give positive energy to the body, and using food as an act of loving kindness. This also includes spending more time outside. It is said that a walk outside can boost your mood, your creativity and your productivity. So why not get out there and lay in the grass again, watch the clouds like a child and remember that you are a living, breathing, existing part of this earth just like every flower, every child, every bird in the sky. Connect back to your physical and metaphorical roots.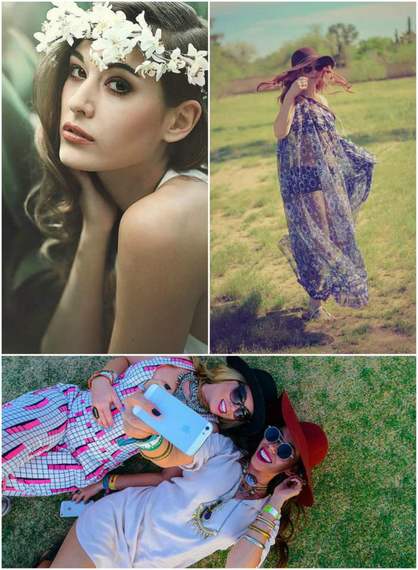 Be gentle and unattached: even if that means owning LESS.
Have you ever noticed the way that boho trends give you that gentle, lighthearted feeling? Maybe it's the weight of the fabrics. Maybe it's the light, natural hues. Or maybe it's that in these soft, gentle, flowing designs, a part of our true selves is released. Our bodies are free to move, dance, hug, relax and let go for a while -- with or without a bra! It's not a stretch to connect how our clothes hold our bodies with how we feel. Boho style teaches us that we can be gentle in every way: with our bodies and how we dress them, with our words and intentions and with our actions toward others and ourselves.
The second part of this is detachment. Take this as an example: when my partner and I moved to New York, we sublet an apartment with a flatscreen in the bedroom and 200 glorious channels of cable. Within two weeks, we were hooked to at least a dozen series, and looked forward all day to coming home to spend time in front of the darn thing. When we got our own place, we didn't buy a TV at all. Now, our free time is spent in bed reading books, or in the living room talking, or doing any number of things that don't include being a slave to the episodic realities of fictional people.
The bohemian life of traveling, celebrating and experiencing cannot be achieved if you are weighed down by your own responsibilities and possessions. Downsizing your closet and your possessions is a great place to start; get rid of anything you don't use or doesn't serve you physically or emotionally. The less you own, the freer you are. That includes the half hour you spend doing your hair. Worry more about gaining smile lines than growing crows feet. A rolling stone gathers no moss, and apparently less wrinkles and bad hair days on the way.
Bohemian (noun): person (as a writer or an artist) living an unconventional life usually in a colony with others.
-via Merriam-Webster Dictionary
Spend more time together.
One of the best parts about festival season is the chance to get out of the city, dance with a million strangers in the middle of the desert and spend all day listening to great music, seeing art made by your generation and getting into those deep, cerebral conversations with your friends. And when you look back at the Instagrams of Coachella, what do you see besides those great gladiator sandals you scored? You see smiling faces and friends connecting together. That's one of the boho rules of life: bond with those you care about, and share joy and love with your friends.
No phones -- except for pictures!
Our busy schedules tell us that it's selfish to take time out for friends, for simply talking or relaxing together, but it's absolutely an essential aspect of our happiness. Deeply connecting with others is one of the simple joys of life, one that is fleeting but essential. Happiness is more truly experienced when it is shared. So get together more, toast more, compliment each other more, share more secrets and dreams and take more pictures of you living in the moment, together.

Rachael Yahne (@RachaelYahne) is a writer, blogger and 10 year cancer survivor. You can read more of her articles about healing from life's big struggles, plus more on beauty, well-being, and living with passion on her website, HerAfter.com.

photos:
Coachella Day 3 [2ndWeek]- Selfies by Shawn Ahmed | modified | (source) (license)
Coachella Festival Fashion Inspiration by License to Boot | modified | (source) (license)
Boho bridal crown, ivory flower circlet, cherry blossom headband, wedding head peice, hair accessory (2) by Faylyne | modified | (source) (license)