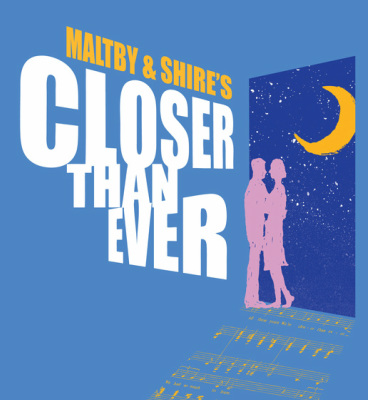 I'm not as much of a theater-goer as I'd like to think I am, but when I do make it there, I'm a dream audience member. I fall prey to movie magic, theater magic, music magic and any other filter put before me that's meant to bend my reality for a spell. Two weeks ago, a dear friend took me to see the musical revival Closer than Ever at the York Theater at Saint Peter's Church on the Upper East Side. I'd written about the play at that time, but was asked to hold off until now with a review. I hardly consider myself a theater critic, but obliged. Now my impressions of that performance.
Walk four stories below ground level and there it is, a little jewel box of an old-school, off-Broadway New York Theater whose company has played host to musicals since it was created in 1969. The York Theater Company's founder, Janet Hayes Walker, was a Broadway star who took a turn in shows like Damn Yankees and The Music Man before founding her company with a $50 gift from the church rector.
Closer than Ever was written in the late 1980s by the musical team Richard Maltby, Jr. and David Shire, and had its debut downtown in 1989 at the Cherry Lane Theater, in a 312 show run. It's a musical with no dialogue to speak of. Rather, two men and two women sing about love, loss, friendship, exercise (?!) and much more, all against the musical backdrop of a piano and an upright bass (whose talented owner takes a star turn mid-way through the play).
The lyrics in some ways were irreparably dated (we're treated to some old Jane Fonda aerobics moves during that excercise number). The director made some funny choices when updating the show; casually sticking cell phones in their hands for a couple of songs and having them rudely text at a restaurant during a first date didn't hide the fact that they wore horrible business suits and geometrically printed blouses from the 1980s. He sticks a Starbucks cup in a guy's hand as he races out of his apartment to head off to work for the day. Not to be picky, but shouldn't that have been a portable thermos? Who leaves their apartment with a paper Starbucks cup?
The players (Jenn Colella, George Dvorsky, Christianne Knoll, and Sal Viviano) were phenomenally strong, both in voice and stamina. Two and a half hours of belting out about everything from infidelity to unrequited love to sharing baby duties to divorce and back again, all without, to my untrained eye, missing a single beat. There was also strong chemistry between the back and forth couples, which is a good thing, because we were about three feet away from a few wet smackeroos that could have been a disaster. The audience seemed to hoot and holler it up the most for "Miss Byrd", a number about a saucy office gal who's quiet on the outside, but secretly seducing some Super in a Spanish Harlem basement during her lunch breaks. She was alternately overly perky one second and convincingly coy the next, all while sharing her story from the seat of a rolling office chair. The same actress took a couple of turns throughout the show with scatting, and that got under my skin and broke voice from the rest of the show. Boo ba doo, etc., etc. Eh. That pet peeve is my problem, not hers.
The musical is obviously set in New York, thanks to that one specific Spanish Harlem reference, but one can also presume as much from the lyrics about lease propriety following break-ups and the closeness of neighbors. Yet the urban themes of too close for comfort and manic work/ life balance should resonate for everyone from sea to shining sea.
The theater itself seems to be endowed with a brave mission: To nurture the modern musical, and remain a home for revivals... a lofty ambition, n'est-ce pas? I was a kid who happily spent hours in front of Singing in the Rain, Gigi and The Sound of Music, all squashed in between every Cary Grant or Errol Flynn film I could lay my eyes on, but in my high school social circle I may have been unusual in that regard. My point being that even I don't generally choose to find and attend musicals... and I should. If we don't actively seek out these shows once in a while, the subscriber base will expire and so will these theater companies. It's not unlike putting your money where your mouth is and emptying your pockets at your local bookstore rather than on Amazon. It was refreshing to see more than a few younger faces in the aisles, even though we had the pleasure of sitting in front of two quite elegant old-timers who were clearly regulars (both perfectly coiffed with only minor-feathering lipstick and one in a turban!). Every time a number neared its end, we heard an enthusiastic stage whisper rise from behind us, "That was marvelous!" or "That was a wonderful song!" God bless 'em.
I look forward to actively catching more musicals in the next year. I hope to see more of my friend David Clement's up and coming show about the Weathermen, which I saw performed in small bits at the Public Theater a year or so ago. I also consider myself quite lucky to have caught one of the last performances of Once before it left the New York Theater Workshop on East 4th Street to head off to its new Broadway home, a setting I've heard is too large for the intimate show (but watch it nab Tony after Tony this weekend). Maybe next year we'll see the cast of Closer Than Ever hit the red carpet.
Closer than Ever is on show through July 5th at the York Theatre Company at 619 Lexington.