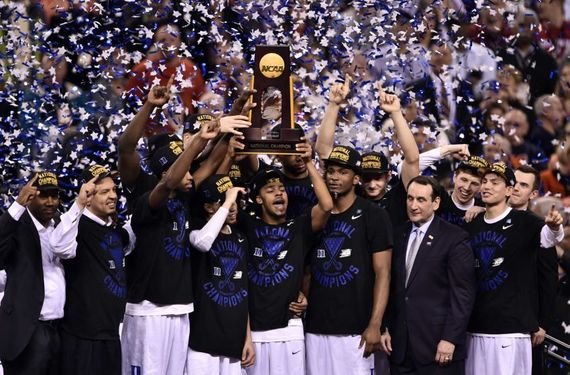 I am not one of those people who has ever had a well-thought out bucket list. Don't get me wrong. I have lots of things that I think about or dreamt about doing over the years.
Sure, I always wanted to see the Olympics in person. I did want to meet the athletes, who I felt I knew personally after watching their stories. I did want to hug Kerri Strug after she landed her vault on one foot because her other ankle was badly hurt, effectively securing the gold medal for the U.S. Women's Gymnastics team. I remember the feeling of national pride watching the "Miracle on Ice" and watch the movie every year as if it is a religious tradition. Okay, I took years of figure skating lessons and competed for a few years, hoping to follow in the footsteps of my Olympic idol, Dorothy Hamill. Thankfully, I never got that wedge haircut -- and oh by the way -- had little to no talent, which effectively put an end to that bucket list item.
I have thought about going on a safari (had to rule that out given my pet allergies -- although I am not sure if I am allergic to giraffes and elephants). I always loved the idea of biking through Tuscany (except my husband, mother and business partner have discouraged this in no uncertain terms since I took a "little spill" off my bike a few years ago). I suppose at some point I wanted to climb Mt. Everest or some other equally unattainable physical goal, but eliminated that when I learned that people died of edema. I have pretty much ruled out any activities that involve brain swelling.
But I am quite confident that I never considered any experience that involved sleeping in my car in a rental car parking lot at the Cincinnati airport in the middle of the night to be on my bucket list. Let's back up a little. At the start of March Madness this year, my nephew and I had discussed going to the final game if Wisconsin (his alma mater) and Duke (my alma mater) were in it. My college daughter, a sports fan and someone always up for an adventure, said she was in too.
On the Saturday of Final Four weekend as Wisconsin beat Kentucky and Duke beat Michigan State, I had to seriously consider putting my "proverbial money where my mouth is". I mean this could secure my status (no matter how short-lived as the "coolest mom" and the "fun aunt"). But reality kept creeping in. I didn't have tickets. I had work commitments. My daughter had to go back to college after a holiday break. Every flight in and out of Indianapolis had been booked for weeks. We didn't have confirmed seats. And just when I decided that it was totally unrealistic, my daughter engaged the most effective strategy in the annals of parent/child dynamics -- she parroted my own words back to me. "Mommy, life is short and we have our health. We should go." Done. Off we went on what became a real-life parody of the John Candy movie, Planes, Trains and Automobiles.
AND THEN I WAS OFF TO THE RACES!
Go to work. Drive home. Pick up my daughter. Change into our Duke garb. Go to the airport (on miles, I might add). Fly to Cincinnati. Rent a car. Drive through the Midwest with what can only be described as a non-existent sense of direction to get to Indianapolis. Walk to the stadium. Hang with my friend from my very first day of college and his son. Watch the game. Win the game (which makes it sound like I played in it). Take a picture with the legendary Duke player and current Stanford coach, Johnny Dawkins.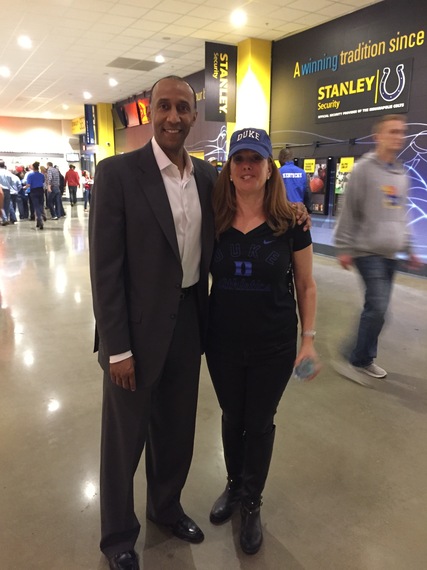 Go to the team's hotel to wait outside for an hour to get the chance to wave to them with hundreds of other people for about 10 seconds. Get in the car at 2:30 a.m. Drive back to Cincinnati airport. Sleep in our car in the Hertz parking lot (you guys might want to look into your security). Fly home. Drop my daughter at the train station to head back to school and get home a mere 20 hours after the odyssey started.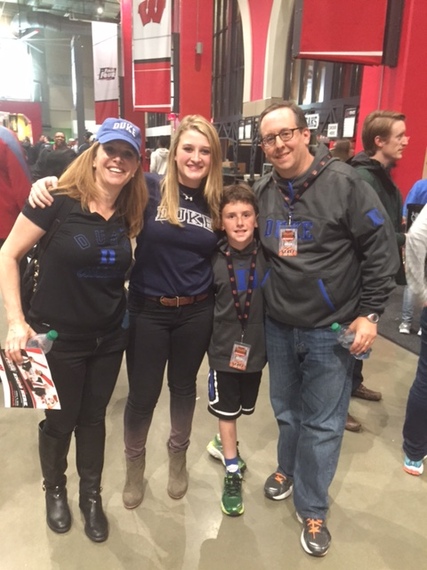 Okay, maybe it took me a week (at least) to catch my breath. And maybe it was a ridiculous plan. And maybe my status of "coolest mom" and "fun aunt" will have faded before the week ends. But, I can't help it. Every time I think of that experience I smile about my joyous descent into March Madness, the pictures I took with my daughter, and the enduring memories. Mt. Kiliminjaro, hang gliding, Super Bowl, Trip to Mars -- here I come. As long as I don't have to sleep in a car.