I have always wanted to help make the world a better place. I believe that we as individuals have immense power to affect change and touch people's lives in the most profound ways with even the simplest acts of kindness and love. I believe it because I have seen it happen and I have experienced it.
It is this very idea that inspired me to create a grassroots digital campaign called "What Can I Do?" The campaign is only a few months old and is an extension of my feature film Without A Home, a personal documentary I made about homelessness in Los Angeles, which was recently released on DVD. My hope is that the campaign provides people with simple, diverse and meaningful ways to help those who are homeless, vulnerable and in need.
Every month a different artist creates a piece of work that reflects his or her feelings on homelessness, and we pair that work with a local organization that works directly with homeless people. For the duration of the month we tweet and post on our website different calls to action that are hand crafted to the specific needs of the featured organization. They are simple things you can do to make a difference and they're needed, which means they affect change and touch lives. Because everyone has different interests and abilities, there are always more than enough things you can do to get involved.
For this past month of February, I'm extremely proud to feature an incredible organization called Children Mending Hearts, as well as a sensitive and beautiful piece of art work created by my sister Jessica Fleischer (featured below).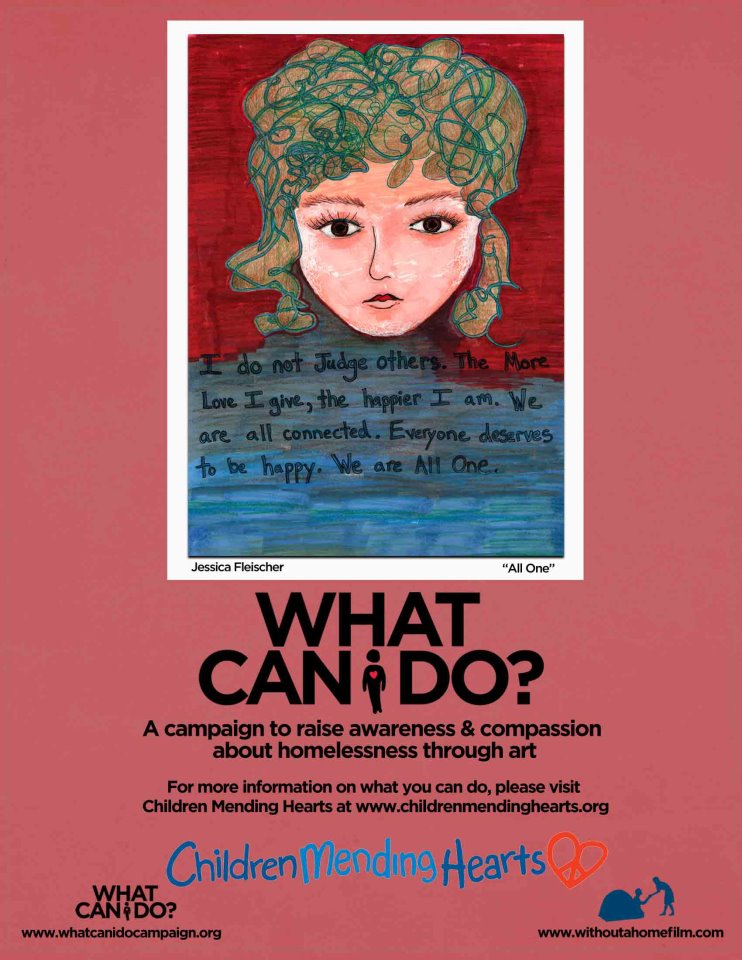 Children Mending Hearts is a non-profit organization created by a magnificent woman, humanitarian and Huffington Post blogger named Lysa Heslov. Children Mending Hearts is dedicated to empowering disadvantaged youth through educational and arts programs that build empathy and global citizenry. Their goal is to directly engage the youth of America in global children's causes where they can positively impact the life of another child and ultimately realize their potential to effect change both in their own community and around the world.
I had the extreme honor and privilege of volunteering at a Children Mending Hearts workshop, where these homeless and at risk children, wrote letters to the president, painted t-shirts for displaced children in the Congo, ate pizza and danced to pop music.
It was an incredibly fun day that left me feeling emotional and overwhelmed but ultimately empowered. I left sweaty and out of breath from hours of dancing with these bright-eyed children filled with hope and inexhaustible energy. As we danced and smiled at each other, I couldn't help but feel that a connection was formed. Though years have passed, I still remember these kids. I can see their faces and hear their laughter and feel their spirits being elevated along with mine. During those precious hours, they could just be children, without worrying about their next meal or where they would lay their heads for the night. Whether or not they remember my face or the faces of all those wonderful volunteers, I feel strongly that those children remember the way they felt while dancing and painting and participating in something greater than themselves.
This is the brilliance and power of Children Mending Hearts. It's not just about providing clothes and shelter. It's about creating and fostering connections between people. No matter who you are or where you are from, as human beings we all need to feel connected to one another and to be a part of something larger than just ourselves.
If you aren't familiar with the extraordinary work CMH does please take a moment to check out their website. Children Mending Hearts has global partnerships with youth in America, Haiti, Japan and Africa.
Please visit our website to check out our calls to action for Children Mending Hearts and find out what you can do. And be sure to check out their Global Arts After School Program featuring their pilot photography program which will have a focus on photojournalism, helping empower children to tell their stories with images.
If you would like to learn more and volunteer for their Global Arts After School pilot program at the Boys and Girls Club of Watts & Willowbrook in Los Angeles, please check out their website or contact CMH now to volunteer.
Follow us on Twitter and facebook to receive your weekly Call To Action and find out more about what you can do to the homeless and at-risk-youth.