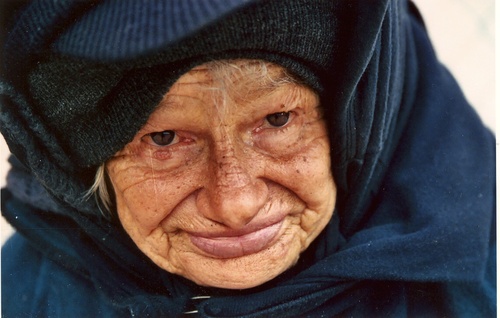 There's a man I always see walking around my neighborhood in Los Angeles. I am pretty certain he is homeless and I am definitely sure that he is suffering from a severe mental illness. I have seen him countless times, walking around Hollywood and West Hollywood. He's rather dirty and he's always talking to himself out loud; screaming, yelling, flailing his arms. I can see in his eyes and in his actions that he's not well.
Unlike so many people I have met and spoken to who are living on the streets, this is one man I have not approached. Though I want nothing more than to go up to him, find out his name, learn about his story and see how I can help him, I have not done so; admittedly, as a result of fear and of course a desire to protect myself. Until I find out what this man's name is, I have decided to call him John.
My heart goes out to John because I know he is not capable of helping himself. In addition to this man's mental illness, he's also dealing with a host of other issues that come with being homeless. He, like so many others, lacks the resources as well as the mental ability to help himself the way that others might be able to. While no homeless person has it easy, the added factor of having a mental impairment which prevents or hinders one's ability to take care of oneself, can only make being homeless that much more excruciating.
Most people, myself included, are understandably afraid to approach the mentally ill that we see roaming the streets. It's very clear just from what we witness as we drive by them in our cars or pass by them on the sidewalk that they cannot always control or be held accountable for their actions.
John, like so many others, needs psychological care and support and instead he's alone walking the streets, presumably without a soul to turn to. Where is the help for this man? Who is supposed to intervene here?
While I know the answers to these questions are complex I have decided to try and figure them out. There must be some kind of solution, some hope for John and so many others like him. Because every time I drive by a mentally ill person on the streets, talking to themselves or screaming out loud I keep saying to myself, "This time something has to be done."
There is a rather controversial piece of California legislature called 5150. I learned about it years ago when I was filming for my documentary and I was conducting interviews with professionals about mental illness. 5150 is a section of the California Welfare and Institutions Code which "allows a qualified officer or clinician to involuntarily confine a person to have a mental disorder that makes them a danger to him or her self and/or others and/or gravely disabled." Qualified officials would include a California police officer or a county clinician.
Once the suspected mentally ill person is confined they are held under observation for a 72 hour period. During this time a mental health professional will assess the person to see if they still meet criteria for hospitalization. If so, the person may be offered a voluntary admission. If it is refused, then another hold for up to 14 days, the 5250 (WIC-5250), must be written to continue the involuntary confinement of the person.
It's confusing and this is only if a person is temporarily taken in under a 5150. But what about all the people walking around that clearly need our help who aren't being brought in for observation under the 5150 legislature? Must we wait until they step out into traffic or harm themselves or an innocent passerby? How are we helping these people? Furthermore how are we hurting society by ignoring them?
I don't mean to imply that the 5150 legislature is all bad. In fact it evolved in an attempt to help protect the rights of the mentally ill who had been notoriously receiving unethical treatment when they were institutionalized against their will. Free will is a right all individuals in our society should be allowed to exercise. But I'm still confused about where this leaves the mentally ill who need help and adequate health care and have not the faculties or resources to obtain it properly.
The issues are complex, nuanced and raise serious philosophical and ethical debates for which there is not one answer. So I called the Department of Mental Health myself to find out more. I learned that there is in fact a program within the department called HOME .
HOME is a mobile outreach team that is available Monday through Friday from 9 a.m. to 5 p.m. The HOME Team attempts to engage the mentally ill homeless individual where they are currently living on the street with the goal of linking them to FSP or other mental health services. They assess the individual's needs and in the process of establishing trust, will offer case management services that may include transportation to access shower facilities, clothing, medical services, general relief benefits, obtaining a California ID, or other types of supportive services.

All you have to do is pick up the phone and call the HOME outreach team the next time you see someone walking around in need of help, homeless or not. You shouldn't have to wait on hold and the staff is lovely and eager to get out on the field and do what they can to make a difference.
When you call in, a HOME employee will ask you for a detailed description of said person, where and when you saw them etc. It's really that simple and the possibilities of good that may come out of these phone calls are infinite and I think incredibly hopeful.
For whatever reason these people have lost their way. Not only do they have no one else to turn to, but they can't even fully rely on themselves due to their mental illness.
It is my belief that we as individuals and collectively, have a responsibility to do what we can to make this world a better place. The alternative is that we ignore it. We do nothing and allow ourselves to be paralyzed by our own fears; or we do something, anything. As my Rabbi recently stated over the Yom Kipur holiday (the day of Atonement for Jews) "paralysis is a luxury." He is right and it is a luxury none of us can afford.
So here's what I'm asking -- program the following number into your cell phones, 800-854-7771, and the next time you see someone walking around Los Angeles who appears to be in need of psychiatric help, pick up the phone and make a call.
Results are likely to be most effective if you call as soon as you see the person, with their description and their current location so the outreach team can move on it as quickly as possible.
I have now been in touch with a few lovely women who help run the HOME outreach team for the Los Angeles Department of Mental Health. We speak several times a week. I recently called in the description of John and together we are trying to track him down and see what can be done for him.
I'm hoping my next post can be dedicated to that. Until then please take down this number 800-854-7771 and program it in your phones as HOME or Mental Health Outreach Center and the next time you see someone who needs help pick up the phone and make the call. It can't hurt.
For more information on the movie Without a Home, please visit our Facebook page.
Learn more about mental illness and how to volunteer.
To learn more about The Department of Mental Health, please visit their website.
Photo credit: Rachel Fleischer