While some large discount retailers hang on by a wobbly thread, at least one player in the affordable trends game seems to have faith in the bigger is better model. Los Angeles based retailer Forever 21 has been consistently betting shoppers will want their stores large and in charge in the future and their gamble seems to be paying off.
Because of its massive selection of constantly rotating and updating clothing, beauty and accessory items, Forever 21 is frighteningly equipped to fill six figures worth of floor space. Even the most massive of their locations looks almost uncomfortably glutted with racks.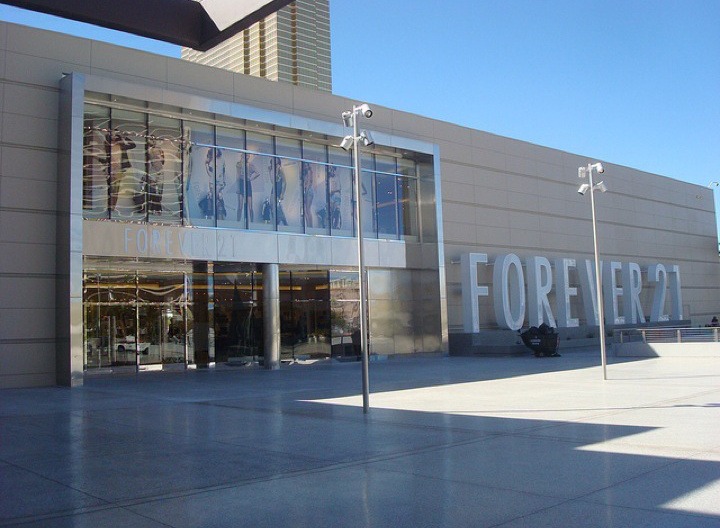 Photo via thestylelessdiaries.com.
One of Forever 21's largest store pictured above is in Las Vegas, NV and spans a whopping 126,000 square feet. Just for a little perspective, the average Costco is around 142,000 square feet and the largest H&M store (also in Las Vegas) is only 55,000 square feet.
But that's not even their biggest. Forever 21's largest stores in Fresno and Modesto, CA span more than 150,000 square feet.
Forever 21 locations happen to be some of the biggest shopping destinations in retail, including department stores. In fact, Forever 21 has a habit of moving into vacant department store spaces. One of the retail giant's largest locations (116,000 square feet) in Jacksonville, FL at The Avenues Mall is situated snuggly in the space formerly occupied by a Balk's department store Men's and Kid's section.
When Mervyn's department stores went bust a few years back, Forever 21 went on the prowl. According to a Los Angeles Times report, Forever 21 Inc. managed to scoop up 15 Mervyn's locations to move into. They've also moved into more than one Saks Fifth Avenue department store, including a two-story location in Pasadena, CA.
One of the retail giant's most heavily trafficked and oft photographed locations covers more than 90,000 square feet in Times Square, and used to house an iconic Virgin Megastore. They've also taken up residence at a past Virgin store address in San Francisco.
But is this what shoppers really want? To be bombarded on all sides by everything all at once, and lots of it? Does packing such a large space with so much merchandise serve to tarnish the brand or is Forever 21 just giving shoppers what they want?
WHAT DO YOU THINK? Is square footage in the hundred thousands and six floors of poly-blend too overwhelming for the average shopper? Or is Forever 21 at the forefront of a "bigger is better" trend in retail?
LEAVE YOUR THOUGHTS BELOW and click on over to my interactive map and timeline of the ever evolving mega store saga here.
For more musings on Forever 21 with a side of ridiculous WTF, visit WTForever21.com
An earlier version of this blog incorrectly stated that the Forever 21 in Las Vegas is the largest in the U.S.