About 8 p.m. on March 9, I was drifting down 22nd Street in Chelsea having just left the Independent Art Fair in the former DIA Museum. I had done a performance with my new character, FutureClown, at The Kitchen's art fair booth and I was thinking about the way I would adjust it for the performance the following night at the Museum of Art and Design for a taping of a TV show by ESPTV (my favorite analog video enthusiasts). I saw my friend, the sculptor Frank Benson, holding a beer at the glass window of Andrew Kreps Gallery. We greeted each other and I asked about the show at the gallery. He said, "Do you know the artist ? He's actually deceased. He was young."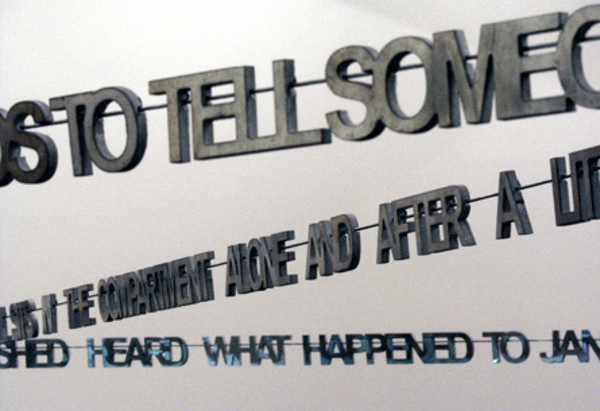 Photo Courtesy: Andrew Kreps Gallery
As soon as I saw the name on the wall, Ján Mančuška , I had this sudden and sad recollection. I had neglected to tell Mančuška that his work really made an impression on me several years back when we were in a show together at MOCAD in Detroit. From experience, I am aware that artists, even successful ones, often don't hear from people who see their work -- people they don't know. You may read a review here or there, but a personal exchange can mean a lot, especially from someone unexpected. When something strikes a chord with me, I often contact artists, writers and musicians directly because it's really important sometimes to get a message back from the void after taking the risk of putting out your work.
The show we were in together was an incredible exhibition curated by Luis Croquer, who now is at the Henry Art Gallery in Seattle. Croquir had arranged this large and beautiful collection of work into a show called LifeStories. I was delighted to be sandwiched between installations by Mančuška, on the one side, and Pina Bausch, the legendary German dancer and choreographer, on the other. It was very gratifying, as well, because my piece -- The Songs of the Ambassadors -- was something I had worked on largely in solitude for the better part of six years. All of the work in the show, it seemed to me, displayed the essence of what we as artists do -- make up stories and imagine how we can put ourselves into the worlds we create. Croquir's engineering of the exhibition gave it a feel of being playful with a calm focus. All the more, the work seemed to be truly coming to life in the raw industrial building of the MOCAD which sits in the middle of the main drag in the iconic ruin of the Detroit landscape.
In thinking about that show again now, The Unbearable Lightness of Being comes to mind. I rarely, if ever, think of Milan Kundera. Who knows, maybe it's a Czech association that I am making, as both men are from Czech Republic, but this line from Kundera's book seems to sum it up: "Chance and chance alone has a message for us. Everything that occurs out of necessity, everything expected, repeated day in and day out, is mute. Only chance can speak to us."
Mančuška's suspended sentences are objects that defy any kind of good description. You can't ever read them in their entirety and you can't necessarily even see them completely. Your eye catches a fragment of any one sentence, as the words are suspended in space -- bits of thoughts blur while others come into focus. Poetry is forced into your visual frame and fragmented descriptions feel like the only way to articulate anything about his work.
I don't know if I can call the work sculpture or installation but I am left thinking about artists who struggle with the formality of words and who love to stick sentences in places they don't belong. I think of the iconoclastic poet Jeremy Sigler -- a sculptor's poet or a poet's sculptor -- who has left sculpture behind for the most part and now works entirely on the craft of his writing, or perhaps the sculpting of words on paper. Something about Mančuška's body of work, to me, revels in the instability of representation and the attempt to make the description into art, and art into the description -- an endeavor best accomplished in the floating of words in space, I suppose.
I had hoped to have this rambling conversation with Ján Mančuška about his work, and about words and about who knows what -- with him in person, and yet, maybe this is "chance's" message to me: Because I wouldn't likely be writing anything had I had that conversation with him and I also might not be writing this now had I not had the encounter with his work again that day as I walked down 22nd street.
There is one person to thank for my lucky opportunity to reconnect with Mančuška and that is Andrew Kreps, the gallerist who is keeping this great artist's work a part of the conversation. The show, which came down this past weekend, (March 23, 2013) was a remarkable installation and tribute to an artist who though physically not here, is still leaving his mark. I am reminded to thank Mr. Kreps because of something Jerry Saltz wrote after Hurricane Sandy, "These ridiculed and reviled galleries are places you can go for free, run by strange people with visions who want to help artists by showing and selling their work." Indeed, these small business owners are people who don't just work hard to keep a roof over art's head in their little or big sized stores, but also to keep artists' legacies and memories alive. So, thank you Andrew Kreps. I really appreciated this show and I suppose this is my way of finally complimenting Ján Mančuška.
Here are links -- discover this artist. He is very much alive.
Correction: A previous version of this blog post misspelled Luis Croquer's surname. We apologize for the error.