Alexandra Liss, 29, tried not to grimace when waking up at 4 a.m. in Morocco. Living like a local, the San Franciscan agreed to try a pre-dawn prayer with her Couchsurfing host.
"Manage your expectations and perfect your cultural poker face," reads one of Liss' rules gleaned from the experience in her resulting documentary, One Couch at a Time: Surfing into a New Sharing Economy, which she directed and starred in.
Launched January 5, the ambitious, low-budget film was screened last week at San Francisco's HUB, followed by a discussion of ways sharing -- in the form of hospitality, cultural exchange or services -- are cementing themselves into the mainstream.
Liss spanned the globe for seven months, visiting 21 countries on six continents. She captured her cultural exchanges from the San Francisco-based Couchsurfing.org, a social networking site for free hospitality exchange that now counts six million members worldwide.
She juxtaposes her whimsical and sometimes wacky experiences with insights on the nature of travel and forming connections with strangers 7,000 miles away -- or even next door.
Figures such as The 4-Hour Workweek author Tim Ferriss and Couchsurfing.org's founder Casey Fenton weigh in and Liss creatively concludes her journey at Burning Man, deemed as the epicenter for sharing among strangers.
Above finding a place to crash, Couchsurfing is about "having deep and meaningful experiences everyday," says Fenton while riding a sunlit San Francisco cable car in the documentary.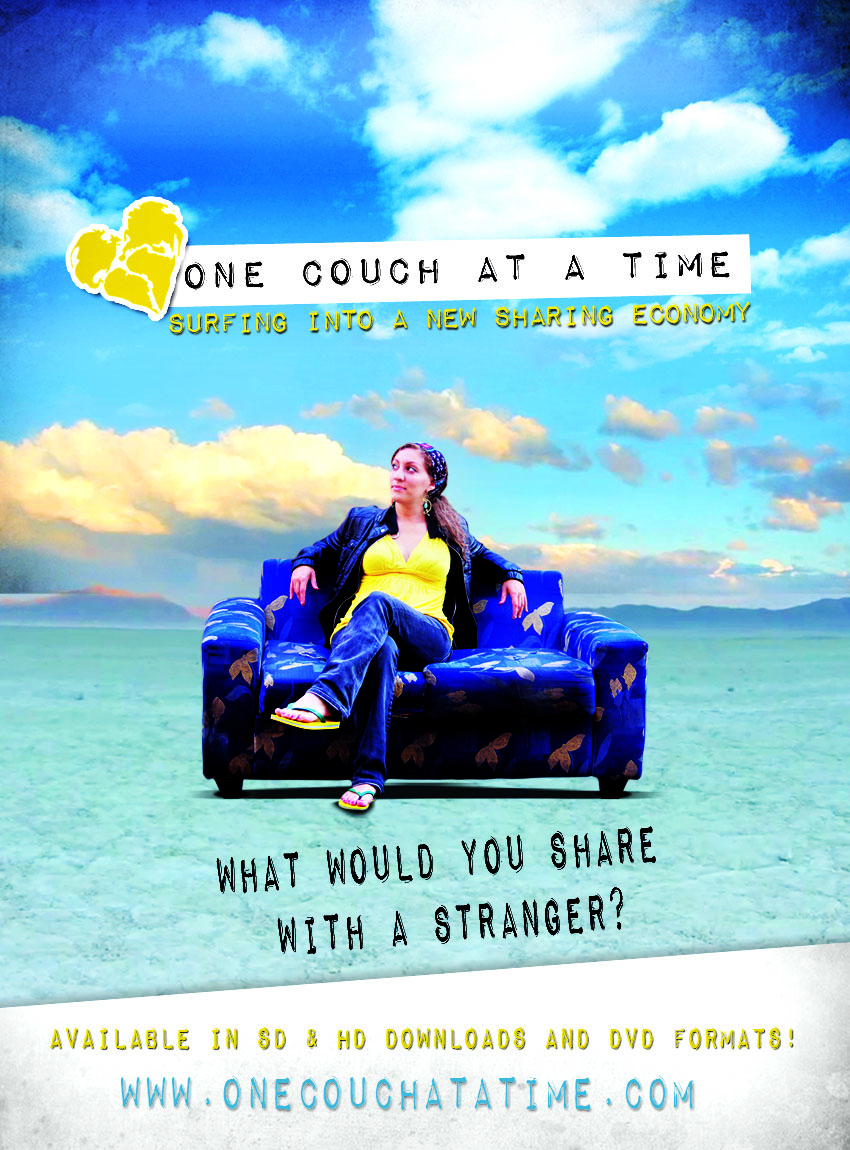 Travel Like Nobody is Watching
In 2010, Liss aptly turned to the crowd-sourced, Brooklyn-based Kickstarter to help gather the funds, and relied solely on other Couchsurfers to help her piece the documentary -- which cost $30,000 to produce -- together. She recruits travelers, such as Pakastani filmmaker Zohra Allana, 34, to accompany her during various stints of her travels, which begin in Thailand.
"Travel like nobody's watching," reads another rule after Liss dances with locals at a spontaneous Cambodian block party.
"Learn a bit of your host country's language," flashes the screen as Liss and fellow traveler, the film's co-producer Chelsea Rustrum, offer a French family a merci beaucoup as they serve dinner.
"Traveling is the perfect opportunity to step outside your comfort zone and overcome your fears," states another rule, as Allana confronts her catphobia in Cambodia.
"You always say yes, even if it stretches you past your comfort zone," reads another rule, as Liss zigzags through the German countryside at top speeds on a motorcycle.
More than existential moments on the road, the film offers what Fenton envisioned would come from cultural exchange: understanding. Allana explains to Liss why she should not joke about her being viewed as a terrorist when she's not allowed through a border crossing, and Liss apologizes for what she calls an "off-color comment." Her South African host Sifiso Mazibuko explains the present-day after-effects of Apartheid, and her Moroccan host, the film's graphic designer Walid Bendra, explains why extremist Muslims aren't true Muslims.
"There's nothing in Islam that tells you to kill people," he says.
Fenton founded Couchsurfing, which recently shifted from a non-profit to for-profit model, in 1999. The thrifty computer engineer spammed several students on a trip to Iceland asking if they could host him and, inspired by the multitude of responses and resulting experiences with locals, he registered the site's domain name upon return.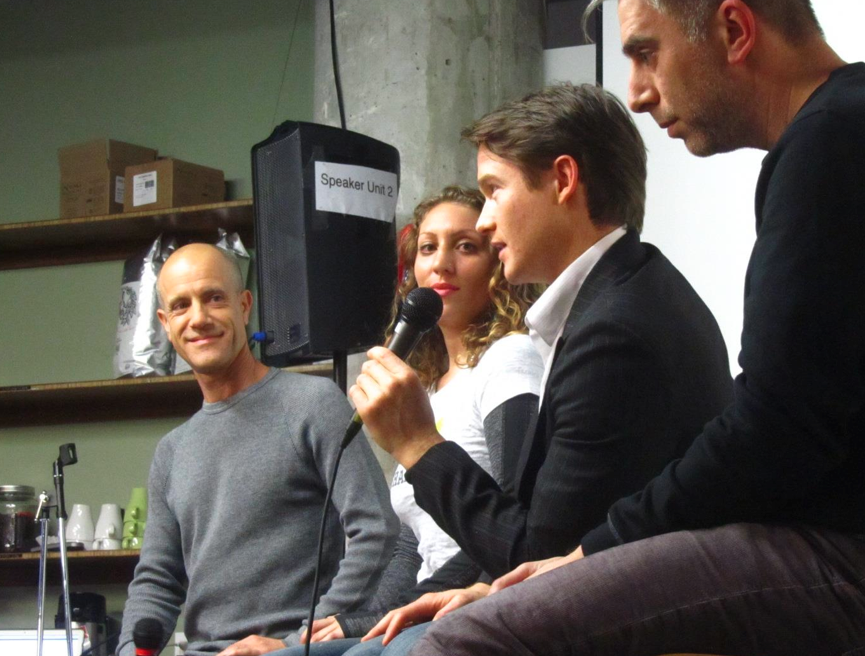 What if My Host is an Axe Murderer?
The documentary also addresses a common concern couchsurfers receive: Is it dangerous?
"The person could cancel on you," says Liss' friend riding his bike, adding nonchalantly that, "The person could be an axe murderer."
Liss' mother, Sylvie, also voices worries before her daughter departs. "You're staying with someone you've never, ever met before," she says emphatically, "and staying in their house."
Fenton tries to dampen doubts, pointing out how the site uses technology to stay safe. There is a credit card verification and reference system, where both hosts and hostees can gives a neutral, positive or negative mark, followed by a review. There is also a vouching system, where frequent, vouched-for users can in turn vouch for other users they know and trust.
"It's like 'is eBay dangerous?'" says Fenton. "At first people thought it would be dangerous to send a package to someone you don't know. But eBay overcame that problem with technology."
When media first began reporting on the Couchsurfing, they framed it as a crazy idea, said Fenton. But now it's more mainstream -- one option out of many to encourage people to travel more.
"The tone has changed: people are less skeptical when talking about Couchsurfing," said Fenton after the screening.
Even Liss' skeptical friend weighs in on a benefit. "The biggest risk is if you just stayed home," he says, "in your theoretically safe little bubble and never stepped into the opportunity to expand yourself."
Where Can I Watch?
Screenings will occur through Cinema Connect for free in April, said Cinema Connect Founder/CEO Brad Nye. The next screening will occur Saturday at 6:30 p.m. in Santa Monica. Anyone can host a screening of the film by filling out a link on the official website. They can also download it on the One Couch at a Time website.
A Sampling of Other Sharing Sites
yerdle: Prominent environmental activist Adam Werbach sat on a panel after the film to explain his new, SF-based website that allows friends and acquaintances to advertise and share their stuff.
Air BnB: The site allows people around the world to sublet their living spaces on a nightly basis.
References
Liss is co-authoring the book It's a Shareable Life: A Practical Guide On Sharing with Rustrum and the film's executive producer Gabriel Stampinski.
Official film poster and panel photo provided by Brad Nye. Photo from left to right: moderator and Cultural Connections founder Francis DellaVecchia, Alexandra Liss, Casey Fenton and Adam Werbach.