"Ljub-what?" a friend asked when I mentioned I was headed to Slovenia's small capital, Ljubljana. The tongue-twister stems from the Slovenian word for "beloved" -- an apt name for an often overlooked European country, and its walkable main city, subtly sandwiched in between Austria, Italy, Hungary and Croatia.
Ljubljana was my first stop on a 10-day journey of what felt like something out of a fairytale, or Switzerland at one-sixth the cost. Slovenia boasts a breathtakingly beautiful terrain, fascinating history, and pretty yet grammatically complex language with 48 dialects among its mere two million speakers.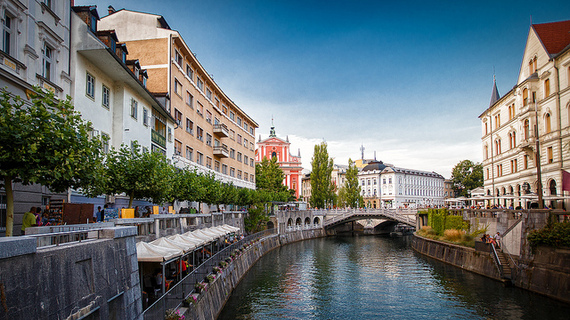 Due to its geographic position, Slovenia is a cultural hybrid. People seemed to carry both an industrious, Germanic work ethic -- I heard lawnmowers instead of church bells on Sunday mornings -- as well as a more laid-back, fun-loving Slavic sensibility. The cuisine, too, was a mix of heartier meat-and-potato staples and lighter seafood-friendly Mediterranean fare.
It's filled with rugged, snow-capped mountains, charming towns along the Adriatic Sea, and lush forests, which cover over 60 percent of the terrain. Even Slovenia's underground is gorgeous, thanks to the ethereal Škocjan and Postojna caves.

Mountains: A Rite of Passage
Climbing the 2,864 meter Mt. Triglav, Slovenia's tallest mountain nestled in the Julian Alps, is considered a rite of passage for Slovenians, said my friend Nejc Trušnovec, who made his first accent at the age of 7. But even if you don't make it to the top, the surrounding national park captures the country's graces with the roaring Peričnik Waterfall, sprawling green meadows, glaciers, and traditional colorfully painted apiaries where delicious honey is made.
Yet the Julian Alps also have a sobering history, having hosted much of the brutal mountain fighting during World War I. They were where Ernest Hemingway, while volunteering with the Red Cross, was prompted to pen his famous Farewell to Arms. Through an expansive collection of photographs, text and film, the Kobarid Museum details the warfare that took place in the treacherous terrain, where Austro-Hungarian forces clashed with Italian ones. These mountains also helped save lives: we hiked through a hilly gorge to reach the Franja Partisan Hospital, which was secretly run by Slovenian partisans during World War II.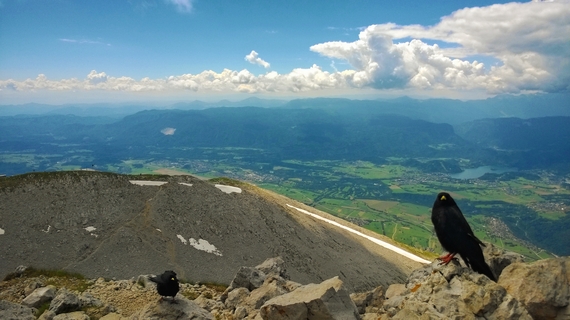 The emerald Karavanke mountain range along the Austrian border is also worth paying a visit. We trekked up a steep route of its tallest peak, Mt. Stol, in the July heat, coming across a cottage near the summit that emanated the smell of freshly baked bread. It was not a mirage, but rather a typical mountain cottage built during Yugoslavian times as part of the belief that nature should be accessible to, and enjoyed by, everyone. Huts stand on the top of many mountains in Slovenia, and philanthropic (and strong) hikers elect to carry logs for cooking-fire to the top. They stay overnight or just to down a bowl of mineštra, a traditional cabbage soup.
For a heavier culinary staple after hiking, try the Bled Cream Cake (Kremšnita), a decadent custard topped with a layer of whipped creamed topped with another layer of pastry. It's the symbolic dessert of the picturesque town of Bled, where a sparkling blue lake sits amid the backdrop of the rolling hills and an old church positioned on a lovely island.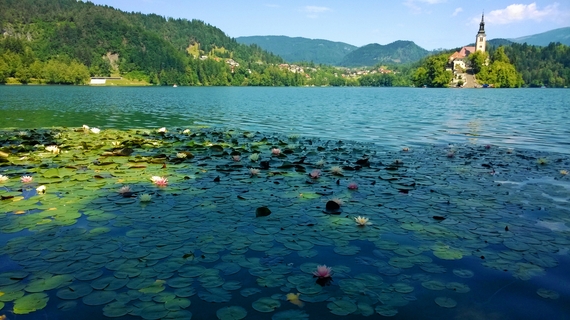 No, We're Not in Italy
Sipping locally produced wine in the rustic villa of Vipava, I felt like I was in summertime Italy, without the hordes of tourists. Nestled at the foot of the scenic Nanos Plateau, Vipava is best known for its flavorful wines, such as the red Refošk and Teran and white Zelen. I sampled several varieties at the town's Tourist Info Center, which also doubles as a sleek wine cellar.
With three vineyard-filled regions, Slovenia has a long-history as a wine-producing country: Maribor, Slovenia's second largest, student-filled city, can brag about having the oldest vine in the world. This remarkably intact 400 year-old "plant of the gods" still produces between 35 and 55 kilograms of wine a year.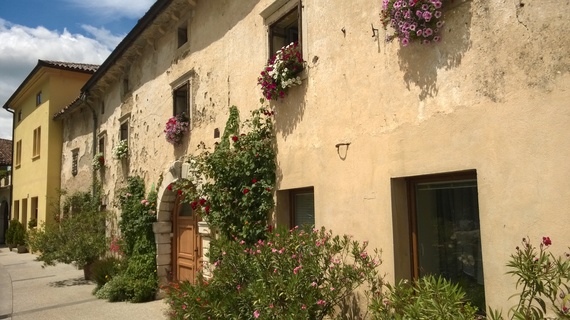 Slovenia's Adriatic coastline also has an Italian feel: its pearl is Piran, a medieval postcard-esque town jutting into the sea. Today Piran may be best known for being the first city in former Yugoslavia to have a black mayor, Ghana-born Peter Bossman, who's often been dubbed the "Obama of Piran." Sauntering through its narrow cobblestone streets, I surveyed the Venetian-style buildings and shops that sell salt produced from the local Sečovlje salt pans. Restaurants lining the crystalline coast serve handmade pasta adorned with regionally picked truffle mushrooms.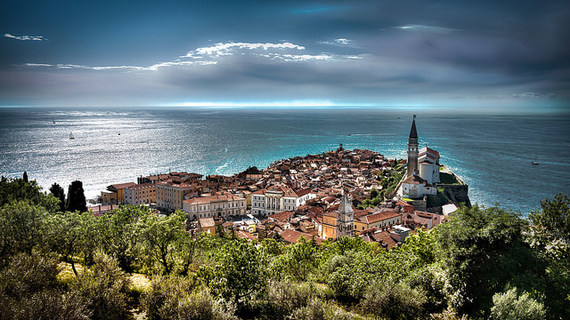 Nearby tourist farms, such as one I stayed at in the pretty Pliskovica village in the Karst Region, are another unique way of getting a feel for the bucolic countryside and its cuisine. Hosts welcome their guests with wine and regional specialties such as Kraški pršut, or air-dried Karst ham, and Kranjska klobasa (Carniolan sausage). As a vegetarian there during the sleepy village's vacation month of July, I enjoyed a lavish bread and cheese plate laced with olives.
Slovenia's Underworld
Some of the most spectacular sites of the Karst region are located underground. The Škocjan Caves, a UNESCO World Heritage Site, are the largest underground canyons in Europe. The limestone chambers are home to mystifying species such as the človeška ribica (human fish), which actually lives nearly as long as humans, dwell almost entirely in water, and can go upwards of eight years without food.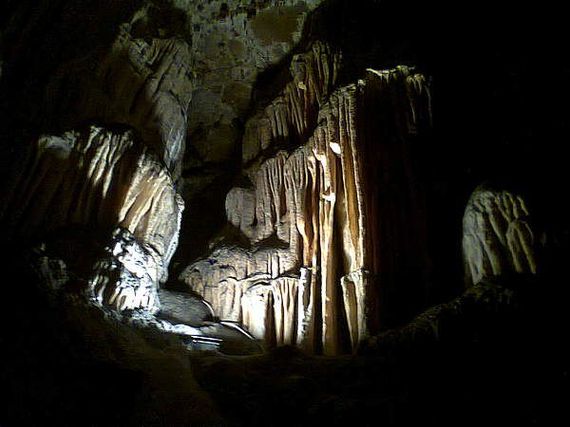 We took a tour along a walkway, which stretches on for three kilometres, marveling in the dim-light at roaring rapids, a waterfall and beautifully sculpted limestone formations. Entering the Great Hall, giant stalagmites -- or jagged spikes composed of minerals or sand -- rose up above us, and large stalactites, made of the same materials but hanging from the ceiling, seemed to drip above our heads. It's no wonder that Greek stories of Hades are said to originate from these caves. They were also an ancient pilgrimage site where people from far away places came to offer precious items like swords, helmets and animal sacrifices.
Seeing the light of day, we hiked through the gorge atop the caves, which was filled with seemingly endless trails and greenery that's characteristic of Slovenia.
Planning a visit?
Slovenia's Tourism Board maintains a comprehensive website, as does Slovenia.si.
More information on the places mentioned can be found in a guide on the website Gogobot.
Photo credits: Ljubljana by Gilad Rom, Panoramic of Triglav and the Julian Alps by Javier Sanchez Portero, Lake Bled by Rachel Stern, Piran view by Bernd Thaller; all other photos (view from Mt. Stol, Vipava and Divača cave) by Nejc Trušnovec.