Designer Jason Wu is a sartorial force to be reckoned with. Usually when someone is described as having shot to fame "overnight," it's used as a figure of speech and not meant literally. In Wu's case, first lady Michelle Obama wearing an ivory one-shouldered gown custom made by the designer on inauguration night made him one of the most recognizable names in fashion by the very next morning. It's hard to believe Wu is only 26 years old; the talent and skill he possesses are that of a seasoned designer who's been in the industry for a quarter of a century, and not someone who has only been alive just over a quarter of a century.
He is meticulous about detail, which is evident in the parade of architecturally-inclined dresses, separates, and feathered masterpieces that make up his fall collection. He even partnered with famed jewelry designer Philip Crangi to create corresponding accessories. Crangi's dramatically spiked necklaces are just as beautiful as they are overtly edgy, and they work masterfully with Wu's collection, a self-proclaimed crusade to blur the lines between casual and evening wear. One of the most covet-worthy labels this season, Wu is also a favorite among editors, celebrities, and the public alike. Even though it's only been three years since he debuted his first collection, it's safe to say that Jason Wu is firmly entrenched among the industry's elite and is going to stay there for a long time.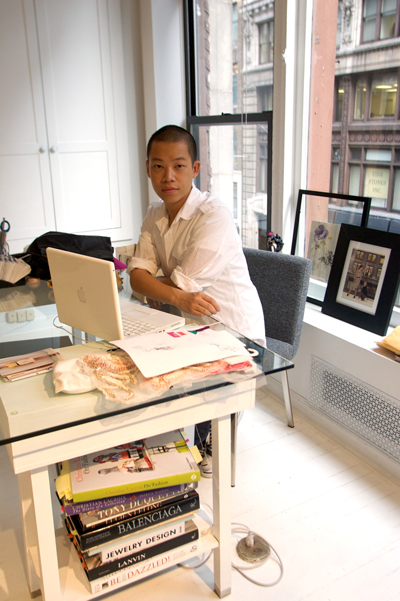 Photograph by Brandon Perlman
See below for a look into Jason's studio, his fascination with artist Arthur Rackham's original Alice in Wonderland illustrations, and the doll he designed for French retailer Colette that sold out within a week.
Rachel Strugatz: Describe your personal style.
Jason Wu: My personal style is clean. I dress in uniform. I am always wearing a button-down shirt, usually in blue -- I have about 30 blue shirts. If I see something I like I will buy it in every color. I like to design beautiful clothes for women and not worry as much about myself.
RS: What are you wearing right now? What's a typical outfit for a day in the office
JW: Blue skinny Levi's jeans -- the special edition ones-- and a Topshop white on white pinstripe button-down and Converse sneakers. I have Converse in every possible color in low and high, but my favorite colors are white and navy.
RS: What are your must-have items?
JW: A navy braided bag from Bottega Veneta's fall collection. I have a huge collection of bags. It's overtaking my closet. I also just came back from Turks and Caicos, so definitely another vacation -- and somewhere sunny. When I go on vacation, I want to go somewhere where there is nothing else to do but lie on the beach. It lets me rest my mind a little.
RS: And for the women you design for?
JW: A great dress. One that is special-- detail-oriented and unique, but also very convertible. An ongoing exploration for me is to blur the lines between day and evening. There shouldn't be so much of a definition that separates the two. The women I design for would want to wear a double-layered t-shirt with Van Cleef & Arpels jewelry, which is who we partnered with for resort. This is the approach I take when styling the collection. I have often asked myself, how would I render a t-shirt that's different than someone else's? Another must-have is great shoes and owning those key items that can be integrated into many outfits.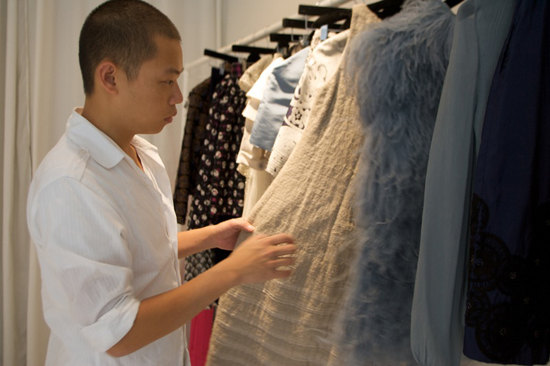 Photograph by Brandon Perlman
RS: What inspires you?
JW: For the fall, it was the first Alice in Wonderland illustration by Arthur Rackham. I wanted a different take on the fairytale and I translated this through the texture, embroidery, and prints in my collection. I wanted to design clothes that were very essential and beautiful. It had more than a literal meaning for me- this came through in the shapes and forms in the pieces. Japan is my number one inspiration finder. There are so many textures in the culture -- it's a cultural explosion. For the spring collection, my interpretation of modern day Tokyo came through in the form of shocking, bright colors.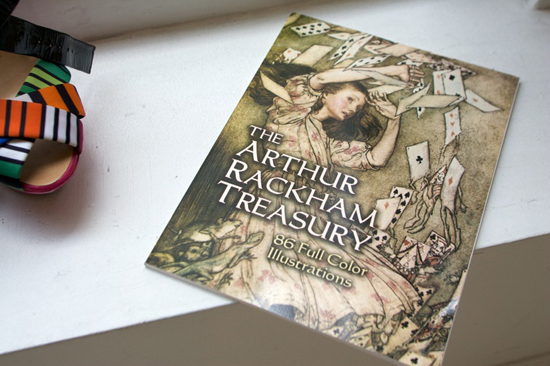 Photograph by Brandon Perlman
5 Things About Jason...
1. He is obsessed with cooking and the Food Network. He loves cooked apple in any form and comfort food like macaroni and cheese drizzled with truffle oil.
2. He is always on the computer and watching TV simultaneously because he likes to keep his mind stimulated. He finds it hard to do just one thing at a time.
3. He is a Nintendo Wii enthusiast. The zombie shooter game "House of the Dead" made all of his childhood video game memories come flooding back.
4. The Strand Bookstore in New York City is his favorite place.
5. He loves his cats Peaches and Jinxy. He is famously known to pose them for pictures.

In Jason's Office...

The Arthur Rackham Treasury -- "This was my fall inspiration. It was the first Alice in Wonderland artwork."
Cup of Tea -- "I have been off coffee for six days. I have been having a cup of green tea every morning. I feel better and lighter."
Inspiration Board -- "I couldn't live without my huge cork inspiration board."
Moleskin Sketch Pad -- "This is my fifth moleskin book this year. It has everything that I have to do in it. I make lists of what I have to do and then I draw and sketch on the backs of the pages."
Necklaces Designed by Philip Crangi For the Fall Collection -- "This jewelry can be paired with a great t-shirt and special skirt. The dressier looks [in the collection] weren't even worn with jewelry."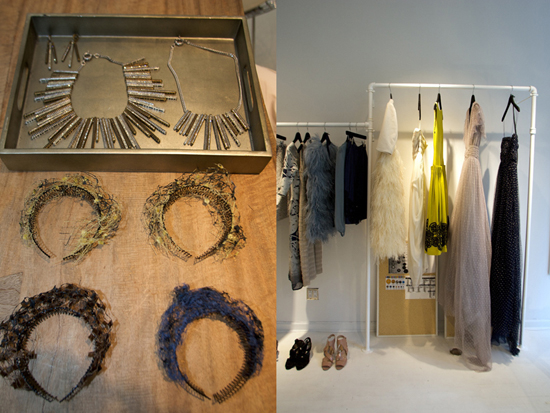 Photograph by Brandon Perlman
MacBook Air -- "I broke down about bought one about two months ago. I carry it everywhere and when I travel. It's really light."
Jason Wu x Colette Paris Doll -- "The doll I designed for Colette is wearing a fall look from my collection."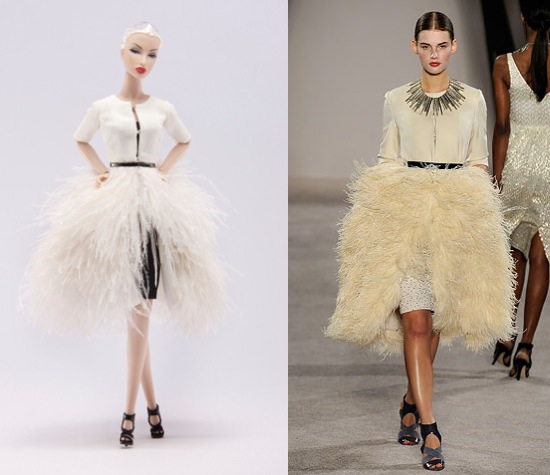 Photograph Courtesy of Jason Wu
iPhone -- "I live on it."
Michelle Obama in Jason Wu's Designs: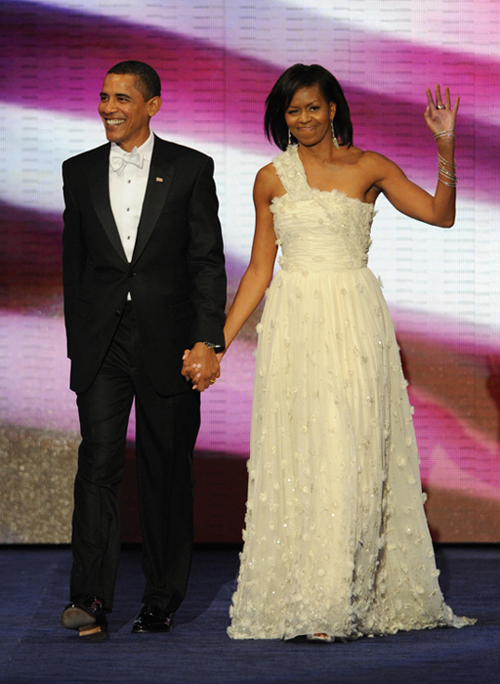 January 21, 2009. Getty Photo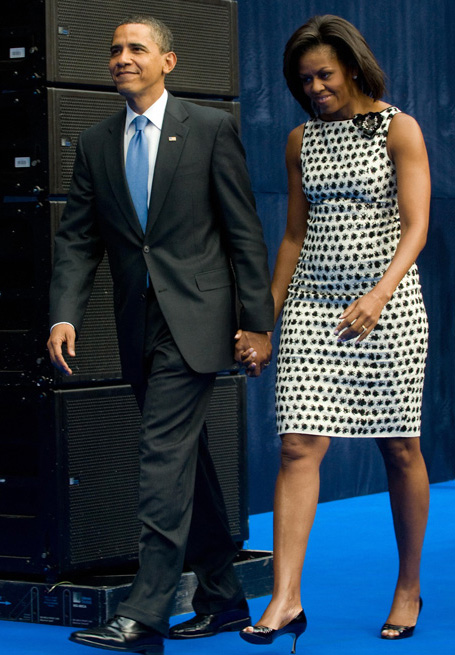 July 7, 2009. Getty Photo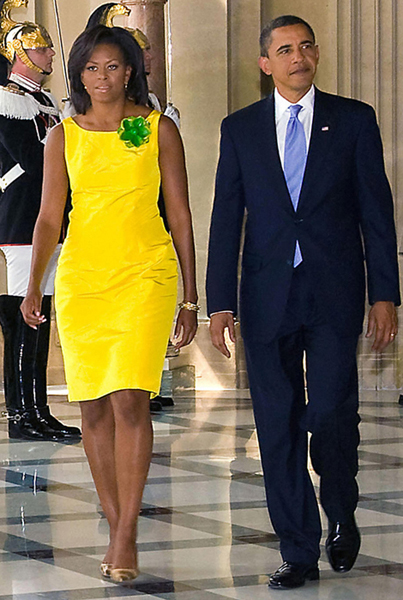 July 8, 2009. Getty Photo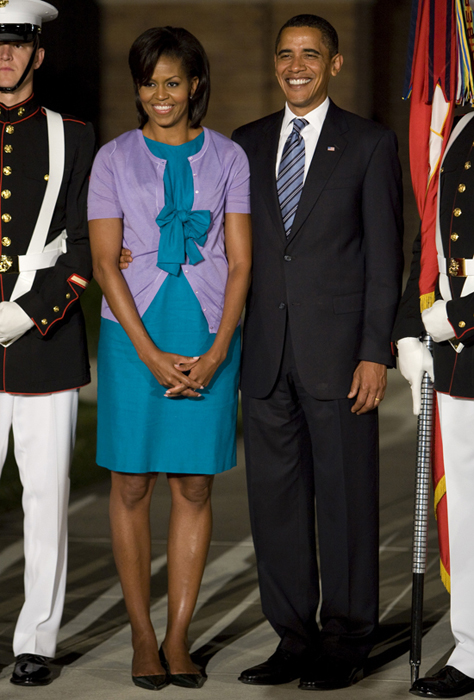 July 24, 2009. Getty Photo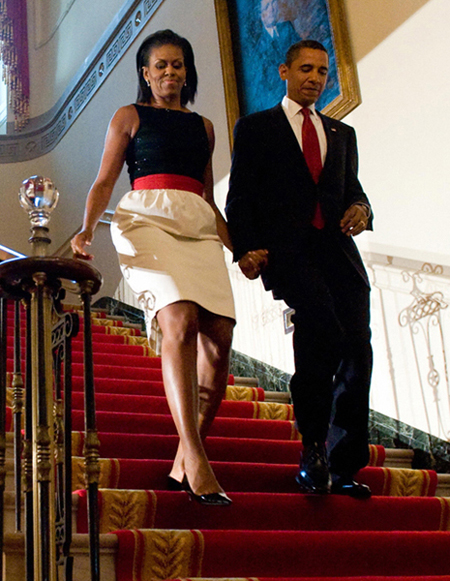 July 27, 2009. Getty Photo
Rachel Strugatz can be contacted at rachel.strugatz@gmail.com.
Follow HuffPost Style on Twitter and become a fan of HuffPost Style on Facebook!