Sometimes, we get lucky and meet people who impact our lives.
I can still remember the first time I met the talented musician, Dave Kim. I had just moved to San Francisco and was invited to a house party. Outside on the balcony, Dave was jamming away on his electric violin, as happy party goers danced to his uplifting beats down below.
From that day forward, I saw Dave perform at various events throughout San Francisco. Then, one day I was informed that Dave had suffered a stroke. The news came as a shock to everyone.
After experiencing a series of "mini strokes," Dave became concerned and checked himself into the hospital.
"I was recording a music video and felt a reoccurring numbness in my right arm. I was apparently experiencing mini strokes during the entire filming of the music video. I kept losing control of my arm while I was playing the violin," Dave said. "I went to the hospital and my blood pressure was through the roof. I stayed over night and the next morning I couldn't move my right arm and leg. I was told I had a blood clot, all due to hypertension."
Staying Positive
According to the Internet Stroke Center, each year approximately 795,000 people in the US suffer a stroke. Strokes can occur at any age, yet it has been noted that nearly one-fourth of strokes happen to people under the age of 65.
For many victims, having a stroke is a life-altering experience that results in limited movement and balance and other physical and mental complications. While Dave was worried about not being able to walk again, or not being able to play the violin, he ended up transforming all of his worries into positive thoughts.
"When I woke up in the hospital, I kept thinking, 'Am I ever going to be able to walk again, kite surf, play music or play with my kids?' Suddenly, all of those thoughts turned into thoughts of gratitude. Instead of being terrified, I looked back and realized that I've spent 38 fantastic years playing the violin all over the world. I'm also very thankful that I'm a dad and have been able to raise my two sons. Suddenly, everything turned into gratitude," Dave explained.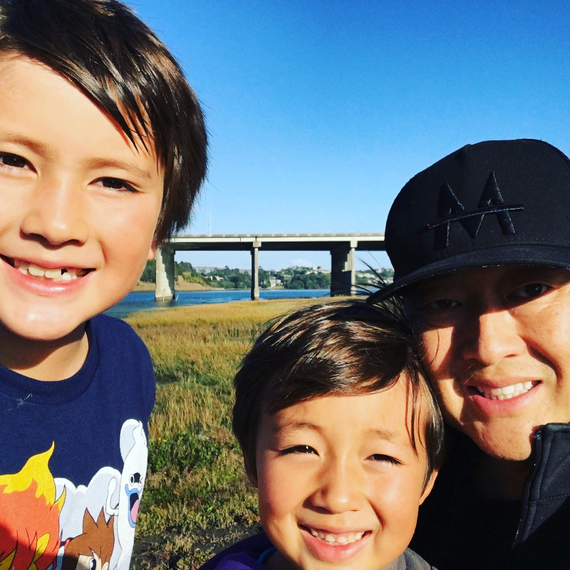 Dave Kim and his children
Dave mentioned that the recovery process after having a stroke is 95% mental and that keeping a positive attitude is necessary. It's been noted that the most common struggles during stroke recovery are anger, frustration and depression, yet being able to conquer these elements will almost always result in a full recovery, simply because you think you can.
Social Media and Community Impact
Like many other inspiring musicians, Dave frequently used social media to display his videos, concert photos and to keep in touch with family, friends and fans. Yet Dave went dark on social media after having a stroke.
Just 5 days into rehab, however, Dave posted a video on his Facebook Page that showed him walking again. The video got 9 thousand views and hundreds of likes. The video's high engagement encouraged Dave to continue displaying his recovery progress on social media.
"After having a stroke, it's important to stay positive and set goals for yourself, no matter how big or small. It also helps to record yourself and track your own progress. Even if you don't want to, you have to see the progress you are making. It might take a while, but seeing your own progress will help you move forward. Social media serves as a platform for showing your progress to the world, as well as for watching it yourself. I've already started to regain movement and have lost 40 pounds," Dave said.
Community has also played an important role in Dave's recovery process. After performing across the globe, many people have reached out to tell Dave how inspired and touched they've been by his music.
"Everyone suddenly reached out to tell me how much I mean to them and how I've touched them. It was as if I'd experienced what it would have been like if I actually did pass away - knowing what people would have said about me and how I impacted them. To feel that was enormous and I'm really lucky to be surrounded by amazing people from so many different communities like MaiTai Global, San Francisco's HackCancer community, church and many more," Dave expressed.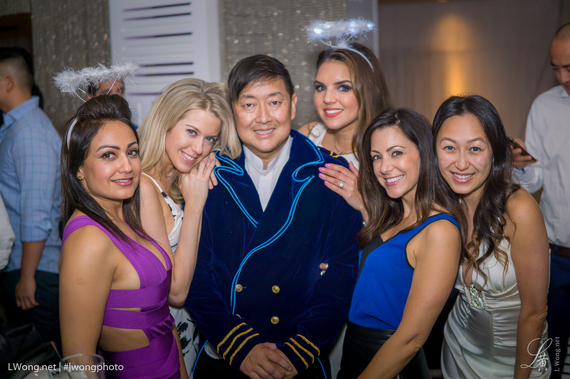 Dave Kim at San Francisco's Cloud 9 Birthday Bash a few months after his stroke; Photo Credit: Larry Wong
Using VR to Recover
Positive thinking, social media and community support have all helped Dave on his road to recovery. Dave even decided to take the process a step forward by looking towards virtual reality. He is now working with his friend Sacha Tueni to find a solution for stroke recovery using VR technology.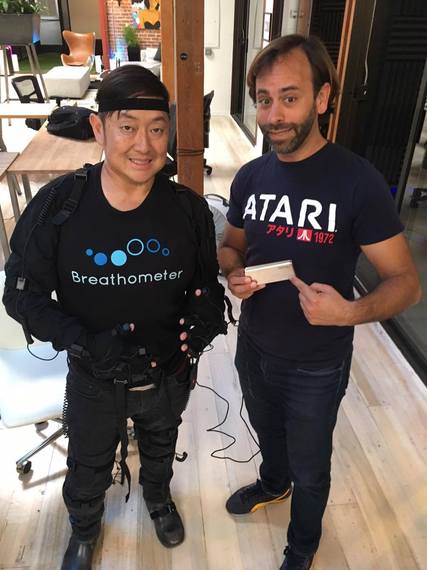 Dave Kim getting ready for virtual reality therapy
Applying VR to help stroke victims recover makes sense, as the recovery process is very mentally driven. For example, when someone experiences a stroke, a vessel carrying blood to the brain becomes blocked or bursts. This leaves the brain deprived of oxygen and nutrients it needs to survive. Within minutes, brain cells begin to die.
In Dave's case, a blood vessel to his brain that communicated with the nerves to his arms and legs collapsed, creating a clot. Dave's brain now needs to find new ways to communicate with his arms and legs. This is where neuroplasticity and mirror therapy often come into play.
Virtual reality can also be applied for stroke recovery because it causes brain stimulation. In fact, a recent study conducted by Duke University demonstrates that virtual reality can indeed help restore mobility in humans. The study looked at a group of paraplegic patients that used a brain-machine interface featuring an Oculus Rift headset that simulated the effect of having a neurological connection to their lower limbs. All patients involved experienced return of sensation to their lower limbs and increased muscle control.
"It's crazy how powerful the brain is. I was literally in a bed paralyzed and I watched over time when I began to move again. I started to feel leg jerks, then I began to move my thumbs a bit. All of this kept me going and gave me hope that I would be able to move my arm and hand again. Virtual reality can help speed up this process because it stimulates the mind so much. I'm looking forward to advancing this technique to cure other stroke victims," Dave said.
You can watch Dave Kim's road to recovery by following him on Facebook and YouTube.