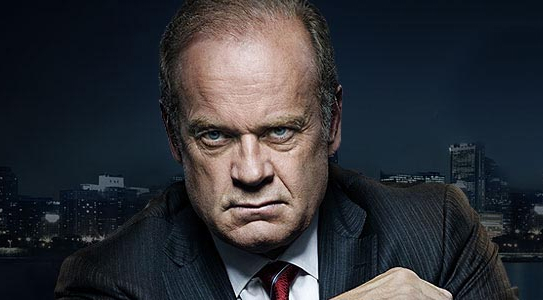 I don't think there has ever been a show on television more cynical about politics than Boss. And that's why I love it. The show stars Kelsey Grammer as Tom Kane, a ruthlessly corrupt, longtime mayor of Chicago who also happens to have a degenerative brain condition.
People tend to love or hate Grammer. I'm a fan. Frazier was a brilliant comedy, especially in the later years, but Tom Kane is a role far more tailored to his talent. Grammer not only pulls off the cold, calculating brutality of a power-at-all-costs politician, he's so good at mimicking faux sincerity and the way a politician can instantly turn warm and gracious once he's in front of a camera that you find yourself nodding in agreement with him when ehe does. That's remarkable performance, given viewers have already been made privvy to his brutishness. (If Grammer ever runs for office, God help us all.)
There are other great acting performances: Hannah Ware as Kane's daughter, Jeff Hephner as the up-and-coming golden boy Ben Zajac, Kathleen Robertson as political operative Kitty O'Neill (one of the few characters in the show to show some growth), Martin Donovan as Ezra Stone, and especially James Vincent Meredith as Alderman Ross, Kane's nemesis.
The show bears quite a few similarities to The Wire (better known as "the best television show in the history of television"). The city features prominently in the series, almost to the point of becoming a character. Boss is relentlessly cruel to its characters, particularly those foolish and naive enough to attempt to retain some sense of honor and decency while working in politics. And like The Wire, it's also a show about the wholesale failure of institutions.
But what I love most about the show--particularly as a libertarian--is its honest portrayal of the trappings of power. Kane is a three-dimensional character. You see glimpses of idealism and hope in him. But any time a nobler pursuit--be it in politics or in his personal life--threatens his grip on the city, he drops the idealism to ensure and tighten his hold on power. You don't get to be the mayor of Chicago any other way. There are a couple plot twists where his decisions at first feel a little too cold for belief. But then you think back to implausible real-life political scandals, and you can't help but admire the writers for producing such compelling television in a sphere where real life headlines can be fare more melodramatic than what you could plausibly put in a serious TV show.
Beyond Grammer, the show teems with great performances. Nearly all of the characters are ambitious to the point of ruin, and nearly all of them willing to step on necks to achieve a bigger slice of power. I can think of two characters in the show who went into politics for what most would consider the right reasons, who are mostly sympathetic, and who manage to hold on to their principles and idealism, even when it hurts them professionally. Both suffer mightily for it. (No spoilers!)
(Oh, and then there's the theme song: Robert Plant's killer rendition of the old spiritual, "Satan, Your Kingdom Must Come Down.")
Before I continue to heap praise on the show, I should probably let you in on the bad news . . . it has been canceled. Though critically acclaimed, Boss didn't bring in many viewers in its first two seasons. Mayor Kane's brain condition is incurable, so the show put a limit on its run from the first episode. It's hard to see the show without Grammer, and the show's writers are too good to write in some miraculous cure to a real-life disease just to keep Tom Kane in office for a couple more seasons. Still, the premise afforded Kane a few more years--and about 30 more episodes for us to watch him fall. It's disappointing to see great entertainment end so soon.
The Starz network deserves praise for producing such a bold, well-written, and likely expensive drama. I suspect its cost and the fact it was buried in the lower channels of the typical cable guide probably made its survival a battle from the get-go. There is some talk of a wrap-up movie, but that would feel forced. This is the sort of programming that would thrive on the network that gave us The Wire, Treme, and The Sopranos.
What do you say, HBO?
America needs Tom Kane.
BEFORE YOU GO
PHOTO GALLERY
Unfortunate Politician Names