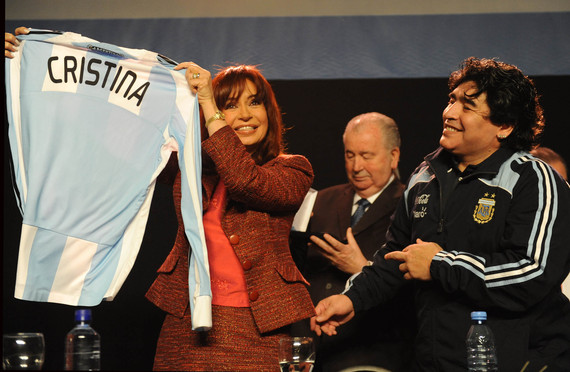 Former Brazilian soccer star and World Cup winner, Romario, recently won a senate seat in Rio de Janeiro with the same ease with which he used to score goals playing for the seleçao. While Dilma Rousseff saw a very close election, former soccer players are increasingly using their popularity to jump into politics. In countries where soccer is almost seen as a religion, the beautiful game has become a powerful institution acting as a multipurpose tool to influence politics. Whether through organizing international sports events or by using sports fans as an electoral base, soccer is now the one-size-fits-all strategy to gain or consolidate political power.
For those politicians who are not as gifted with the ball, it only takes having the right star on their side to boost their popularity. In Argentina, securing the endorsement of the all-time-favorite star Diego Maradona is a must for any president. Maradona, who grew up in a slum outside Buenos Aires, has jumped on the bandwagon of political commentators, endorsing, Cristina Fernandez' left-leaning political program and bids for Presidency.
The Argentine president knows very well the impact soccer has on the country. Besides posing with Maradona in pictures, in 2009 Fernandez decided to nationalize the domestic league broadcasting rights. Under the program "Soccer for all" (Fútbol para todos) Fernandez ended the monopoly over soccer broadcasting rights that dated back to the mid 70s. With this initiative, domestic matches were broadcasted on public channels, saving fans the subscription fees the cable channels owned by opposition media conglomerate Grupo Clarín, charged.
It is unclear whether or not Fernandez created "Soccer for all" partially as part of a political vendetta with the Grupo Clarín. Still, all fans across the political spectrum received the nationalization extremely well. It wasn't just the public broadcasting of all Argentine professional soccer games that gave Fernandez a popularity boost. Initially, it was planned that "Football for all" would make revenue from the selling of advertisement space. Instead, the government decided to use the space for its own propaganda, scoring a perfect advertisement platform for the official party line with a devoted audience.
Goals and votes

Despite strong critiques of using soccer as a mean for political propaganda, Fernandez' take on the old Roman adage "bread and circuses" seems to be working. Every weekend the Argentine president is campaigning in front of millions of viewers. While the Argentine economy stagnates and inflation rises, Fernandez continues to use public money to finance "Soccer for all" and the government ads that come with it. At the end of the day, we should remember that soccer fans are also voters that can not only consolidate a politician's career, but can also launch it.
Ironically, Fernandez' strongest opponent and potential presidential candidate also has an intimate relationship with the game. Buenos Aires businessman Mauricio Macri became a public figure after being elected president of Boca Juniors, Argentina's oldest club, in 1995. Macri's popularity in Boca Juniors helped him quickly get his name in politics while also soothing his image as just another inexperienced rich boy. In 2003, he was elected as a representative in the lower house of Congress, a job he alternated with his Boca Junior's presidency.
Macri was often absent in Congress due to his commitments with Boca, but the trophies the club won during his tenure helped to keep his popularity ratings up. As a result, in 2007 he became mayor of Buenos Aires; the combination of his popularity and the bad shape of the Argentine economy gave him a second term in the capital in 2011. Despite Macri's controversial public policies and unfinished infrastructure projects, he stands today as the most promising presidential candidate.
Smoke and mirrors across the Atlantic
The marriage of football, business and politics is not exclusive to Argentina. Former Italian Prime Minister, Silvio Berlusconi, was probably the best at lining-up all three elements together. A media tycoon and owner of A.C. Milan, Berlusconi dominated the political landscape of Italy for almost two decades. Berlusconi's use of his media empire and A.C. Milan's strong supporter base puts Fernandez' propaganda to shame. Despite multiple corruption and tax-evasion scandals (32 to be exact), including the Calciopoli match-fixing affair, Berlusconi has often skirted justice, walking away on many occasions with soft punishments. Forced to resign in 2011, he was quickly relegated to the second division of Italian politicians - but his heritage has lived on elsewhere in Europe.
Just like Silvio Berlusconi, Evangelos Marinakis, Olympiakos FC's president and Greek shipping magnate, was the protagonist of one of Europe's biggest soccer scandals. In 2011, a series of leaked telephone conversations exposed how Greece's endemic corruption had reached soccer. Known as Koriopolis, the scandal involved over 80 individuals, including Marinakis, engaged in match fixing, extortion, intimidation and bribery. Despite the scandal, he was recently elected as councilman for the city of Piraeus, running on the same ticket as his club's former spokesman, who was elected as mayor. In the same way that "Soccer for all" obscured Argentina's increasing inflation, Olympiakos' consecutive championships and Champions League successes weighed more than Koriopolis in the eyes of the public.
Macri's increasing popularity might get him elected in 2015, ending the Kirchner's decade in the Pink House. Nevertheless, it would be misguided to go as far as to demonize the entire soccer industry for being intrinsically corrupt. The problem seems only to arise when politicians linked to sports abuse their power for political gain and perpetuate a cycle of permanent corruption. A football player might never get to be a president, but club owners might have a shot at scoring a presidential goal in the coming elections.