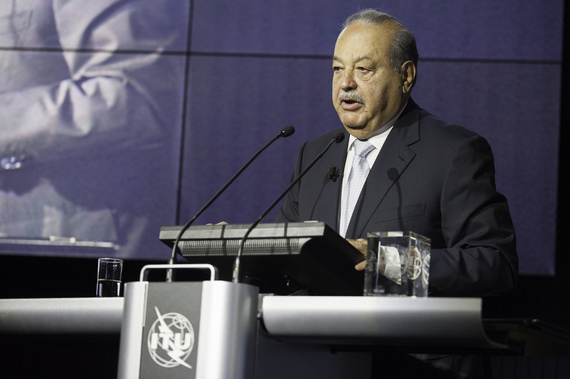 At 74-years-old, he boasts never having owned a computer and still sports a plastic wristwatch that doubles as a calculator, a staple of the 1980s. Living a rather ascetic and low-key existence, he has shunned most of the penchants that usually accompany huge wealth, living with his extended family in a cozy six-bedroom house a mile away from his office. His only expensive pleasure is the occasional Cuban cigar, from a box that is always at arm's length. But don't let such modest appearances fool you -- he is Carlos Slim Helu, the world's second richest man, with a fortune estimated at $72 billion.
Such austere ways have left a deep imprint in the way Slim does business. Growing up, he was fascinated by his father's personality, a Lebanese immigrant who settled in Mexico in the early 1900s. Unlike most of the boys his age, at 11 he was buying government bonds. When he was 15 he bought a stake in Mexico's biggest bank, Banco Nacional de Mexico. At 26 he was already worth $40 million.
Slim's big break came in 1982, following the collapse in the price of oil, which sent Mexico's stock market in a downward spiral. With enough capital on hand, Slim expanded his portfolio by buying dozens of companies for a shred of their actual worth. According to the Wall Street Journal, the plan was fairly straightforward -- buy undervalued companies, bolster their value, and then root out your competitors.
The gamble paid off and now Slim singlehandedly owns close to 8 percent of Mexico's GDP. Confessing that he has lost track of the number of companies he owns, his business interests span the entirety of Mexico's economy, from telecom to football teams, from media to aquariums. His grasp over the Latin country is so far-reaching that, according to several estimates, every Mexican doles out on average $1.50 per day to one of Slim's companies, subsidiaries or holdings. One Mexican official, taking about the lack of government oversight over his businesses, morbidly quipped to the WSJ in 2007 "When Slim dies, we can finally regulate his kids."
Pundits have described the Slim business empire more akin to Warren Buffet's dispassionate buying up of assets than Steve Jobs' emotional attachments to a particular company. With this in mind, his decision to put $7 billion of his flagship telecom empire, América Móvil, on the block shouldn't surprise anyone. The company and its subsidiaries control 70 percent of Mexico's mobile phone subscribers and 80 percent of all landlines. The move came moments before the Parliament passed a stringent anti-monopoly law, complementing last year's reform on telecoms and broadcasting.
The monopoly-busting law, approved in the wee hours of July 9, is meant to increase competition in the telecom sector by abolishing long-distance phone charges and broaden access to free-to-air television stations. The harshest element of this new law requires preponderant players (companies that own more than 50 percent of the market) to reduce their market share or face penalties of up to 10 percent of their annual sales. Its wording was meant to target Mexico's most notorious monopolies: América Móvil and Televisa, a TV broadcaster.
As to the identity of the company or individual who will snap up chunks of Slim's telecom champion, nothing is yet confirmed. Once the transaction goes through, multiple avenues of investment will arise for the billionaire. He plans to put more money in other sectors, such as energy, infrastructure and real estate, mainly outside Mexico. A swap with Emilio Azcarraga, the owner of Grupo Televisa is also possible. Since the two men are the only casualties of the law and given the interconnectivity between Slim's telecom empire and Azcarraga's media empire, it seems reasonable to expect them to shake hands on a deal.
At the end of the day, following the shakeup, the clear winner will be the Mexican consumer. According to a report published by the OECD in 2012, Slim's monopoly has had a disastrous effect on the general welfare of the middle class. The lack of competition has pushed prices to "extremely high levels", costing the Mexican taxpayer some $25 billion each year, or the "equivalent to nearly 2 percent of GDP". This rounds up to a loss of $600 per year per family, a burdening figure for an emerging economy struggling with some of Latin America's most extreme pockets of poverty.
After intense wrangling and years of collusion with its powerful business interests, Mexico's government finally mustered the political will to take meaningful steps towards adopting modern anti-monopoly practices. If this proves successful in the long run, other struggling Latin American countries could very well adopt this practice. What better way to boost the economy and reign in corporate interests at the same time?