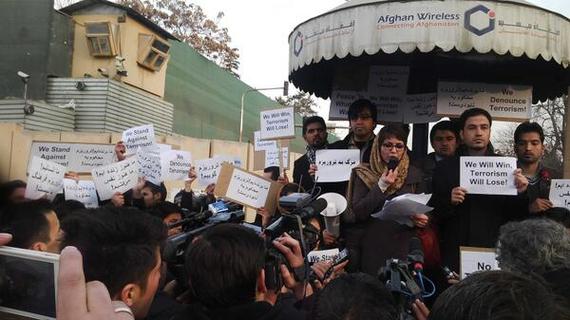 Afghans rally to denounce the attack on Taverna du Liban.
(photo courtesy of journalist Lotfullah Najafizada)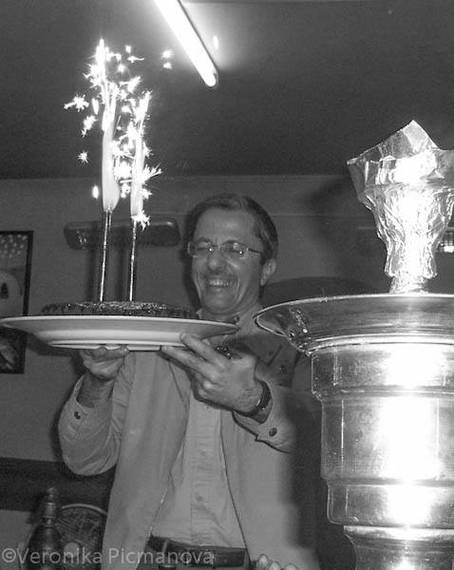 Taverna du Liban's owner Kamal Hamade holding one of his well known chocolate cakes (photo courtesy of photographer Veronika Pičmanová)
I used to live a few streets away from Lane 3, Street 14, Wazir Akbar Khan Road, which was home to the lovely restaurant Taverna du Liban attacked by the Taliban just a few days ago. When I initially moved to Kabul in 2005, Wazir Akbar Khan was considered to be the safest neighborhood in the city. It's home to many embassies and I'd often walk just a few houses away to visit my friends who worked at UNICEF and Reuters. Oddly the 'narco-mansions' owned by several Afghan warlords in the neighborhood known for having their own private armies somehow added to the feeling safety. However that feeling, at least for me, changed in 2008 when a suicide bomber detonated himself in the neighborhood. On a road many friends and I traveled through as part of our daily routine, it suddenly became clear that attacks in Kabul would no longer be random and on the outskirts of the city near military bases few of us drove through. Around this time in January, almost exactly six years to the date of Taverna's attack, the five-star Serena Hotel I frequented after joining its newly opened gym was attacked by the Taliban. A suicide bomber detonated himself allowing for gunmen to storm into the hotel, making their way into the gym as they began to shoot people in the reception and workout area. Some of my friends hid in the locker room and managed to survive while others weren't so lucky.

I had planned to head to the gym that evening after work but changed my mind when a friend who just arrived back from vacation texted me inviting me over. As we were catching up, I remember us both stopping the conversation as we heard a nearby explosion. A few minutes later my phone became flooded with texts from friends who knew I worked out at the Serena to see if I was ok. All these years later and thousands of miles away in New York City, I could still envision the sound of an explosion when I saw the tweet '#Boom Kabul'. It wasn't too long after that details emerged. It was reported that Kamal Hamade, the charming Lebanese owner of Taverna, was shot as he grabbed his gun in hopes of defending his restaurant when the Taliban entered and began to take fire. Just like the Serena Hotel attack, a suicide bomber made it possible for the gunmen to run into the well-guarded restaurant killing 21 people inside. And just as I had made a last-minute change of plans that stopped me from going to the Serena that night, I learned that some of my friends and others in Kabul had cancelled their plans that night and ended up not going to Taverna as previously planned.
Like the Serena, Taverna was so well guarded and a place you couldn't help but feel safe. Of all the places in Kabul, it was also one where many of us felt the most welcomed thanks to the warmth of Kamal. I think anyone who ever ate there would agree he was the most generous restaurant owner you'd ever meet. His thoughtfulness included sending me back home with chicken drumsticks to give to my colleague's dog. He was a considerate and happy man. Although we never spoke about it, I wondered if life in Kabul resonated with him having gone through decades of unrest in his home country where to this day, generators are prevalent and business owners manage despite periodic explosions and threats of war. It could be the reason why Afghanistan's IMF managing director Wabel Abdallah felt so connected to the country he served in for five years. A native of Lebanon as well, he quickly became well respected for his care and commitment to Afghanistan. He along with Kamal and 19 others were shot that night.

I left Kabul shortly after the Serena attack in 2008. As I went through the women's section of Kabul's airport security one last time saying goodbye to many of the staff I'd gotten to know over the years, I found myself crying as the plane was about to take off. It hit me that as an expat, I could leave and go home when I no longer felt safe but most Afghans couldn't. A friend of mine had recently returned from Kabul and as we spoke, I found her in the same sort of sorrow as she told me how all of the Afghan staff she worked with asked her if she'd help them get asylum once the troops leave. There has always been a strong sense of resilience felt in Afghanistan by locals and expatriates. For the past few days in Kabul, Afghans have been protesting on the street calling for an end to terrorism. After the Serena attack, I remember my friends wanting to go there as soon as it reopened. It was out of solidarity that despite the tragedy that had occurred, life could go on. This time however, that's not possible. Kamal and Taverna are gone forever.