Years before 14-year-old Fawad Mohammadi  became the pride of his native Afghanistan after co-starring in the Oscar-nominated Buzkashi Boys, he was a well known figure to Afghanistan's international community of aid workers. Like many children in Afghanistan, Mohammadi has spent much of his youth working on the streets of Kabul selling maps and helping Afghan aid workers navigate the shops of Chicken Street. He developed a close a relationship with British author Andrea Busfield who made him the namesake of her first novel Born Under a Million Shadows which captures life in modern day Kabul through the eyes of a young Afghan boy. Busfield, who now resides in Cyprus, has spent years helping support Mohammadi's education through the Kabul non-profit Aschiana. Having known him since he was seven, Busfield reflects on her long-time friendship with Mohammadi.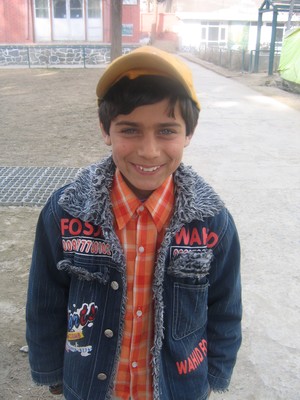 Fawad at 9, photo courtesy of Andrea Busfield
What was your first meeting with Fawad like?

I first met Fawad in 2005 while walking down Chicken Street in Kabul (the main 'tourist' area of the city). He offered to carry my bags and act as my 'bodyguard.' He was roughly seven years old at the time with huge green eyes and an infectious laugh. I naturally paid for his 'services' at the end of the day and our friendship started from there. Whenever I visited Chicken Street, mainly on the Friday 'holiday', Fawad would be by my side. I enjoyed his company; he was funny, smart and achingly sweet. He also took charge of my bartering skills -- quietly shaking his head when a price was too high and nodding when he thought it was fair. Some days we would simply hang out and go for a milkshake.
How did you first find out about Fawad's role in Buzkashi Boys?
In October 2010 I was asked by the director Sam French to speak with Fawad and his mother, Ghuncha Gul. As I was in Kabul on holiday at the time, I met them both in a city restaurant along with the film's Associate Producer, Leslie Knott (another big Fawad fan). The idea behind the meeting was to convince Ghuncha Gul to let her son star in the movie. Naturally, her major concern was that the filming would disrupt Fawad's education. Not being involved, I was in no position to give any assurances, but Leslie was and after the initial meet Fawad's mom must have been satisfied because Fawad did go on to star in the film -- and ultimately find himself on the red carpet at the Oscars!
He was the namesake for your book Born Under a Million Shadows how did he inspire it?  

I very much had Fawad in mind when I wrote my novel because the story is narrated by a young boy 'working' on Chicken Street and I wanted him to be as charming and charismatic as the boy I'd met. Therefore, from the first line I called my protagonist Fawad to help cement the character in my mind, thinking I'd change the name later, once everything was written. However, once I'd finished writing the novel - which is definitely not the story of Fawad's life - I felt it was only right to keep his name; after all he was the inspiration and power behind my fictional Fawad. Naturally, I told Fawad of my decision, and he seemed pretty unfazed by it!
Even after you left Afghanistan, I heard that you continued to support Fawad's education and a few other children you also developed close relationships with?

Fawad was one of three children I used to regularly interact with in Kabul. When it came time to leave in 2008 I didn't feel I could simply wave goodbye and wish them well. Life in Afghanistan is tough, but it is not without opportunity. And the best way that I thought I could help was by enrolling all three children in Aschiana, an Afghan charity that educates street children. As it happened, all three of 'my' children went to school, but Aschiana generously agreed to help me continue to help them. In short, as long as the children are in school, and show their report cards to Aschiana, they get a monthly 'wage' from me. Five years later they are all still in school and performing well. However, I should stress here, that I'm not the only one who helps Fawad. I believe there is another Western woman who has contributed to his education. Fawad has a lot of fans, always has done. More than that, he has a very strong mother who has been unfaltering in her determination to see all her children grow up educated. As a result, Fawad actually goes to two schools.

How were you impacted by your relationship with him and the other children there that you got to know?

Undoubtedly my life is richer from knowing all three of the children I sponsor. Understanding just some of their difficulties puts your own life into perspective, and I'm infinitely more grateful for the life I have been lucky enough to be born into.
Do you think the international community would be better off if more diplomats and aid workers got to know Afghanistan through better connecting with its youth?

I think it's true that people rather than text books are the key to understanding a culture and country. However, in the years that I lived in Afghanistan (2005-2008) the two communities worked and lived well together. I don't know any expats who don't interact with the Afghan children they meet, who don't take the time to chat and listen. I'm sure it's the same with many diplomats and most aid workers, but these are fields of expertise I am unacquainted with. Perhaps they don't. Maybe they do in fact sit behind their desks, protected by bomb-proof walls, pocketing their danger-boosted pay checks. I hope not because if they are their wallets may be fat, but their lives will be all the poorer for it. But as I said, it's not really for me to say and every role in Afghanistan comes with differing levels of risk. I was lucky. I saw only the best of the people and the country. Unfortunately I'm not sure whether the Afghans have seen the best of the West over the years.
Afghan children, particularly those like him that are breadwinners of their families, face many challenges.  What were some of the major challenges he faced?  

I couldn't say for certain what challenges Fawad faced. That's his story to tell. I knew his father died. I remember him telling me about it a few weeks after he passed away. I also knew that Fawad had other siblings. It doesn't take any specialist knowledge to understand that in a country with no welfare system life for a widow with children is going to be difficult. However, it is true that my own perceptions of poverty and begging, something many families have to do to get by, were challenged by my friendship with Fawad. Here was a little boy acting as a bodyguard to Westerners so he could earn money for his family. Yet there was no indication that he had been forced into this role. On the contrary, he appeared to treat it as a game on his days off from school. He was also immaculately dressed most of the time, another indication of the care he enjoyed at home, and his English was astonishing for an Afghan boy of his age. Yet it was also clear that Fawad's life and mine were a million miles apart, and he could only dream of the relative riches I had enjoyed when I was a child his age. After meeting his mother it was also clear that despite the limitations on their lives she was determined to give her son the best possible chance in life - and the best way she could do that was by driving forward his education.
@andreabusfield is also the author of Aphrodite's War