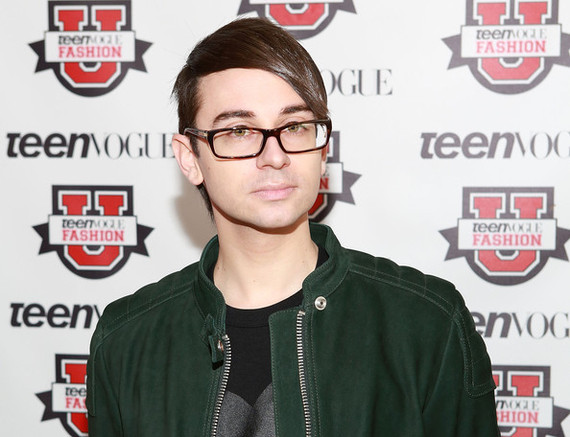 image courtesy of Teen Vogue and DKC News
Christian Siriano is known for many things, an amazing design force, a creative, an innovator and as Tim Gunn would call him, a prodigy. But what really makes Christian tick? What motivates him? What pushes him to the forefront of success? And most important, what knowledge can he share to help others reach their full potential as designers? All of these questions were asked of him as he participated in Teen Vogue's Fashion University a few weeks ago. Check out what he had to say!
Rai Mensah: What motivates you on a day to day to create?
Christian Siriano: "I'm motivated by my customers. I love thinking about what they are going to be on the hunt for and what they will want to buy next season. I also just love to create things and think of it as my way of expressing myself visually. Even if I make something that never sells it can still be one of my favorite pieces in a collection because I loved the process of creating it."

Rai Mensah: How does your personal style influence your collections?
Christian Siriano: "I don't really think my style has much of an influence because I don't think about what I wear and how I dress much. I do get influenced by my friends and the women I work with. I love to see what my team wears to the office and how they dress on the weekends. It helps inspire something each season."

Rai Mensah: What is one key element of your personality that has helped you become so successful at such a young age?
Christian Siriano: "I love people and working with the customers. I've traveled to many cities and visited all my retailers which has really helped me quickly learn who my customer is and what she wants to buy. I'm in the fitting room of every store with each women asking questions and finding out what they are looking for. I also think having a fun and young personality is helpful because it helps women feel comfortable when they are shopping. I usually don't come off as intimidating which has helped a lot."

Rai Mensah: Why did you decide to get involved with Teen Vogue's Fashion University?
Christian Siriano: " I think it's a wonderful thing to be able to chat with young aspiring fashion creators. It's such a hard business to be in and sometimes it's unforgiving. To have that advice on what to avoid and see how dreams can come true is a great thing. If I can help any of them by telling my story, the struggles, the accomplishments, it can hopefully serve as inspiration for them. It's important to remember that young fashion lovers can also turn into customers so it's critical to present yourself in an accessible way."

Rai Mensah: What is something you feel like new designers should know about the business?
Christian Siriano: "I think they should know that the beginning years are the least glamorous. Shipping boxes and staying up late nights to make sure things are perfect for your market appointments is very tedious. When the buyers expect perfect craftsmanship and timely production for your first season you need to be able to bring that to the table. Remember that you will be hanging on the floor with brands that have been in business for 30 years and the work needs to be at that caliber. Customers always have a choice when shopping so give them something new and exciting to make the choice a little easier."
Rai Mensah: What is one of the biggest lessons you've learned thus far?
Christian Siriano: "I've really learned to be myself and always push myself creatively. In this business it never pays to try to be anyone else or go with what the trend is. Even if it takes the industry a little longer than others to fall in love with what you're creating it's ultimately better in the end because you will know that no compromises were made to get to that point."