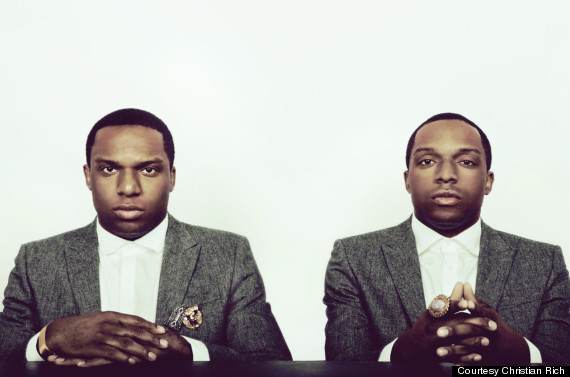 Christian Rich, the production team duo creating a name for themselves within music and style. From DJ sets at the Stussy store to touring Europe, these twin brothers always incorporate a unique sense of style when performing. Their sound, a culmination of electronic and trap influenced beats with the smoothness of a true melodic mix. Pushing the boundaries in music and fashion is nothing new to these Nigerian born, Chicago raised brothers.
We sat down with Christian Rich to discuss their style and music influences.
We are... twin brothers with a lot of musical and creative energy.
We work well because... we both bring something different to the table. Ken is the creative, he has all the ideas and I, Tai am the architect, I piece it all together.
Our process when producing... is separate. We produce individually then come together to share ideas and break things down.
Our music and style... correlate. They both have to be cohesive in order to flourish the brand.
Our music and style has evolved... with a less is more ideology.
Traveling impacts our unique style... because it allows us to sample various ideas from street fashion in places like Berlin, Paris and Zurich.
The style in... Berlin has influenced us the most.
We are most proud of... our Earl Sweatshirt "Doris" album.
We are working... with different artist and our own releases like "Deep" with Grandtheft and Spinnin' Records.
With a newly released song on the J Cole Born Sinner album and all of their upcoming projects, we've only witnessed the beginnings of Christian Rich. For more on Christian Rich check out Culture Complex for video footage of what inspires their style.