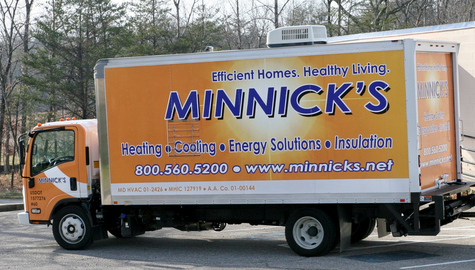 Disruption of the positive kind is generally talked about when there are mega success stories that disrupt the status quo and change the world view of the people. A good example is the car rental industry that remained the same for decades until ZipCar came and disrupted the market. The game was not over with Uber, GetAround, Lyft, SideCar and such companies changing the game again.
Of course, you don't need to have a business that has a national scope to engage in business model innovation. It is not based on the size and scope of the business. It starts with your mindset. If you have to change the world view of people around you on a topic, remember that you need to first change YOUR world view on that topic. It all begins with you.
Here is the story of reinvention of an HVAC (Heating, Ventilation, Air-conditioning) contracting company called Minnicks based in Laurel in Maryland. Minnicks is a family-owned business started in the year 1954. Rob Minnick is a third-generation entrepreneur who took over the reins of the company. Rob is a risk taker and an innovator so was uncomfortable with the status quo. Change was imminent.
But, the million-dollar question was - "Change to what?"
The first step was to take a serious look at the business models in vogue. The most popular model continues to be annual maintenance agreements - parts, parts only, parts and labor to start with. So many pricing structures and models but the big metric everyone was judging their business success is the total number of agreements they had in their bags.
Sometimes there would be confusion in the minds of customers who thought that they had pre-paid not just for the inspections but also for the repairs that were suggested based on inspection findings. These customers who misunderstood the program were totally unhappy when they were told that the maintenance agreement only covered inspections and they had to PAY for repairs.
Reflecting on what everyone was going after (highest number of annual maintenance contracts) it didn't take long for Rob to realize that it was a game where the more successful you are, the more trouble you might get into.
Why?
Because it takes at least 1-2 hours to do a thorough inspection of the systems. Simple math will show that you can take up about 4 inspections per day or 20 inspections per week or about 1000 inspections per year. Add to that the cost of acquiring customers, support and administration costs and he could see a model that was stretched at the seams. Rob and his company were deeply vested in the same game.
Rob engaged a consultant who after some analysis proposed something radical. The consultant suggested dropping this concept of annual maintenance agreements.
"I like it already, but what do you have in mind?" Rob asked.
He loved that the proposal was radical. Together Rob and the consultant came up with a model that was completely upside down (for others, of course). Minnicks introduced a program called VIP Program. It was a game changer.
The Minnicks VIP Program had no costs to join and all members would be instantly eligible for 10 percent discount on all the services. Rob was fascinated by the Starbucks Rewards program and wanted to model Minnicks Rewards program based on it.
Minnicks was not interested in being in the software development business so he researched for any programs that could fit the bill. There was none that were available out of the box. A few weeks later, he found a company called CaptureCode that was in the personal engagement and loyalty solution business for the hospitality industry. Tony Padam who led that was in the personal engagement and loyalty solution business for the hospitality industry. Tony Padam who led CaptureCode was a risk taker just like Rob Minnick - so they both hit it off well. Long story short, CaptureCode technology was easily customized to suit the needs of Minnicks Rewards Program.
Today, all the equipment in a VIP member's location is tagged with an unique QR code. The technician who visits the location will service the equipment and with a simple scan of the associated QR code, the VIP member is credited with rewards points. Each reward point is worth $1. In addition, Minnicks offers reward points for referrals, social media engagement (eg: Liking Facebook Page and following on Twitter will earn points). Customers can redeem the reward points to pay a discounted price for services that they avail from Minnicks.
Is the program working?
Yes and in a big way. VIP members are asking how else they can help Minnicks to earn more reward points is a good sign for Minnicks. Plus, there was a side benefit - there was ZERO confusion in the minds of customers about what was covered as there was no prepayment required to join the VIP Member program.
Minnicks really won twice by changing the game. First, by earning more referrals reducing their own customer acquisition costs and second, by increasing customer satisfaction by avoiding confusion about what was covered in the services.